Motorola launches Atrix – the most powerful smartphone ever
LG's Optimus 2X has company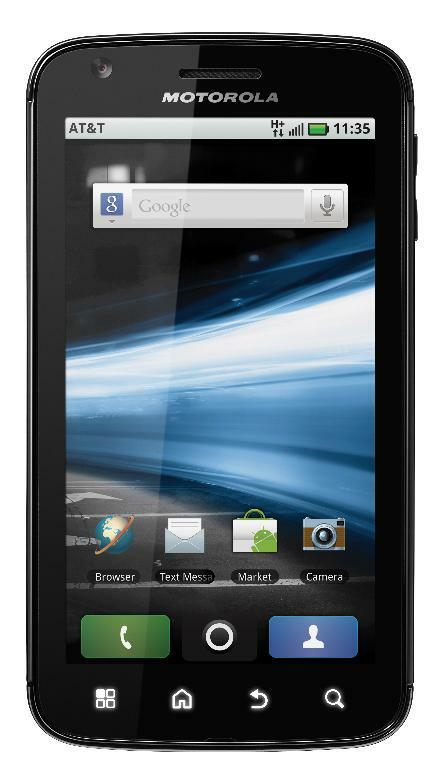 We thought the LG Optimus 2X was a powerhouse. The Motorola Atrix is ludicrously pokey.
This dual-core 1GHz processor-packing Android 2.2 blower sports 1GB of RAM, 16GB + microSD storage, dual cameras (5MP and VGA), a qHD display (960×540 pixels), a fingerprint reader, 4G LTE connectivity in the States (HSDPA elsewhere) plus a 1930mAH battery pack, which isn't far off the capacity of a netbook's.
It truly comes to life when you dock it, though. There are two docks available: an 11.6in laptop shell that it attaches to the hinge of, and a desktop station (the HD Multimedia Dock) with three USB ports and HDMI out for hooking up to keyboard, mouse and monitor.
In either guise it makes a convincing effort as a proper computer. Larger monitors don't just mirror what's happening on its screen: it's a true PC-like desktop environment that Moto's calling Webtop, with a cursor, program windows and a quick launch bar for apps at the bottom.
Moto demonstrated all the usual stuff – 1080p video playback (and 720p capture), big-screen Angry Birds – but what was really amazing was it running a full desktop version of the Firefox browser, complete with tabs and Flash video. And there were other apps running away on the desktop at the same time. Heady stuff.
In the laptop dock it'll keep running for eight hours on a charge. It's truly a phone and a powerful netbook in one device. And it's coming to the UK courtesy of Orange (though we're not yet sure when or for exactly how much).