Microsoft tablet-focused mice and keyboards announced
Before Microsoft's Surface lands Bluetooth powered mice and keyboards for all tablet devices have been unveiled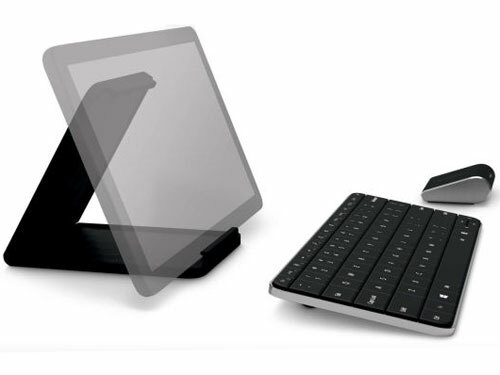 We've just found out the official release date for Microsoft's Surface is October 26th – along with Windows 8 – so why is Redmond releasing a line of tablet keyboards and mice so early? Because these Bluetooth powered mobile controls will work with any tablet – Android and iOS included.
Of the four products announced, the Sculpt Mouse (US$50, £30) and Sculpt Travel Keyboard (US$60, £38) are the most like normal peripherals, simply battery and Bluetooth powered. But the ones that caught our eye are the Wedge Mobile Keyboard and Wedge Touch Mouse.
The Wedge Mobile Keyboard (below) features a tough rubber case that can be removed and folded to support your tablet (as shown in top photo), while the protruding battery holder (2xAAA) acts as a stand to angle it for comfy typing. The only painful part is a US$80 (£50) pricetag.
The Wedge Touch Mouse (below) has a slim profile (taking only one AA battery) meaning it'll fit in your pocket, while BlueTrack tech allows it to work on any surface. There's also a four way touch-based scroller built-in but, at US$70 (£45), you'd expect that.
Check out more pictures below and read our Windows Surface need to know to see if you'll be buying Microsoft's first tablet on October 26th.
[Via CNET]
You may also like
Microsoft Surface will arrive on October 26th
Wake up to the Tetris theme with this nostalgia-infused alarm clock