LG LW980T hands-on
All that Call of Duty cheating could be over by the end of the month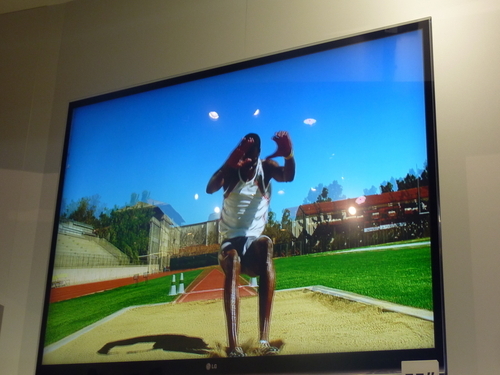 LG's latest flagship Cinema 3D TV, the LW980T, showed off its specs a couple of days ago so we decided to have a look at the big screen in the flesh here at IFA. Its light, cinema-style 3D glasses and Nano Full LED screen teamed up beautifully, especially when we were faced with a whole army of LG 3D TVs karate chopping or long jumping at us at once.
The super skinny LW980T – just 26.4mm – also packs plenty of SmartTV content including 3D video on demand and apps like BBC iPlayer, Facebook, Blinkbox and Stuff.tv. 
Dual Play – which lets two gamers each see their own 2D full screen – is starting to appear on rival TV spec lists and it's one of the cleverest uses of 3D tech we've seen. We flipped between the two all-left and all-right 3D glasses on an Xbox racing game and despite the lower res graphics, it still impressed.
To play in all your full screen glory, you'll need to fork out for the specific Dual Play 3D glasses or just attack the seven free pairs that come boxed with the TV. Release wise, you can get your hands on the LW980T from the end of September and you're looking at £1799 for the 47in model and £2499 if 55in is your bare minimum.
Also