In detail – Griffin PartyDock
Multiplayer iPhone and iPad apps aren't a new idea, but they may be about to enter a new generation, thanks to the Griffin PartyDock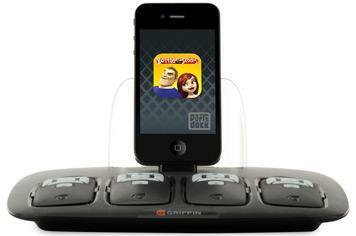 Griffin has dropped the news on its new PartyDock multiplayer gaming system for iPad, iPhone and iPod Touch. Here's what you need to know…
Well, here it is, then: four controllers (wireless, we're assuming), a base and an iPad (not included). And – well spotted – that ain't the App Store; the PlayDock only works with games developed especially for it.
Here's the top view. Judging by the slightly clunky controller layout, we're guessing that games will remain firmly in the "casual/family games" bracket Griffin is going for. No Angry Birds MMO, then. And, no, these controllers don't have motion control.
Here's the port layout round the back. There's power (it charges), plus composite and component video outputs, plus stereo audio. Griffin's bigged up its movie and video clip friendliness, so we'd have liked to see an HDMI port in there, but if the price is right…
Here's the only game we know of – Battle of the Sexes. We can't tell you anything more than the title at this stage, but Griffin says the PartyDock will come with three mini-games and one full game out of the box.
And that's about all we've got for now. It looks like good fun, as long as Griffin can get that most crucial part of this right – the price. Casual gaming should be just that: casual. And cheap. Given the lack of luxury features (wireless, motion-sensitive controllers or HDMI, for instance) and the fact that Griffin should be able to make some pennies out of third parties developing games for this thing, we'd expect that to come in at around £50. And if it does, this thing will fly.