How to get video on your iPod and PSP
You asked us how to get DVDs and music videos onto your iPod and PSP. We tinkered until it hurt, but now we have the answer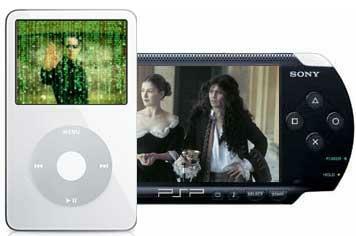 Part 2 [return to page 1]
Converting your video
Quicktime Pro is a useful tool for saving videos from the internet and converting them to other formats. However, its 'Movie to iPod' export option takes a long, long time – as does iTunes' 'Convert for iPod' feature that you'll find in the Advanced menu. Both of these work at around 0.5 speed – i.e. they'll take twice as long as whatever it is you're trying to convert.
Fortunately, Roxio's new Popcorn 2 software will convert for iPod or PSP in half the time. It'll also convert those VIDEO_TS files from DVD rips to useable formats. It'll even rip from DVD and convert in one process, but legal restrictions mean it won't work with copy-protected DVDs – which is most of them. There are exceptions, though – many music DVDs don't have copy protection, and nor do DVD recordings made at home from the television or your camcorder.
Transferring movies
The video iPod's transfer needs are handled by iTunes – it's just a case of dragging and dropping files. Sony's PSP interface is less elegant. First, you'll need to make sure you have a Memory Stick with a decent amount of space – at least 512MB. Plug it in to the Mac via USB and the Memory Stick will mount on the desktop.
You'll then need to make a new folder – "MP_ROOT" – on the Memory Stick. Within that folder you'll need to make another folder – '100MNV01′. Here, you'll drop the movie files, plus a thumbnail image for them (Popcorn produces these too).
But fear not, there is an easier way. Download the excellent PSPware ($15) and you'll have an easy-to-use interface for transferring movies, music and pictures.
And that's it – you now have music videos, TV shows and movies on your PSP or iPod. But there's no getting away from the fact that it's a laborious and time-consuming process. Ripping a DVD, converting and transferring can take over two hours; even a downloading and converting a music video can take 10 minutes. Which is why we can't wait for the arrival of proper, decently priced movie downloads from iTunes and Connect.
Don't forget to come back next week for our guide to the best video conversion and transfer applications for Windows XP.