Hands-on with the N-Series
Stuff's man on the ground is in Amsterdam fondling and playing with Nokia's NSeries. His verdict's after the click...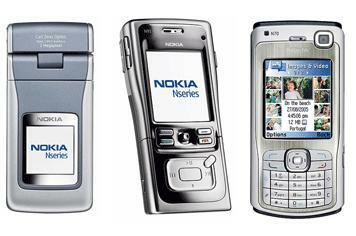 On paper, Nokia's new N Series of phones look pretty awesome. But what's the reality? Are they just hype or are they genuine hits? Here are our first thoughts after playing with the phones yesterday:
N70 – the best-seller (right)
We reckon Nokia's going to clean up with this, the smallest, cheapest and most imminent of the bunch. It's basically a 6680 but with a better (2MP) camera. It's not actually that much smaller than the 6680, but it's well built and – we reckon – guaranteed to be a big seller. Due this summer.
N90 – the pro camphone (left)
The lack of an optical zoom on the N90's a small disappointment, but everything else about it screams class. Physically, it's the most impressive phone of Nokia's new breed. The swivel options are great, it feels solid as the proverbial brick house and the Carl Zeiss lens bodes well. We're yet to see the N90's images on a PC or a print-out, however, so we'll reserve judgement 'til it arrives around September time.
N91 – the iPod killer (centre)
The specs for the 4GB N91 are amazing, and this really could be the iPod killer that Nokia's obviously hoping it'll be. At the very least, it looks like it's going to wipe the floor with the Sony Eric W800 Walkman phone and – if rumours of flash memory are true – the Motorola iTunes mob. Our only caveat is that the design isn't amazing and the phone actually feels a tad chunky in the hand. There also seems to some confusion in the Nokia camp as to whether it'll support DRM-ed WMA files. We'll see. Due just before Xmas.