Google and Samsung launch Chromebox and new Chromebook
Google's taking another stab at internet-addicted hardware with a Mac Mini rival and updated laptop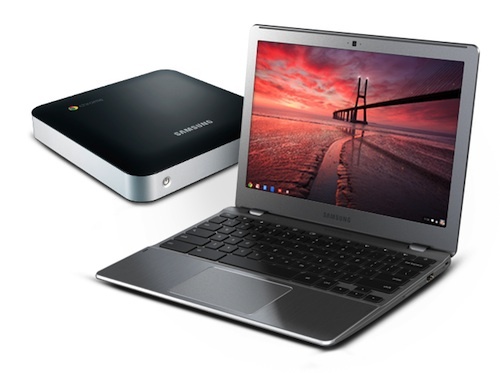 Google has unveiled a new, faster Chromebook and stuck Chrome OS into a desktop for the first time to produce the Samsung-built Chromebox. This Mac Mini style computer passes on the Chromebook's 3G skills but adds four USB ports to the Chrome OS laptop's offering of two.
Other than that, the specs on the newbies are pretty similar. The Samsung Series 5 550 rocks an Intel Core processor (rather than a battery-friendly Atom chip), 16GB SSD, 4GB of RAM, a 12.1in display and a newly designed touchpad. Google also reckons it boots in less than seven seconds.
Chrome OS also gets a makeover – there's a new app-centric UI and the introduction of side-by-side and full screen windows. The Chrome Web Store has been populated with more offline apps and offline support for Google Docs will be rolling out in "the next few weeks". So if your internet connection goes MIA, your Chrome based desktop or laptop won't suddenly become useless.
The Chromebox and latest Chromebook are yours for the taking from PC World and Currys for £280 and £380 respectively. Want 3G for your Google laptop? That'll be £430.
Tim Cook talks Apple TV, Siri and Facebook
1953 and 2012 – gadgets then and now
Samsung Galaxy S3 and HTC One X knock iPhone 4S off Stuff's number one spot