Gamescom 2012 – Tomb Raider hands on
Square Enix reboots one of gaming's most famous franchises – and Stuff takes it for a spin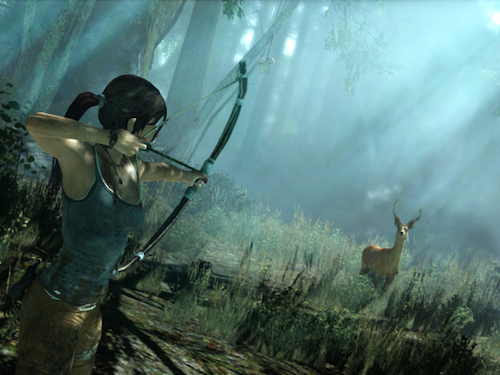 With Hollywood rebooting just about everything it can get its hands on right now, it's no surprise that game developers are starting to follow suit. With the new Tomb Raider title – unveiled at this year's E3 – Square Enix hopes to breathe life back into the ailing Lara Croft franchise. How? By starting all over again.
And since its big reveal, interest has certainly been piqued. The franchise has not only been rebooted, but given a total makeover that brings a more realistic, grittier style. We've gone hands-on with the game at Gamescom to see how the new Lara Croft shapes up.
From the opening cinematic, the new Tomb Raider feels like a very different experience to past entries in the series Following a disaster at sea that leaves her shipwrecked on a tropical island, we find Lara deserted, injured, alone – and extremely real.
When you take control of Ms Croft, it takes a second to realise you're no longer in the cinematic – the seamless transition between cutscenes and gameplay mirrors the Uncharted franchise.
In fact, it seems like Square Enix has taken many of its cues from Drake's adventures. As we guide Lara from the shore into the depths of the forest, she feels somewhat less invincible than her previous incarnations; clutching her wounded side as she struggled forward without a single weapon, it's clear that this version of Tomb Raider is going to be more a fight for survival than anything else.
Even after Lara gets tooled up with a bow – pinched from a corpse that's dangling from a tree – the first objective isn't treasure hunting, but simply finding some food. Luckily, with many animals stalking the lush, vibrant forest, this doesn't prove much of a challenge. But when it came to hunting a deer for food, Lara's hesitation makes even Stuff.tv's hardened reporter feel like we're murdering Bambi's mother.
No, this isn't the ass-kicking, no-nonsense heroine from 1996. This is a new Lara – one who kills as a last resort, and has to take a beat to deal with the reprecussions.
But it doesn't take long for the action to kick off. After being reunited with several other survivors, Lara soon finds herself kidnapped by a group of unfriendly characters with a thirst for blood. As you guide Lara out of the villains' clutches, the game takes on a truly blockbuster feel.
Admittedly, the cinematic style did make the gameplay feel a little linear at times – something we hope changes later in the game. But the new XP system is a nice touch that promises to bring more depth to Lara's adventure.
Tomb Raider is an ambitious project that walks a fine line between real-time gameplay and cinematics – something that other developers have misjudged in the past. So far, it seems to be working, but the jury's out on whether Tomb Raider will revitalise Lara Croft – or bury her. You'll have to wait until early 2013 to see for yourself. Consider us very excited.
Gamescom 2012 – Borderlands 2 hands on
Gamescom 2012 – Call of Duty: Black Ops II multiplayer hands on