Galaxy Nexus vs HTC Titan
The mighty Titan has a large competitor in the Nexus, but is a new OS and super resolution enough?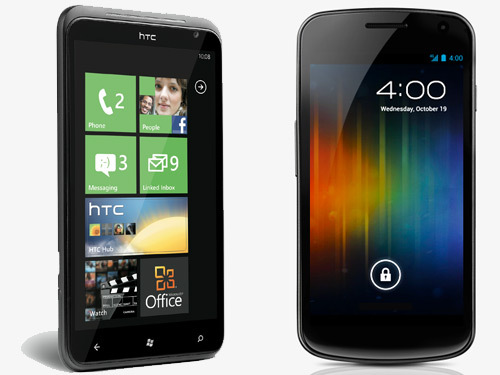 Mango has just started bouncing out and it's as sweet as expected, but is an Ice Cream Sandwich just a little tastier?
Galaxy Nexus vs HTC Titan – Build
Galaxy Nexus: With a 4.65in screen this is no little fellow, and on top of that it's a reasonably svelte 8.94mm thin. The bezel is 4.29mm and it has no buttons – meaning you're basically holding a big pretty screen in your hand. All that, and it's only 135g.
HTC Titan: The 4.7in display of the Titan suddenly isn't so unique and the 10mm depth isn't so slim anymore. 160g is light but not light enough.
Galaxy Nexus vs HTC Titan – Speed
Galaxy Nexus: A flighty 1.2GHz dual-core processor and mighty 1GB RAM stands the Nexus alongside the likes of the Galaxy S II, which is plenty fast.
HTC Titan: Despite packing 1.5GHz of speed the Titan's on a rather outdated Snapdragon processer along with a meager 512MB RAM.
Galaxy Nexus vs HTC Titan – Power 
Galaxy Nexus: The 1750mAh battery should be plenty powerful enough to keep your HSPA+ connection running for most of the day.
HTC Titan: The Titan's 1600mAh battery suddenly looks small by comparison. And with that much screen space to fill with light and no dual-core power-saving advantages, you better keep that charger close to hand towards the end of the day.
Galaxy Nexus vs HTC Titan – Screen
Galaxy Nexus: The 4.65in display manages a whopping 316ppi with its 1280×720 resolution, and all that's with vibrant Super AMOLED colours. Perfect.
HTC Titan: The Titan's 4.7in screen is capable of throwing up a 480×800 resolution display – which, on a screen of this size, equates to a fairly average 198ppi.
Galaxy Nexus vs HTC Titan – Camera
Galaxy Nexus: It may only be a 5MP snapper (albeit with impressive 1080p video), but it's a clever one with easy panoramic stitching, reduced shutter delay. The 1.3MP front camera also enables you to unlock your handset using facial recognition.
HTC Titan: The 8MP snapper comes with a dual LED and impressive BSI sensor for great low-light shots and a three picture tethering option built-in. There's also a 1.3MP front camera for video calling, or checking yourself out. You can get 720p video out of this handheld.
Galaxy Nexus vs HTC Titan – OS
Galaxy Nexus: Android 4.0 Ice Cream Sandwich has landed and finally draws the tablet and mobile worlds together with a unifying OS that has no need for buttons, improved multi-tasking and NFC support.
HTC Titan: Windows Mango means more efficient multi-tasking, and a Shazam-style audio search that takes you directly to the Zune Marketplace. It also has improved Twitter and Facebook integration.
VERDICT The Galaxy Nexus has taken it by a country mile. Not only does it do away with buttons to allow for an even bigger, super hi-def screen; it's packing the impressive Ice Cream Sandwich OS. The Titan is an impressive phone with a great young OS, but compared to the fourth stage of Android and the combined efforts of Google and Samsung, it never had a chance.
You might also like
Samsung Galaxy Nexus with Android 4.0 hands on review
iPhone 4S vs Samsung Galaxy S II
Motorola unveils ACTV fitness system