Freeview for your Powerbook
Well, waddaya know? Two tiny Freeview adapters turn up in the same week - only this EyeTV one is prettier than Scarlett J and designed for Macs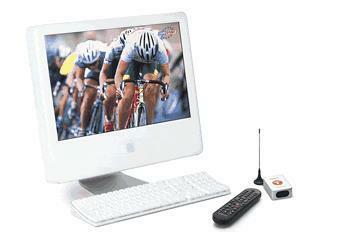 Yes, the scale in the picture is correct – Elgato's EyeTV for DTT is absolutely tiny.
It also has all the features of its desktop brethren, despite being the smallest Mac digital TV tuner we've ever seen. So you can pause live TV, schedule late night recordings of BabeStation – also known as Road Crash Television – and export the end results to DVD or PSP-friendly MP4.
It's laptop-friendly, too, as all you'll need to pack is one cable – it powers via USB.
You can pocket an EyeTV for DTT now. It'll set you back a fairly reasonable £100.