First Look – MacBook Air 11″
Stuff gets an exclusive first touch of the slivery new MacBook Air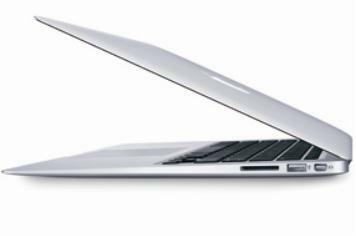 The new, improved MacBook Air has arrived, and Stuff was there at the launch for a first look…
The new MacBook Air is smaller, lighter, cheaper and entirely solid state. Which, two years ago, would have made it a (rather expensive) netbook. But times have changed. Cheap-as-chips netbooks have become stuck in a vortex of lower prices and lower performance, while Apple's iPad has started to eat into the top end of the market.
So why is Apple bothering to tinker around the edges with a new Air? Because the iPad is a consumption device. It's great for watching movies and browsing the web, but tiresome when it comes to everyday computing. The new 11-inch MacBook Air, on the other hand, promises a iPad-rivalling level of portability combined with the ability to work.
And it really is tiny. Folded flat, the 11-inch MacBook Air is barely bigger than an iPad in its case. Apple has made up for the limited size of the widescreen display by taking a trick out of Sony's book and boosting the resolution to 1366×768 pixels. That's not quite a Retina display – you can still see the pixels, just – but it's remarkably hi-res. However, that does mean that text on the screen looks very tiny, and after a while I found myself cursing the low resolution of my aging eyes to match the display.
The Air's keyboard is full size, too and with a large multi-touch trackpad it is doesn't feel cramped at all. In fact, from the outside the 11-inch MacBook Air looks like a worthy replacement to one of our favourite laptops of all time, the 12-inch Powerbook G4.
But look beneath the aluminium unibody enclosure and you'll realise the Air isn't perfect. Even though Apple has reduced the price, £850 feels expensive for a lightweight laptop in this post-netbook era. Because unlike the £850 white MacBook, the Air isn't work going to work as a primary computer – at least not for most people.
Why not? First, there's the capacity. We love solid state, but with Mac OS installed, the standard configuration will leave you with just 50GB for your applications, music, movies an documents. That's less than an iPod.
Then there's the memory: 2GB preinstalled doesn't seem like enough. Memory makes a massive difference to performance, so we'd advise speccing the Air up to 4GB (for an extra £80) if you buy one – because you won't (as far as we can tell) be able to upgrade it later.
The processor is hardly cutting edge, either: again, the standard configuration offers 1.4GHz Core 2 Duo – the same speed as the original MacBook Air launched two and half years ago. Time will tell whether the improved graphics chip takes the strain – and, in particular, solves the old Air's tendency to grind to a halt when running an external monitor.
Some of the old Air's biggest flaws have been fixed – there are now two USB ports, for example – but there's still no Ethernet, which makes heavy networking a pain. And, of course, there's no optical drive – which is only problem if you don't have another computer whose drive you can wirelessly hijack.
There's better news on the battery front – if Apple's tests are to be believed, the new, smaller Air should perform better than the old 13-inch version, and standby life has been improved to 30 days. We'll put these figures to the test, of course, but it's interesting to note that there's no power light on the new Air – so you don't know if it's on when the screen is closed. Open it up and it pops back to life instantly. Boot-up time is incredibly quick, too. Sure, this is a new machine, but it's ready to rock in less than 15 seconds.
There's plenty to love about the new 11-inch MacBook Air – but it's impossible to ignore some big question marks, too. We're going to spend a lot of quality time with it over the coming days to find out whether it's a winner or a compromise. Keep your eyes on Stuff.tv for a full review soon. 
Related stories
– iLife '11 and FaceTime for Mac launch
– Apple delivers new unibody MacBook Air