Fast facts – UK iPad App Store goes live
iPad App Store? What's that?You know what the iPad is, right? Well, it's out in the UK on 28 May, so Apple has added a load of iPad-friendly apps to t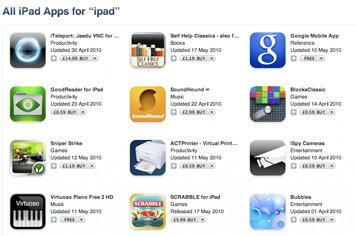 iPad App Store? What's that?
You know what the iPad is, right? Well, it's out in the UK on 28 May, so Apple has added a load of iPad-friendly apps to the UK App Store in preparation.
Don't most iPhone and iPod Touch apps work with the iPad anyway?
Yes, but with upscaled graphics. These newly added apps have been re-engineered to take full advantage of the iPad's 1024 x 768 pixel screen. They'll look clearer and sharper.
Exciting stuff! How do I view the iPad apps?
There isn't a specific iPad section, but you can find them by opening up the App Store in iTunes, and searching for "iPad". Then hit "see all" when the results pop up.
What sort of apps have been reworked for iPad?
All sorts: games, social networking clients, travel tools… everything you might find in the regular App Store, pretty much.
Hey, where's iBooks?
You're right, the iBooks app – Apple's ebook reader/ebook shop – isn't yet available in the UK. It's there if you search for it, but at the time of writing you can't actually click on it. Boo! We'll be checking again when the iPad actually goes on sale next week.
More iPad stories on Stuff.tv