E3 headliners – Sport and Family
Check out E3 2011's most exciting sports, casual and family-centric titles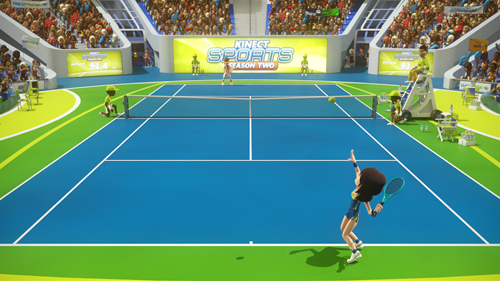 Games where the only thing you're killing is time. In a fun way. Here are E3 2011's most exciting sports, casual and family-centric titles.
Dance Central 2 (Xbox 360)
The sequel to Harmonix's Kinect dance 'em up looks broadly similar to the superb original, as you'd expect – but can now track two dancers simultaneously. You can also import the tracks from the first game into Dance Central 2, meaning there'll be over 100 songs available to boogie to from the get-go.
Mario Kart 3DS (3DS)
Customisable karts and sub aqua racing come to Mario Kart, and it's all in 3D! Out "Holiday season" 2011!
Kinect Sports Season 2 (Xbox 360)
Baseball, skiing, golf, darts, American football and tennis. The on-stage demo featured one of the developers playing golf: you get a bird's eye view of the hole using a "shading your eyes" gesture, select a club by saying its name and swing your arms as if you were holding an actual club to take a shot. Then some men talked about American football and may as well have been discussing calculus – but from what we understand you can "call audibles" with your mouth and "throw the rock" by gesture.
Forza Motorsport 4 (Xbox 360)
The sexiest of driving simulators just got sexier. The glorious-looking Forza 4 features Kinect headtracking (i.e. you look around in real life to look around in the game), 16-player races and, er, the Top Gear test track.
Just Dance 3 (Xbox 360/PS3/Wii)
Previously restricted to the Wii, the third edition of Just Dance is going multiplatform: yep, PS Move and Kinect users will now be able to pull some shapes to various pop hits. Few other details have been revealed, but it's launching on 11th October 2011.
NBA 2K12 (PS3/Xbox 360)
This year's edition of the "go to" basketball game features a new mode called "NBA on The Move", letting you use the PS3's motion controller to select a player to pass to, or a player to block. Will there be something similar for Kinect users on the Xbox 360? We'll have to wait and see…
Also
E3 headliners – Shooter and Action
E3 headliners – RPG and Adventure
Nintendo Wii U shows its game face
Sony NGP becomes PlayStation Vita