Dixons' do-it-all 40GB home cinema
Exclusive: You read it here first - Dixon's unleashing a 40G, DAB and USB-packing home entertainment system. And, yep, you can plug an iPod straight into the front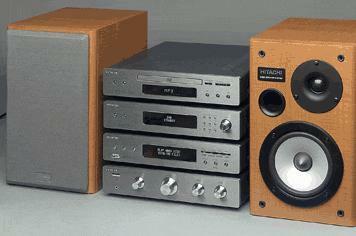 Stuff Exclusive
And the newest entrant to the networked lounge fray is… Dixons!
Yes, this September the high street behemoth is exclusively launching the Hitachi AXM140, a home cinema system with a 40GB hard drive, DVD, DAB radio, PC connection and iPod hookup.
The system consists of two bookshelf speakers and four handsome separates, the most exciting being the 40GB HD unit. Its main purpose in life is to play MP3s. You can load it up by ripping from the DVD drive, transferring files from a PC using the USB round the back and plugging a flash MP3 player in the front USB (and the iPod, the only hard drive player officially supported).
So far, so Cambridge Audio 640H. What we really like about the HD, however, is that it makes for a simple and capacious way of recording DAB. Shows are encoded as MP3s, ready to transfer straight onto an MP3 player with a couple of button taps.
The rest of the system is well-specced, with Dolby Virtual, Scarts, S-Vid and digital audio outputs if you want to hook up to a fatter amp. On first audition, the speakers sound pretty good – we'll let you know more in Stuff's October magazine when we've had a proper listen.
The Hitachi AXM140 is on sale October and will cost around £550.