Cannondale CERV says "fork off" to traditional bike design
This Continuously Ergonomic Race Vehicle, or CERV, is a fork-free reality and an innovation in cycling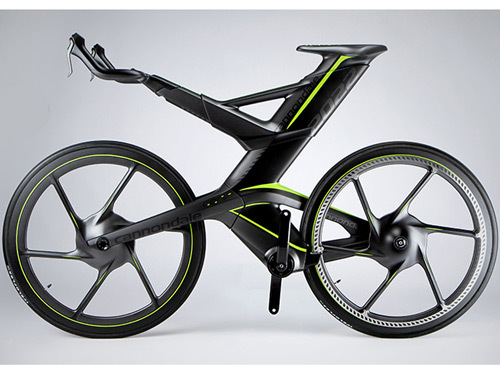 Those wheels are for show and that thing flies right?
This, this – we don't even want to call it a bike – this super cycle, might look like a hover-ride designed by an advanced race of aliens, but actually it's Cannondale's new take on bikes – one that doesn't need forks.
So what's it called? How can it work and steer without forks?
CERV, the Continuously Ergonomic Race Vehicle, is the catchy name. As for steering – the forks, and traditional steering method that goes with forks, have been dumped in favour of a front single swing-arm. That means an automatically adjusting headset that moves both fore-and-aft plus up-and-down. So the rider is always in the optimum position as the headset moves forward for a low riding position when climbing, and back and up for descending. It'll even steer thanks to internal movements that respond to the twist of the handlebars as a normal bike would. So you can even do your morning commute around town on this near-illegally-attractive piece of kit.
How do I get one right this second?
To be blunt, you don't. Priority Designs put this prototype concept bike together for Cannondale who will hopefully one day build it for the masses. We're eager to get a go on a shaft driven bicycle – just probably best to try it on the track before taking it to the local roundabouts for a handling test.
[Priority Designs via Core77]
You may also like
Apple to unveil new iPod Touch at iPhone 5 launch
iPhone 5 – Lightning connector and Apple Earpods?