B&O's pyramids of sound
There was a time when Bang & Olufsen was happy just making sky-high-end home cinema and banana-shaped phones. Well, those days are over – now it s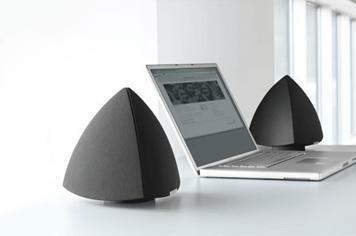 There was a time when Bang & Olufsen was happy just making sky-high-end home cinema and banana-shaped phones. Well, those days are over – now it sorts out stereos for Audi concept cars, designs Samsung phones and, as you can see above, makes desktop speakers.
They may be humble by B&O standards, but the BeoLab 4s shatter the bank-breaking tradition of their stable mates. Available in black, red, blue or grey, they can be used for rear speaker duty in a home cinema setup or as a treat for your gaming PC or Mac via a mini-jack plug.
Of course, the Egypt-worrying pyramids wouldn't be worthy of their Danish name without some clever proprietary tech. This time the grandly named system is ABL (Adaptive Bass Linearisation), which adjusts the bass according to the volume – crank the noise towards ten and the bass will be reduced to make the sound more rounded.
The amplifier tech, known as ICEpower, is also encased in the speaker unit to give the BeoLabs their versatile 20x22cm dimensions – floor stands, ceiling brackets and wall brackets are all available for extra cost.
We'll confirm price and availability the minute we find out – until then keep on counting your post-Christmas pennies.
Update (26/1/06): The BeoLab 4s cost £830 a pair. Well, you can sell one of those kidneys for a start…