B&O's extraterrestrial radio
We'll cut straight to the gadget chase - this Bang & Olufsen BeoSound 3 is the most spectacular-looking radio we've seen in the twenty-first centu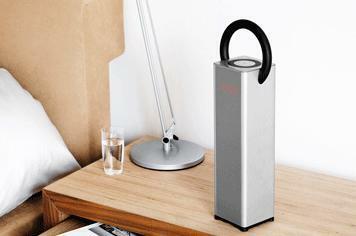 We'll cut straight to the gadget chase – this Bang & Olufsen BeoSound 3 is the most spectacular-looking radio we've seen in the twenty-first century.
Yes, this very bizarre and very modernist slab of aluminium is a radio. Not a DAB one capable of picking up the Beeb's glorious digital stations, but a decidedly twentieth century FM analogue one.
We can forgive the Beosound 3's antiquated tech innards, however, on the strength of its jaw-dropping design. This is the sort of gadget that's guaranteed to become a room's talking point –  the product design's up there with any of the stuff top furniture-makers are currently knocking out. It's practical, too, as the handle's intended for carrying the radio from room to room. It can hang on the wall with an optional bracket.
Radio aside, the only way of playing music on this sound system is via the built-in MP3 and WMA-spinning SD card reader. Naturally, being B&O kit, you have to shell out on your SD card – when we wrote this, a 1GB (roughly 200 songs) cost a measly £40. We're currently finding out if it'll play back DRM-ed WMA files – ones downloaded from music stores – though we suspect it unlikely.
You'll be able purchase this battery- and mains-operated radio before Christmas for the princely sum of – deep breath, count to ten – £440.
B&O's beautiful home cinema