BlackBerry PlayBook hands-on
We're still waiting for a UK release date for RIM's PlayBook, but that didn't stop us getting hands-on with it during the Blackberry World convention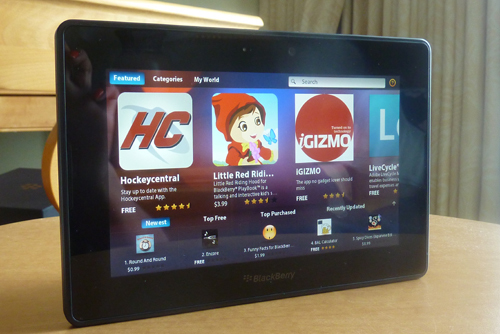 RIM's 7-inch PlayBook has been hotly anticipated for quite some time now. In fact, we're getting a little impatient (and jealous) over here in the UK, while it's been flaunting its wares in the US for just over two weeks now. There's no denying it's an attractive slice of technology – the front is entirely button-free, and that bezel isn't just for aesthetic purposes (or a waste of space), it's also touch responsive.
The PlayBook is around the same size as the Dell Streak 7 and original Galaxy Tab, but at 425g, and 10.4mm thick, it feels reassuringly sturdier, and not as plasticky, thanks to its solid, robust design. Around the edges you'll find volume, playback and power controls and a 3.5mm headphone socket on the top edge, with a magnetic docking connector, micro USB and Micro HDMI sockets at the bottom.
The rubberised, matte black back gives the hardware a subtly professional, yet stylish feel – so, very representative of RIM hardware. As we've discovered with tablets with a 7-inch form-factor, the PlayBook is extremely pocketable, it's comfortable to hold in one hand, and big enough for comfortable typing.
You won't find Android, Windows or even the new BB 7 OS here; it runs the new QNX operating system – a brand new OS created just for the PlayBook. We may even see it on future BB handsets. It's essentially designed to be exceptionally powerful, demonstrated by the way it handles multitasking, running Need For Speed while playing a 1080p video. Impressive. This is in part down to what's underneath the hood – a dual-core 1GHz processor and 1GB of RAM.
Open applications appear carousel style in the centre of the screen and are divided into four categories, but what's really interesting is the way you manage them. Flick up to get rid of them, a la WebOS, swipe left to swap between applications such as video and wake it up with a simple upward swipe. So its multitasking skills will leave you pretty impressed, and swapping applications is wonderfully lag-free. Swipe up from the bottom at any point to return to the main menu. Touch commands respond quickly too.
The 1024×600-pixel screen is capable of 1080p HD playback, which looks good on screen, showing off the kind of images you'd expect, graphically detailed and sharp.
Camera-wise, you're looking at a 5MP on the rear panel and a 3MP cam up front. As you can tell, it doesn't do too badly in the picture-taking department.
Thanks to the recent over-the-air update you'll now be able to enjoy video calling with your other PlayBook-toting pals, too. Sadly this doesn't stretch to smartphones, or any other devices or services. 
The browser impresses, too. It's fast and you can view thumbnails of multiple tabs for a more efficient web experience. The best news, though, is that it tears through Flash video and HTML 5.
Apps are of course essential to any tablet and with Android app compatibility and a slowly growing BlackBerry App store, the Playbook may still have time to make its mark yet.
In fact, it's beaten Apple and Google to the punch by providing the first tablet-specific Facebook app. Other apps include Kobo Books and YouTube.
The PlayBook is launching with Wi-Fi and 16GB of onboard storage, with a 3G model to follow. It's designed to be used in conjunction with BlackBerry handsets, so via Bluetooth pairing you can get access to email, contacts and the famous BB Messenger.
You'll find 16GB of storage onboard, but you won't find an SD card slot to boost that memory. Still no word on prices, or a UK release date, but we're expecting that information to land in our inboxes very soon.
Also
BlackBerry PlayBook to get video chat and first dedicated Facebook app
BlackBerry PlayBook shows off 3D