Big Trak returns from pre-programmed trip to the '80s
Those of a certain age should prepare a demister for their eyes, for Big Trak hath returned.In the days of He-Man and waking up to Saturday Superstore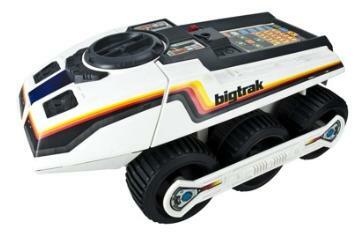 Those of a certain age should prepare a demister for their eyes, for Big Trak hath returned.
In the days of He-Man and waking up to Saturday Superstore, there rolled a 6-wheeled robot into our lives. The grey '70s were over, the cheesy, multicoloured '80s had begun, and we were ready for the automated future.
With a 23-button keypad on its back, you could programme the plastic tank to trundle forward, then turn, then trundle some more… You get the picture. It also had 16 presets to perform predefined sequences of movements. It was like magic.
The revived Big Trak is an authentic reproduction that will boast all the features of the original, including the ubiquitous '80s go-faster stripes and blue headlamp.
Available from July for £39.99.