Archos 32 "Minidroid" internet tablet surfaces
New pocket-sized media device from Archos pops up its head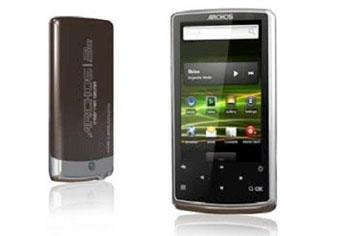 Details of the new Android-based Archos 32 "internet tablet" have been revealed in a document submitted to the FCC (Federal Communications Commission) over in the States.
It was originally leaked on a US retailer site, with the listing showing a 3.2in screen, 800MHz processor, 8GB of storage, plus built in camera and microphone. It also showed the Android version as 2.1, and a price of $150.
New photos from the FCC document show more of the phone's layout – most notably that there are dedicated buttons and directional controls built into the touch sensitive surface below the screen.
Other information from the document shows that it also has GPS, Bluetooth and WiFi on the inside, with a 3.5mm headphone jack and a kickstand for movie watching on the outside.
If it turns up over here and for somewhere not too far off £100, Archos could be onto a winner. It's certainly far more pocketable than the whopping 4.8in Archos 5 Internet Tablet.
[via Engadget]