Apple patent shows hybrid MacBook and iPad device
New patent application points to detachable MacBook display with wireless charging – could this be the iPad/MacBook hybrid to take on transforming tablets?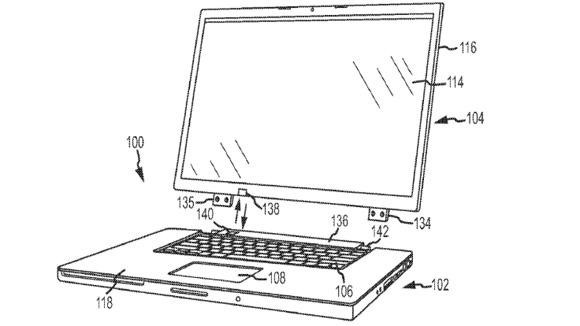 Apple could be gearing up to release a transforming MacBook/iPad hybrid device – with wireless charging and display tech.
That's according to a Apple patent unearthed by CNET, which shows off a computer display that can be removed from its keyboard base. So far, so Transformer Pad Infinity. But what sets Apple's proposed design apart is that it contains wireless display technology, meaning that data could be sent wirelessly through a transmitter in the laptop's hinge.
This also means that the device could be charged wirelessly – so you could detach the screen to watch a movie on the train or in bed without the bulk of a typical laptop body.
Apple CEO Tim Cook has gone on record in the past as being opposed to the idea of such a hybrid product, stating that, "You can converge a toaster and a refrigerator, but those things are probably not going to be pleasing to the user."
However, it wouldn't be the first time Apple has gone back on its own statements – Steve Jobs infamously stated that 7in tablets would be "dead on arrival," and yet here we are, waiting on the arrival of the Apple iPad Mini 2.
[via CNET]
Angry Birds Friends takes off for phones and tablets
Budget plastic iPhone designs are inspired by the original iMac