Apple begins bumper refund roll-out
Staying true to his word, Jobs and the Apple gang have begun the refund process for its bumper cases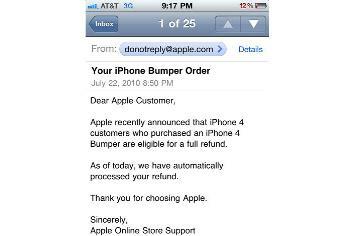 Apple's good-will gesture (read: obligation to avoid Antennagate backlash) to issue iPhone 4 bumper refunds has begun.
It was initially thought customers would need to initiate refund proceedings themselves, but as is suggested, refunds are being rolled-out automatically without needing to put in that discontented call to Cupertino. However, this only accounts for one half of disgruntled iPhone 4 owners. What about the folks who purchased in-store and didn't pay with a credit card or haven't registered? With that in mind, it might be worth dropping Apple a line for confirmation – just in case.  
As we know, Jobs is desperate to appease all iPhone 4 users, so will also be doling out a free case with every iPhone 4 before the end of September in a bid to 'solve' the reception issues that have been plaguing it since its release.
At £25 a pop, this sure is working out to be one costly refund for Apple. We believe somewhere around the £110 million mark (ouch). But the biggest hit, for sure, has to be the much publicised knock to Apple's reputation (even if it isn't drastically affecting sales).
So, has an Apple-shaped email landed in your inbox this week? Or are you still waiting for your iphone 4 bumper refund? Either way, let us know below.
[via Engadget]
More stories on Stuff.tv
– Jobs on iPhone 4: "we're not perfect"   
– Apple launches white iPhone 4