…And you will know us by the trail of dead
Our Xbox Live! Halo 2 challenge resulted in a heroic, unilateral, whitewash defeat for the Stuff six (five, actually - Adam was in Korea.) We excelled ourselves with a singularly dismal display of how not to play Halo 2, managing not one, not two, not thr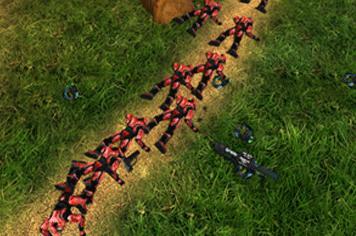 We played Capture the Flag. We lost 3-0. We played King of the Hill. We managed a full 31 seconds atop the mound, while our opponents clocked up 3 minutes. We played Team Ball and held possession for an impressive 1 minute 38 seconds. But that was because the team of reader assassins deliberately dropped the ball with one second to go. To give us a chance. Pathetic. We might have managed one flag steal, if it wasn't for Stuff 6 (who shall remain nameless for legal reasons) attempting to slot himself into the (occupied) Warthog driver's seat while holding the flag. Left hand drive, dude.
We were thoroughly schooled by:
Incredible Mike
Sgt Red No1
Jamming Jim
BlackEyedFish
Yoda no1
Rest assured we'll put marginally more effort into the next one.
Forza Motorsport next. We think. Is it any good? We haven't played it yet… Anyone who fancies a pop at us, and frankly anyone with opposable thumbs and a heartbeat should be up for it, log your gamertag – details below – and we'll see you on the 4th July for some tyre-squealing, panel-beating, petrolhead action.
All you need to get involved is an Xbox, broadband, a subscription to Xbox Live and a copy of Forza Motorsport. If you've got all those boxes ticked, you just need to tell us your gamertag. If you're registered already, just log-in, click 'Your Profile' and add your gamertag. New to the site? Register here, including your Xbox Live gamertag.
We'll be picking a dozen Stuff readers at random on Friday 24th June and emailing them details of the game. 6 will be 'first choice' players, the other 6 will be 'standbys' in case the first choice players fail to respond to emails.