Steam Autumn Sale 2018: the discount games you need to buy
Huge savings on new releases, indie games, and essential classics alike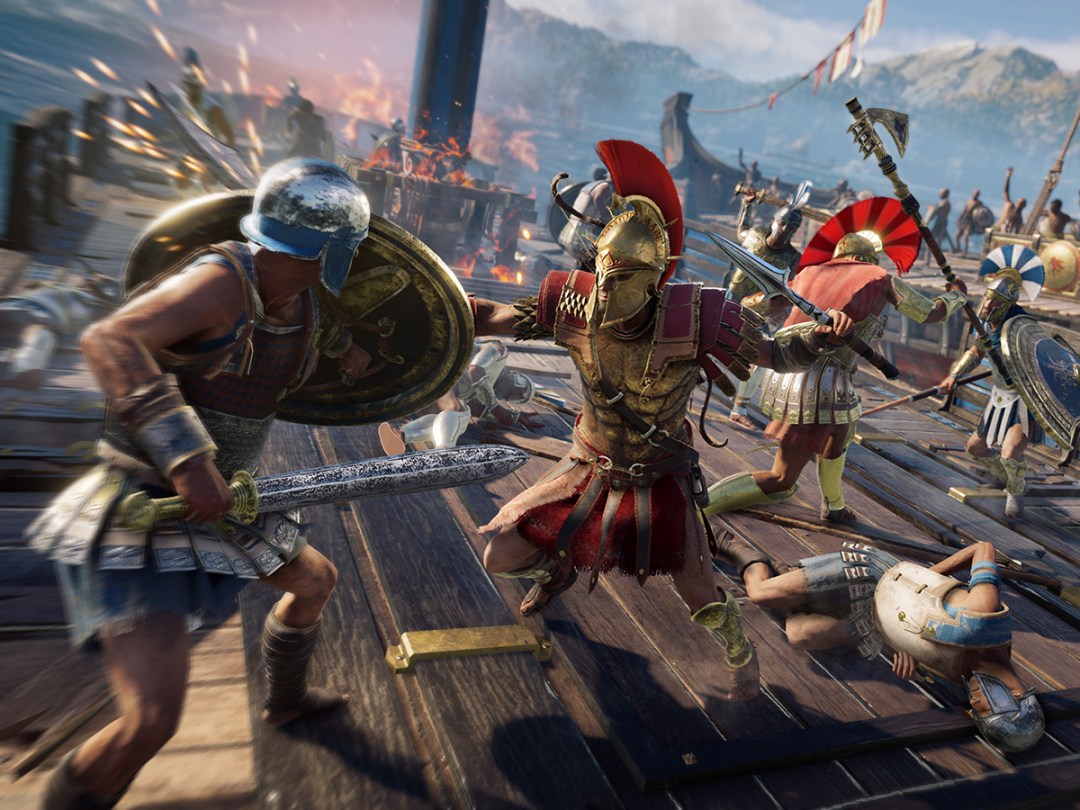 Black Friday's incredible deals aren't constrained solely to physical products – you'll also find amazing discounts on digital games, and that's especially true on Steam.
The Steam Autumn Sale 2018 is in full swing, and as always, a Steam sale is a proper event. There are discounts on seemingly thousands of games, and it's not just old junk either: some brand new releases have their price tags slashed right now, along with some brilliant indie games and still-must-play classics from years back.
Looking to load up on PC games for the winter months ahead? Here are our picks for the absolute best deals in the Steam Autumn Sale 2018. And hurry, because the sale ends Tuesday, 27 November!
New-ish releases
Far Cry 5 (£24.99, from £49.99)
One of our favourite games from earlier this year, Far Cry 5 refines and enhances the series' open-world action approach, this time with a wild storyline featuring an American religious cult. At half-price just months after release, this huge adventure is well worth snagging now.
Dragon Ball FighterZ (£17.99, from £44.99)
There have been some crummy Dragon Ball games over the years, but this isn't one of them – in fact, Dragon Ball FighterZ may well be the best new fighting game in years, period. It's fast, accessible, and incredibly cool to look at all the while. This price is a steal.
Shadow of the Tomb Raider (£22.49, from £44.99)
We're a little shocked to see Shadow of the Tomb Raider at half-price after just two months, but Square Enix's loss here is your potential gain. Lara's latest quest is a thrilling jaunt through tense, stunning set-pieces, even if it is ultimately more of the same.
F1 2018 (£22.49, from £44.99)
Codemasters' latest Formula One adaptation is the best and brightest to date, amplifying the realism while packing in more classic F1 cars and an even more immersive career mode.
Assassin's Creed Odyssey (£33.49, from £49.99)
Just a few weeks after release, you can already snag the great Assassin's Creed Odyssey at a sizable discount. This one drops you into Ancient Greece and delivers a deeper quest than ever, with a rewarding progression system, great combat, and more role-playing elements.
Indie darlings
Into the Breach (£7.63, from £11.39)
From the makers of FTL comes Into the Breach, a turn-based tactical strategy game with a twist. Mech-wielding warriors battling against invading aliens might seem cliché, but Into the Breach keeps things interesting by forcing you to travel back in time and start over when you fail.
Firewatch (£3.74, from £14.99)
We weren't as hot on Firewatch as some folks out there, but for under four quid, it's well worth experiencing for its incredible atmosphere and aesthetic. As a forest fire lookout, you'll unravel a mystery, hold compelling conversations, and explore the beautiful wilderness.
Celeste (£11.99, from £14.99)
It's not a huge discount, but Celeste might be the best game of 2018 that you probably haven't played yet. This critically acclaimed indie platformer follows the trials of a young, anxiety-stricken girl who attempts to scale an epic mountain.
Inside (£5.99, from £14.99)
One of the most mesmerising games of the last few years, the atmospheric Inside has you guide a young boy through an eerie environment – all while being hunted and pursued – as you get to the bottom of exactly what's happening inside the factory.
Must-play classics
Valve Complete Pack (£11.83, from £118.81)
Fancy owning every Valve game ever released on PC? It's easy as pie with this shockingly cheap bundle. For under £12, you'll get both Portal games, both Left 4 Dead entries, every bit of Half-Life, the Counter-Strike series, and plenty more. It's PC Gaming 101.
Grand Theft Auto V (£16.49, from £24.99)
Did you somehow get through the last few years without playing the brilliant Grand Theft Auto V? Rockstar's masterpiece has been out for a while now, but this open-world essential could keep you playing for ages and ages. If you've missed it, get it now.
Rocket League (£7.49, from £14.99)
Easily one of the most replayable games of all time, Rocket League takes the immensely fun premise of "cars playing football" to brilliant heights, letting you soar through the air to sink shots, drive along the ceiling, and demolish foes with well-timed slams.
Kerbal Space Program (£11.99, from £29.99)
Fancy yourself the next Elon Musk? You can test your spacefaring ambitions in the wondrous Kerbal Space Program, a physics-driven challenge that tasks you with building a functional spaceship from various parts to help an alien race explore the galaxy.
XCOM 2 (£8.74, from £34.99)
On the other hand, if you'd rather just eradicate the aliens, hop into XCOM 2 instead. This tactical strategy sequel can be tough as nails, but it feels deeply rewarding to craft a battle plan and then see it through as you outwit and outthink the extraterrestrial creeps.