Smartphone Supertest 2017: What's the best phone right now?
Eight superb smartphones, but which should you splash out on?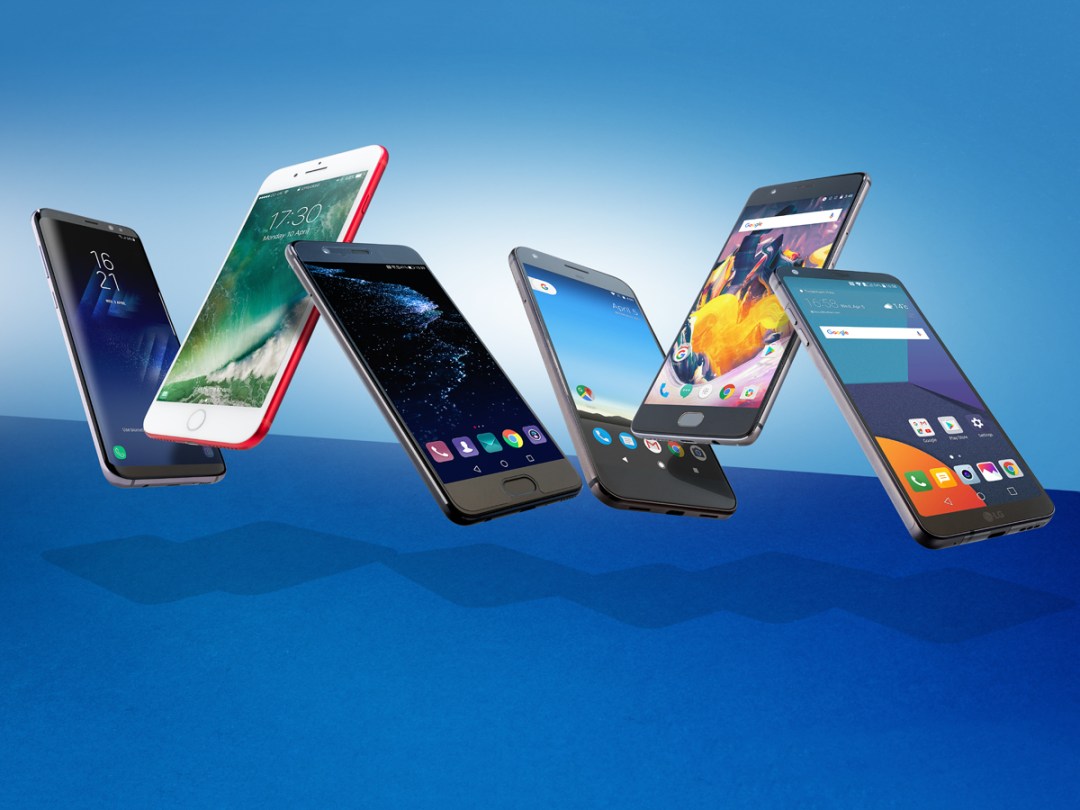 You've never had it so good when it comes to picking your next smartphone. 
While Samsung was busy dealing with the fallout from its Note 7 nightmare, the other big names were all readying their own new flagships, eager to take a slice of that tasty smartphone pie. And now, with this week's arrival of the OnePlus 5, they're all here. 
So which should you buy? Will you be swayed by Huawei's dual-camera cleverness, or LG's bezel-less screen, or HTC's squeezable tech? Will Sony's 4K loveliness or the newly red iPhone turn your head? Does OnePlus still hold the value crown? Is last year's camera-tastic Google Pixel still worth considering? And has Samsung redeemed itself with the S8? 
We've answered all these questions, and more, in our ultimate test of the top smartphones. Don't even think about buying a new handset before you read it.
The contenders
1. Apple iPhone 7 Plus Product Red
Everything you know and love about Apple's biggest, baddest iPhone… only now it comes dressed in red.
2. Huawei P10 Plus
The bigger of Huawei's two new flagships has a twin-camera combo and loads of storage for all the magnificent pics it'll help you take.
3. Samsung Galaxy S8
It's not just the 'barely there' screen bezels that make the S8 stand out – it's also packing a new AI assistant to make your life easier.
4. Google Pixel XL
Google's first attempt at a phone of its own (not counting Nexus) has the purest form of Android and a seriously impressive snapper.
5. OnePlus 5
The self-proclaimed 'flagship killer' was the bargain of 2016 – but this year's dual camera-wielding replacement has upped the price. Does it still stand out in 2017?
6. LG G6
LG goes back to basics with the non-modular G6, but still finds room for some dual-camera cleverness and a super-wide 18:9 screen.
7. Sony Xperia XZ Premium
You've never seen a phone screen like it: 4K and HDR together in one place. Throw in some seriously slow-mo shooting and this Sony's got lots going for it.
8. HTC U11
The squeeze-friendly sides are the headline but the U11 looks like an all-round stunner of a phone.
Apple iPhone 7 Plus Product Red: The headlines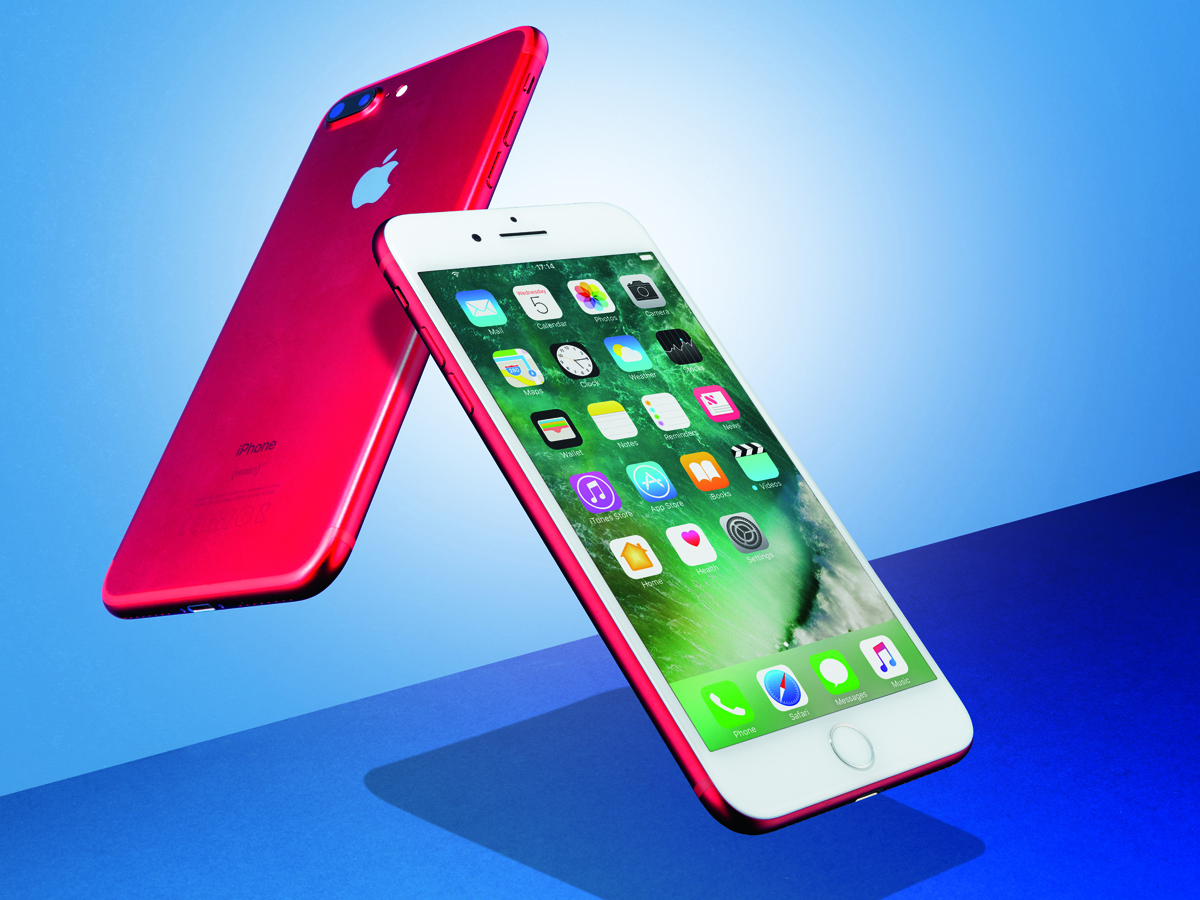 Things are better when they come in pairs. Fact. As if a solitary KitKat finger could ever last your entire tea break! And that's our thinking when we consider the two cameras pointing out of the back of the iPhone 7 Plus: what used to just be a plus-sized version of the iPhone has now fully stolen the spotlight from its smaller brother, thanks to its clever camera tech.
Yes, it's a pocket-busting size that not everyone will like, but with better battery life than its wee bruv, we reckon the Plus is undoubtedly the iPhone to go for now. This Product Red edition is the same on the inside but swaps Apple's usual metallic colours for a gorgeous crimson hue. The shiny rear is just as resistant to fingerprints as other models (jet black version excluded), but not everyone will appreciate the white glass front. We reckon it would've looked even meaner if Apple had gone for black glass instead.
Apple has never focused on hardware, which usually leaves the iPhone languishing towards the bottom of any specs tables, but bespoke software designed specifically for Apple's own A10 Fusion CPU means iOS is still undeniably slick. And it's got tricks aplenty: for instance, the home button isn't a button at all, but you can set three different levels of haptic feedback to trick your brain into thinking it responds to your prods and presses.
The iPhone's camera has always been one of its greatest weapons against the encroaching army of Android rivals, and that's definitely the case this time round. It's still in beta, but the iPhone's Portrait Mode lets you put those dual cameras to good use, blurring the background to really make your pics pop, just like a DSLR. The ability to zoom up to 2x with no loss of quality at all is a further boon.
So, while the Apple iPhone 7 Plus may lose out in the design stakes to Samsung's gorgeous Galaxy, if you're firmly entrenched in camp iOS, it's time to go big or go home.
Apple iPhone 7 Plus Product Red: The detail
Design: Reddy for its close-up
The new red colour choice helps make the iPhone feel fresh again – useful, because the basic design hasn't changed for three years. Sure, Apple made the iPhone 7 waterproof, and those twin camera lenses are a dead giveaway you've got one, but it's beginning to look dated – especially with those chunky bezels. The headphone port is gone too, ditched in favour of Lightning. That means lugging around a clunky adaptor if you want to use your existing set of cans, or cutting the cord altogether with Bluetooth.
7/10
Screen: Gamut of thrones
The 5.5in screen hasn't grown from last year's iPhone 6s, and resolution stays at 1080p too, but Apple has swapped to a wider colour gamut panel for more realistic colours. You can actually see the screen properly in direct sunlight now.
7/10
OS and apps: A perfect 10
Aside from a few tweaks, it's the same basic OS we've been using for years. iOS 10 makes Apple's 3D Touch pressure-sensitive screen tech that little bit more useful, with most of the major apps now featuring pop-up menus.
10/10
Camera: Two become one
Apple's twin-camera concept is centred on zoom, letting you toggle between 1x and 2x to get closer to the action without having to edge nearer to your subject. Optical image stabilisation goes a long way to keeping your shots steady, even when you're zoomed in, so you'll be able to pap unsuspecting wildlife. The cameras also work together to create depth of field in Portrait Mode, which can look stunning. Image quality here is consistently among the best we've seen, in just about all lighting conditions.
9/10
Current price: £700
Huawei P10 Plus: The headlines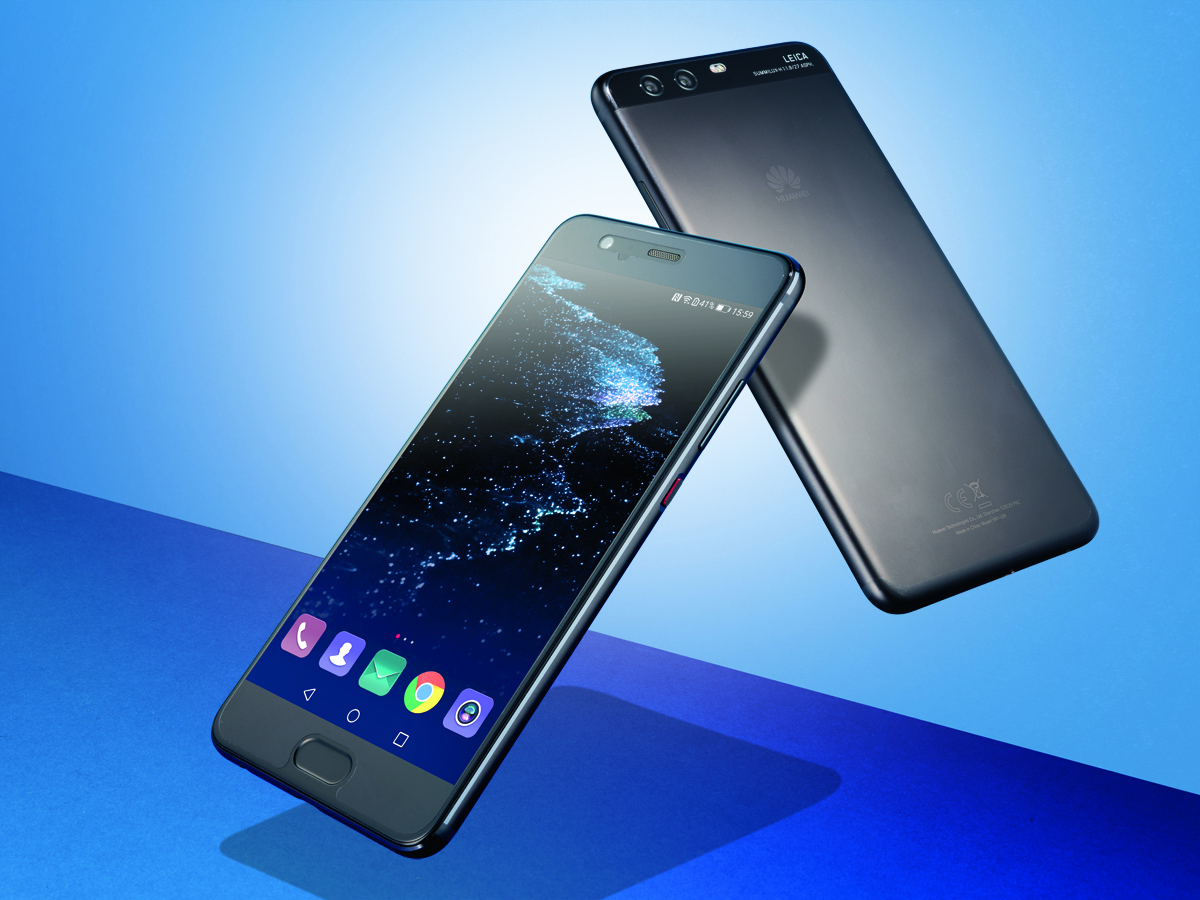 Apparently, Huawei treats flagship phones like pots of Pringles: once you pop, you just can't stop. That's why we don't just get one P10, but two: a vanilla 5.1in version and the Plus-sized 5.5in model seen here.
The original has plenty of power and a genuinely clever dual-camera design, but the P10 Plus boosts battery life and bumps resolution from 1080p up to QHD to give it a real edge. It has the same Huawei-built Kirin 960 CPU inside, along with a whopping 6GB of RAM to keep Android 7 ticking over smoothly. You also get a huge 128GB of on-board storage, so you'll struggle to run out of room for apps and games. Where the P10 would barely last a day, though, the P10 Plus can eke out a day and a half of heavy use between battery top-ups.
The all-metal unibody doesn't really have the wow factor of its rivals, especially when compared to the Galaxy S8, but build quality is exceptional and it sits comfortably in your hand despite the big screen. You get a headphone socket too – that's one area where Huawei didn't take inspiration from Apple. Yes, it looks an awful lot like an iPhone, EMUI takes some getting used to, and it's nowhere near as distinctive as Samsung's curved glass. But that doesn't stop the P10 Plus being Huawei's best phone to date. And it demands slightly less of your hard-earned cash than its major rivals.
Huawei P10 Plus: The detail
Design: Feels familiar
Yes, the P10 Plus looks a lot like an iPhone, but they aren't identical. Flip it over and you'll spot how Huawei beats Apple, setting the dual rear cameras completely flush to the body instead of sticking out. You'll still need to pick up one of the bolder hues if you don't want people confusing you for an iOS fan, though. 'Greenery' and 'dazzling blue' were both designed with help from colour specialists Pantone, and are as attention-grabbing as they are divisive. You'll either love 'em or hate 'em, but you'll definitely stand out from the crowd.
8/10
Screen: Join the Q
Full HD just doesn't cut it any more for a flagship phone – it was one of the standard P10's few black marks – but you get a QHD display here, stretched over 5.5in. Darker hues aren't quite as rich as you'd get from an OLED display, though.
7/10
OS and apps: Shed your skin
Huawei's take on Android is going to divide opinions – even though EMUI 5.1 is the least intrusive version of the skin to date. It defaults to an Apple-aping set of homescreens, but you can choose the standard Android app drawer format. Nor is moving the fingerprint sensor to the front just for show – you can use it to ditch the on-screen buttons and free up screen space for your apps. Using just the one button to control all three of the regular Android shortcuts may seem odd, but trust us, it works.
8/10
Camera: Compact lenses
German camera marque Leica has supplied the glass for the P10 and P10 Plus, but only the bigger version gets ultra-wide f/1.8 apertures on its lenses. Adding a 20MP monochrome sensor to the main 12MP colour one gives you a camera bag's worth of tricks, all packed into something that slips in a pocket. The P10 Plus can zoom up to 2x without taking an image quality hit, take atmospheric, high-contrast black and white pics that preserve detail in the lowest of low-light scenes, and add dreamy depth of field to portraits and macro shots. Combining two f/1.8 lenses lets them act like even faster glass, so you can set a super-wide aperture with a few taps.
8/10
Current price: £600
Samsung Galaxy S8: The headlines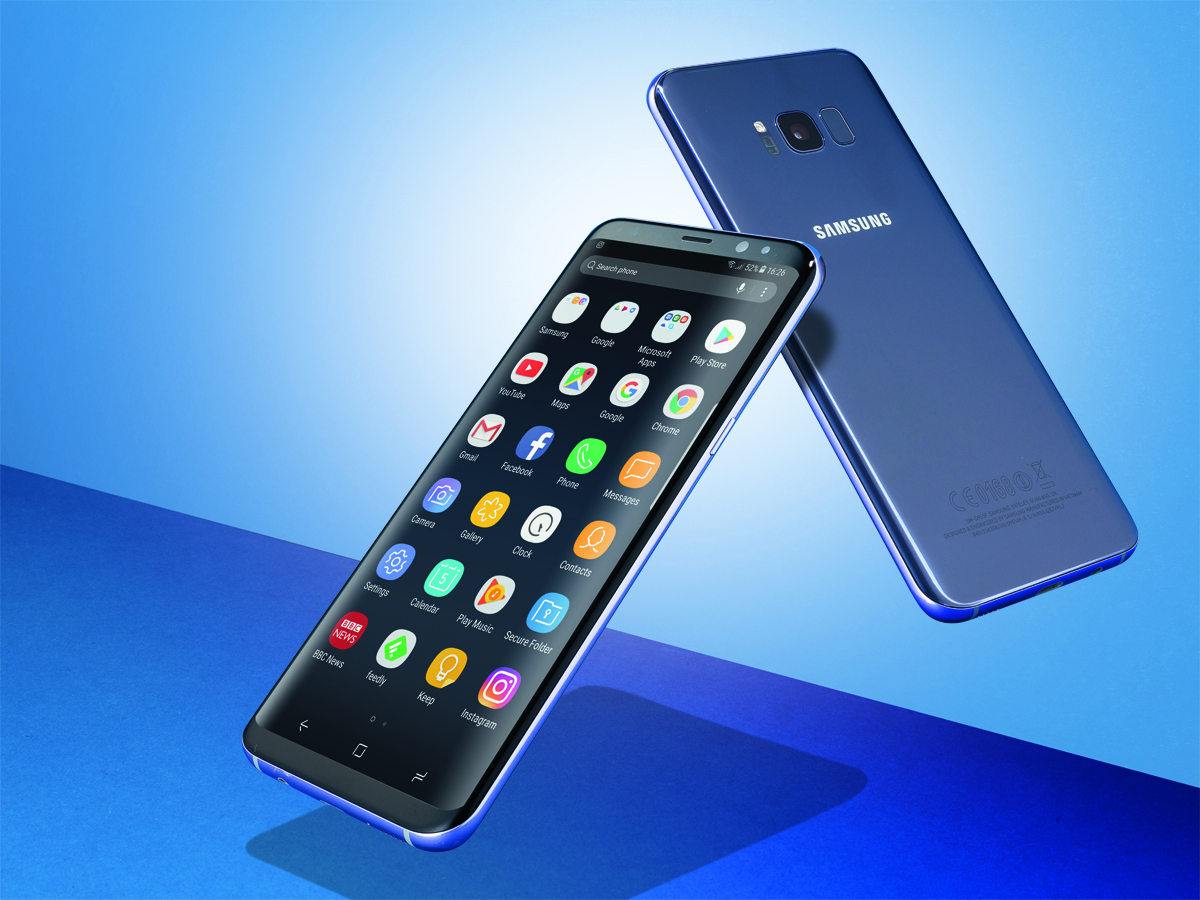 Samsung already had one of the best-looking phones in the world with last year's Galaxy S7 Edge, but it's refined the design for 2017, stripping away bezels and buttons to make room for an eye-catching screen that almost completely fills the front of the phone. Those tiny bezels on the front have forced the fingerprint sensor to the back. It sits right next to the camera, so take care not to leave fingerprint smudges on the lens. If the fingerprint sensor's position bothers you, then worry not: there's an iris scanner at the top which can unlock the phone with a glance. It works best during the day, but doesn't scan 100% of the time.
It's a thing of beauty on the surface, but a performance monster underneath – exactly what a flagship phone should be. With Samsung's own octa-core Exynos CPU supplying the grunt, there's no game or app you won't be able to run. Dock it into Samsung's DeX Station and it can even switch from phone to desktop PC, running all your apps on the big screen with a keyboard and mouse. Now that's a powerhouse.
On paper, Samsung has played it safe when it came to the battery: a 3000mAh cell doesn't exactly sound massive, but you'll easily get a whole day of juice from a full charge. The biggest new addition on the software side is Bixby, an AI butler that won't just recognise your voice but also detect what's on screen and what the camera is pointing at. Samsung has even given it a dedicated button, just below the volume keys. We're waiting on Bixby's full UK launch, and only a few apps work with it for now, but it has potential if app developers get on board.
With a truly top-notch camera, retina-busting resolution and a design to die for, the Galaxy S8 really is the full package.
Samsung Galaxy S8: The detail
Design: It just wants a hug
Samsung's stylishly compact combination of metal and glass might be taller and skinnier than other phones, but that just makes the S8 easier to hold. The curved screen edges that made the S7 Edge so distinctive make a return, and the slim bezels are guaranteed to turns heads too. The physical home button is gone, replaced by a digital version, and the fingerprint sensor's been relocated to the rear. Yes, it's a little closer to the camera lens than we'd like, but iris scanning means you won't be using it all that often.
10/10
Screen: To infinity and beyond
The display might be a huge 5.8in, but ultra-slim bezels save it from being a pocket-burster. The 2960×1440 resolution is perfect for VR, and the AMOLED panel can handle HDR video with near-perfect contrast.
10/10
OS and apps: A touch of class
This year's version of TouchWiz is all about choice. Don't like Samsung's way? There's sure to be one you do like hidden somewhere in Settings. It's much less intrusive than in previous years, but still has useful additions to Nougat.
9/10
On paper, not much has changed from last year: the 12MP rear shooter has the same pixel count, f/1.7 aperture, OIS and dual-pixel autofocus as the S7. This time around, though, multi-frame processing stitches three snaps together for every press of the shutter button. And we also get an improved 8MP selfie cam up front. The S8 consistently delivers photos that are packed with detail and colours that stay true to life, without the overly aggressive sharpening seen in some rival phones.
9/10
Current price: £563
Google Pixel XL: The headlines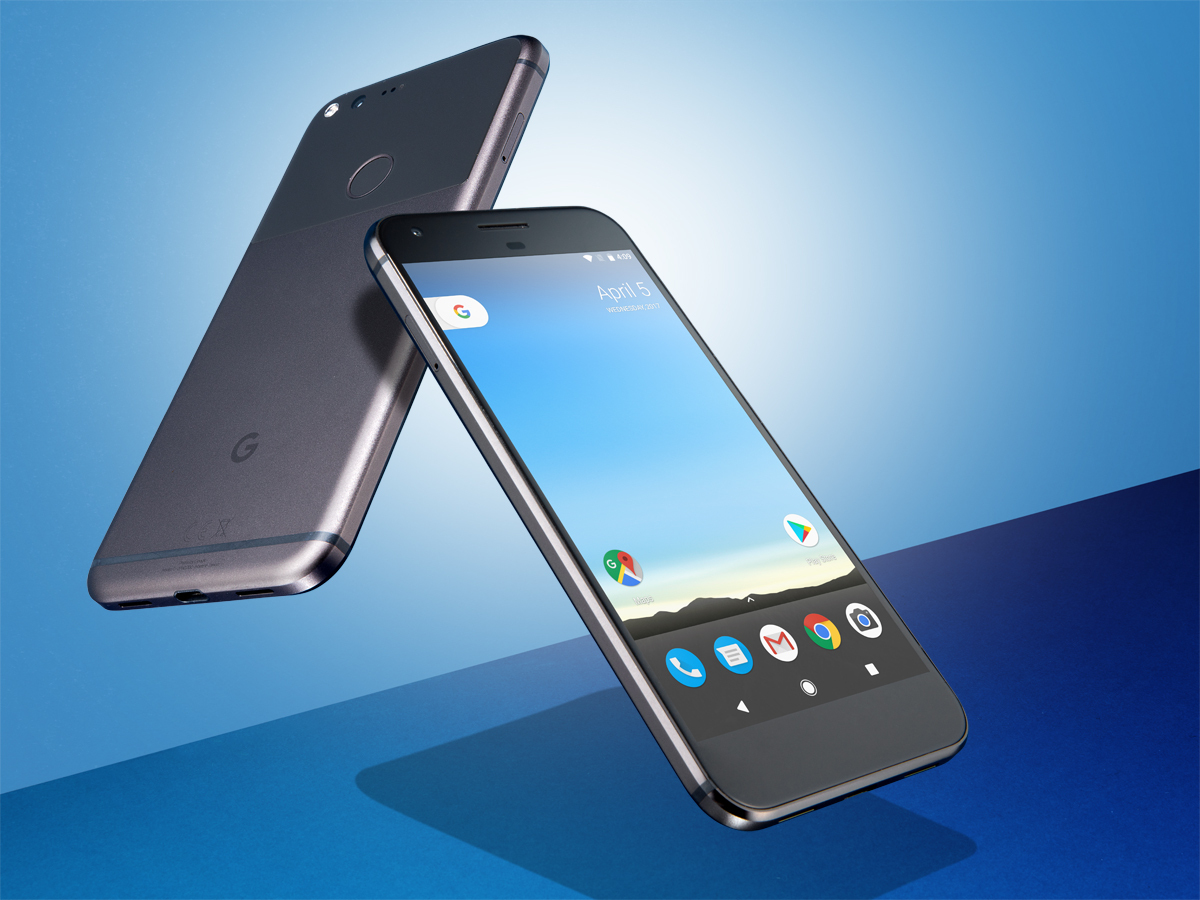 Google's first own-brand handset wasn't just supposed to put every other Android phone to shame – it was supposed to convince iPhone owners to make the switch from iOS. That meant saying bye to the Nexus range, leaving OnePlus to plug that affordable gap while Google focuses on the high end.
The result isn't quite the show-stopper we were hoping for, with no drop-dead gorgeous design, no water-resistance and only decent battery life to justify the high price. The 5.5in XL version is on the big side too: add one of Google's custom Live Cases and it'll be bulging out of your pocket before you know it. It's powerful enough to keep pace with the competition, though, thanks to a Snapdragon 821 CPU. That might not be the fastest processor around any more, but with no third-party skins bogging down Android 7 Nougat, the Pixel XL really flies. Plus, the pure, undiluted Google experience will always appeal to a hardcore subset of Android fans.
If that doesn't wow you, then the camera probably will – by stitching together multiple shots every time you press the shutter button, you get noise-free photos with realistic colours and excellent exposure. Other phones are still playing catch-up here, more than six months after launch. It's not perfect, but neither is the iPhone – and that never stopped Apple, did it?
If you're after simplicity above all else, with a brilliant camera, powerful internals and a stock Android OS that bleeds Google right down to the core, the Pixel XL still holds its own against the newly arrived Galaxy S8.
Google Pixel XL: The detail
Design: Half-glassed
You'll either love the Pixel's half-glass back and metal frame or think it looks unfinished. The bulge towards the top lets the camera module sit flush to the body, rather than sticking out as on the iPhone.
7/10
Screen: Pixelly lot
The XL's AMOLED panel delivers punchy colours and fantastic contrast. The QHD resolution is par for the course at this price, and even stretched over 5.5in there's more than enough detail for tiny text.
8/10
OS and apps: Home from home
It's pure Android, but not as you know it: the Pixel has a unique version of Google's homescreen that uses gestures rather than icons to open the app drawer, and a baked-in swipe shortcut to the Google Assistant.
10/10
Camera: Sharp shooter
12.3MP and no optical image stabilisation? The Pixel doesn't sound great on paper, but Google's software makes it one of the best smartphone shooters around. It's super-fast, and exposure is usually spot-on.
9/10
Current price: £719
OnePlus 5: The headlines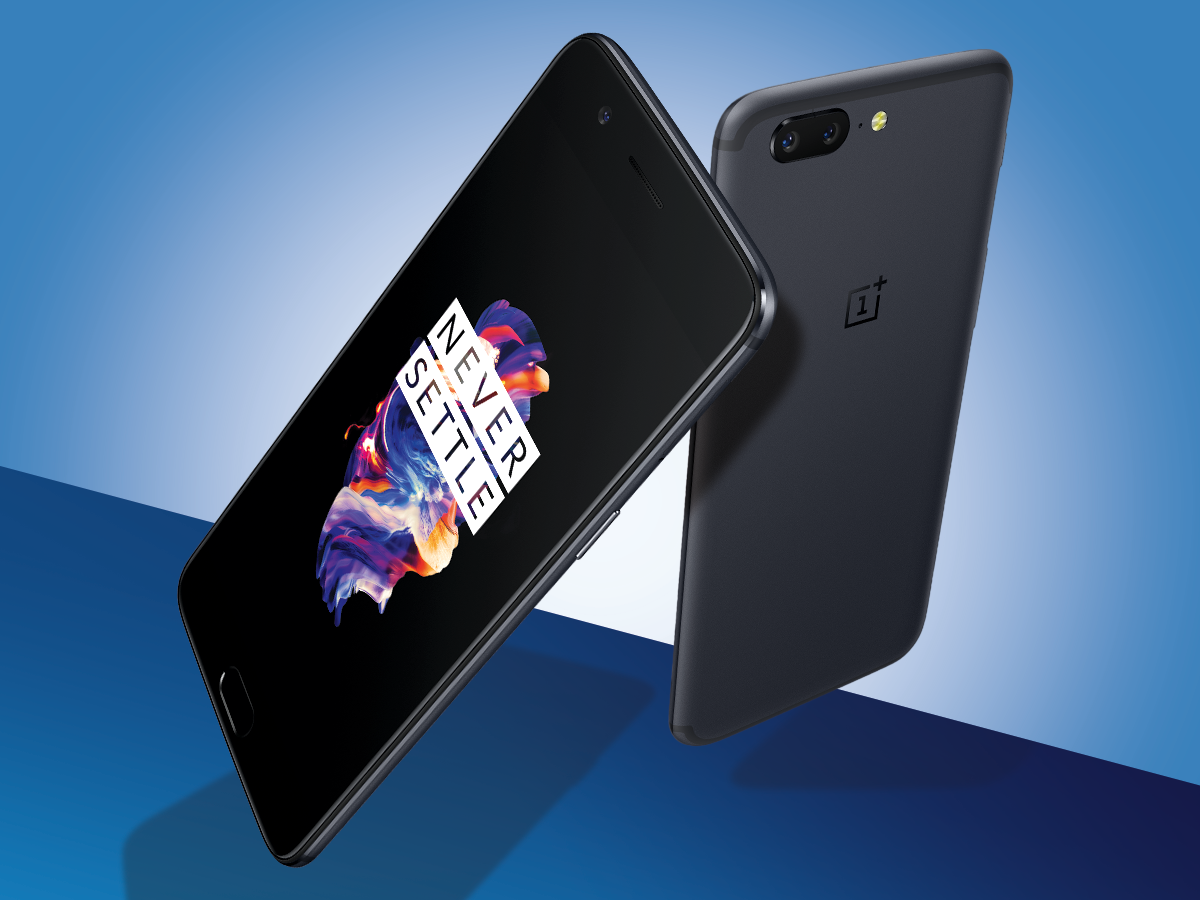 Last year's OnePlus 3T might have felt as premature as Christmas decorations in August, but the OnePlus 5 is a sequel we can all get behind – The Force Awakens instead of The Phantom Menace. OK, so the price has pushed up even further, from a still wallet-friendly £399 to a more wince-inducing £449 (or £499 if you want 128GB of storage), but that also buys you a significantly better camera, incredible performance and a much-improved design.
The matte all-metal finish, rounded edges and streamlined sides help it sit amongst the rest of this group and not look remotely cheap, even if LG and Samsung's switch to slim-bezel, odd-aspect-ratio screens set them apart in a league of their own.
The Snapdragon 835 CPU inside has never felt snappier, thanks to a whopping 6GB/8GB of RAM and a pared-down version of Android, and while the battery might have shrunk a little, the more energy-efficient chip means fantastic battery life. Let's not forget Dash Charge, either – you really can get a whole day's juice in 30 minutes.
Most of your extra cash has gone towards those dual cameras, though. They really are a big improvement over the OnePlus 3T's simple shooter, letting the 5 match much more expensive phones for picture quality. The extensive manual mode will keep serious snappers happy, too.
No, the 5 doesn't carry the same ultra-bargain status of its predecessors, but it's still at least £150 less than the rivals we've featured here. Spend that extra cash and you'll get a funky, bezel-busting screen or slightly better camera – but to be honest, we'd rather keep the cash and stick with this slice of smartphone excellence instead.
OnePlus 5: The detail
Design: Feels familiar
Rounded corners, a more sculpted back that fits snugly in your palm, and an all-aluminium body give the 5 a much-needed sense of class, even if it does look an awful lot like an iPhone with that front-facing fingerprint scanner and dual cameras at the rear. The mute switch is still a nice touch, though.
8/10
Screen: Raising the tone
1080p seems to be the sweet spot for OnePlus, with enough detail for photos and videos but not so many pixels it puts a strain on the battery. The AMOLED panel is a step above the LCD you'll find on Huawei's P10, but it can't match the clarity of Samsung or LG.
7/10
OS and apps: Breathe easy
It looks a lot like vanilla Android, but OnePlus' OxygenOS skin is more like vanilla Android with sprinkles on top. It's got a few welcome tweaks and extras that let you mix up the design and layout, plus a very handy shelf for keeping all your widgets in one place. It's running Nougat out of the box, with split-screen support and expanded notifications. If only more third party Android skins were like this.
9/10
Camera: Double the fun
It loses OIS, which makes low-light shooting a bit of a struggle, but the dual cameras more than make up for it with fantastic daylight snaps, a dreamy depth-of-field Portrait mode and 2x zoom for getting that little bit closer to your subjects. It's a real step up, and helps OnePlus compete with the big boys.
8/10
Current price: £449
LG G6: The headlines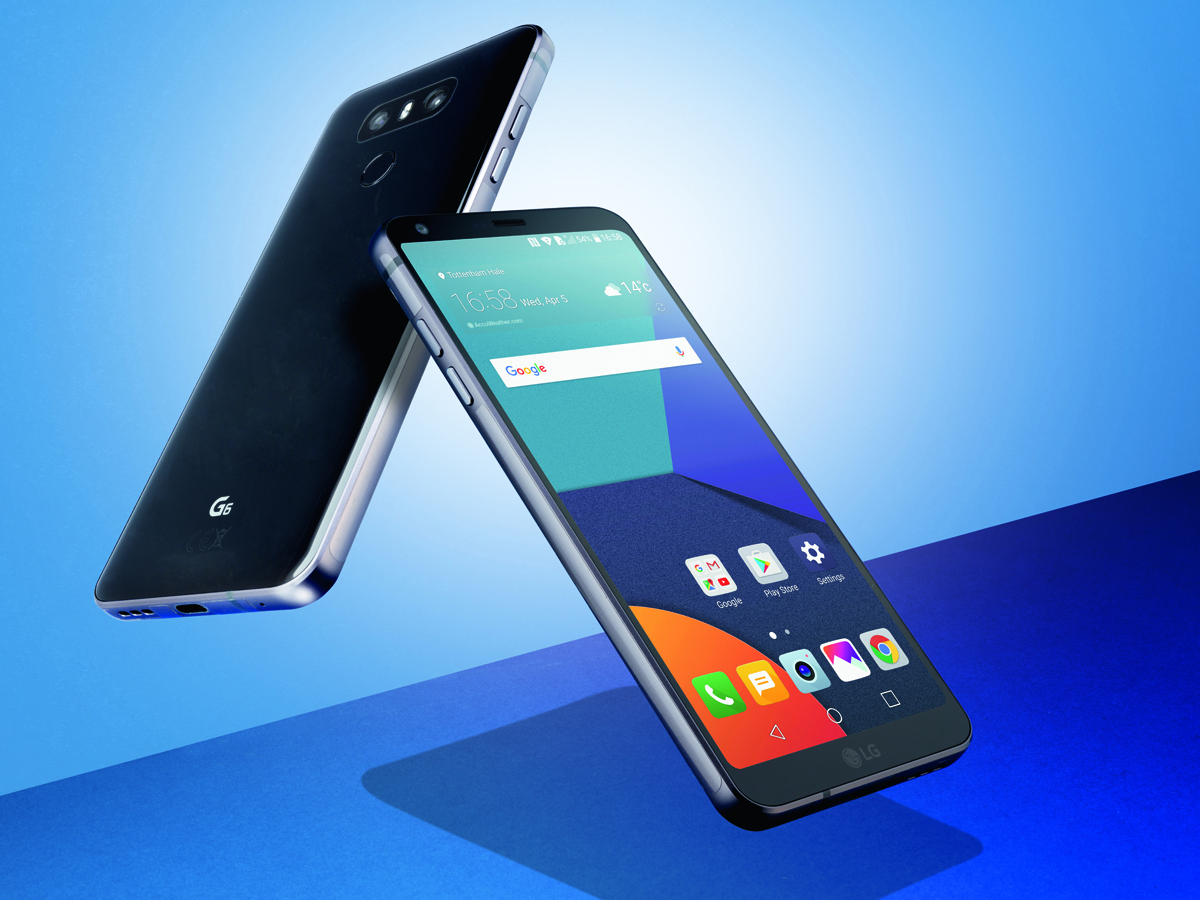 Last year's modular G5 had niche appeal, but the G6 is more of a mass-market crowd pleaser. It ditches the upgradeable antics, and instead doubles down on everything you could want from a flagship phone. That includes a bezel-busting 18:9 aspect ratio on a QHD-resolution screen that fills the entire front of the phone.
No, it doesn't curve around at the sides, but LG has still squeezed a sizeable display into a phone that's barely larger than a 4.7in iPhone 7. It's perfectly easy to use one-handed and while the 18:9 aspect ratio might be unique, all your apps should play nicely with it. You can upscale videos in the settings menus to avoid any ugly letterboxing.
The Snapdragon 821 inside isn't exactly cutting-edge any more, but it's still a mighty fast chip, and the G6 is able to keep pace with its main competition in both apps and games. Android 7 runs perfectly smoothly, and while 32GB of onboard storage is stingy, at least you can add more with a microSD card. Battery life could be better, though – you'll get a working day between top-ups, but only just. We don't get wireless charging here in the UK either.
That stretchy 18:9 aspect ratio doesn't look quite so remarkable now the Galaxy S8 has arrived with something similar, especially as the Samsung adds a curved screen into the mix. Even against such strong competition, though, the G6 is still one of the most visually arresting flagship phones out there, barely putting a foot wrong across the board. It's a fantastic all-rounder, and you can't ask for much more than that.
LG G6: The detail
Design: Minimal monolith
OK, so you can't remove the battery as you've been able to on other LG flagships, but the G6's stellar looks and premium unibody build quality should make up for it. You get a tough metal frame, sandwiched between two slabs of Gorilla Glass, and the whole thing is IP68 water-resistant – handy if you've ever killed a phone by dropping it in the sink. The fingerprint sensor still sits at the back, perfectly placed where your finger rests while you're holding the phone, so you don't need to fish around for it blindly every time you unlock it.
9/10
Screen: HDR hero
The G6 has such a wide colour gamut that video expert Dolby has certified it for Dolby Vision HDR video. You really can see an improvement: bright whites can be on screen at the same time as deep blacks, with all the subtle variations in-between.
9/10
OS and apps: UX marks the spot
That elongated screen shape squeezes more out of every app – more lines of text, more room for photos, more space on the homescreen. LG's version of Android Nougat isn't as restrained as Samsung's, but is still flexible for purists.
8/10
Camera: Get the whole picture
The twin-camera setup returns from the G5, but the second, wide-angle snapper now matches the 13MP main sensor for pixel count so you aren't sacrificing quality to squeeze more into each shot. Switching between sensors is much quicker now, and you can use them both at the same time for some Instagram-worthy special effects. There's also a comprehensive manual mode. It's a shame that quality is only average – colours and exposure are usually on point, but detail is lacking compared to its rivals. And while the wide-angle lens is great during daylight hours, it doesn't have OIS, so you're better off sticking to the standard sensor for low-light snaps.
8/10
Current price: £585
Stuff says ✭✭✭✭✭
It loses out to Samsung and HTC in the style department, but elsewhere the G6 is a stunner of a phone
Sony Xperia XZ Premium: The headlines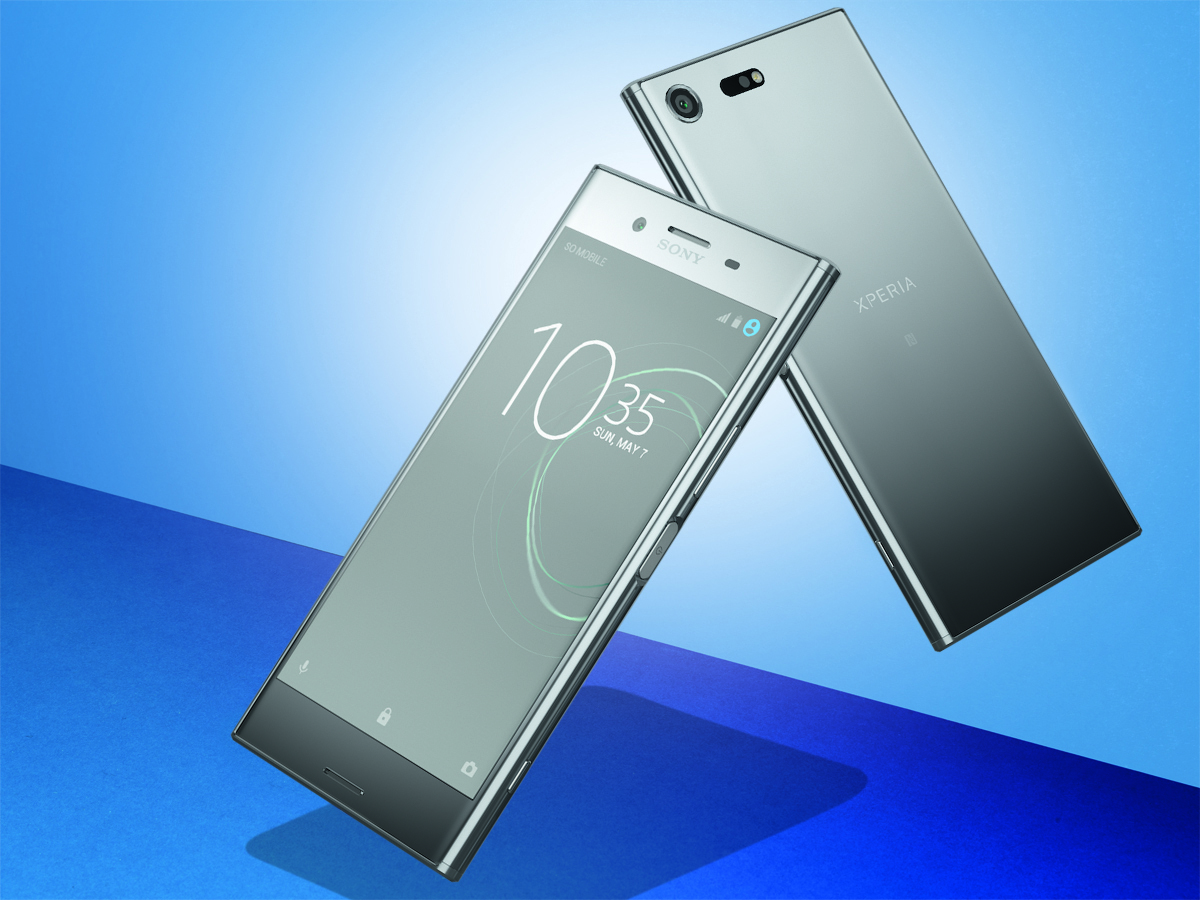 The XZ Premium is all about excess. Why just have one piece of cake, when you could eat the whole thing? It's packed with high-tech hardware, including the phone world's first 4K, HDR screen, and a slow-motion camera that's faster than just about anything else out there. At least when it comes to phones, anyway.
The Snapdragon 835 CPU is as new and powerful as you can get on a phone, and it's easily fast enough to run anything in the Google Play Store. 4GB of RAM is still the sweet spot for swift multitasking, too. 64GB of built-in storage is ample, and you can always add more with a microSD card. Battery life isn't decimated by that 4K screen, either – you'll get to the end of the day before it's time to recharge.
It's a shame Sony didn't put as much effort into design as it did with the hardware, though. The XZ Premium might be slightly shinier than its Full HD sibling, but you'd have a hard time picking the more potent phone out – they look almost identical. Compared to the skinny, streamlined Galaxy S8, it looks disappointingly old-school.
If you insist on the best hardware, the Xperia XZ is practically unrivalled, but sometimes too much cake can make you sick. Learn when to put down the fork, and you'll be much happier in the long run.
Sony Xperia XZ Premium: The detail
Design: Haven't I seen you before?
Sony's signature sharp rectangles haven't really changed since the first Xperia Z arrived in 2014, and the XZ Premium follows that trend. There's 2.5D glass on the front and back, now, and the fingerprint sensor sticking out the side is surprisingly convenient, but those top and bottom bezels are looking particularly beefy next to LG and Samsung's latest.
6/10
Screen: 4K all the way
For sheer technical achievement, the XZ Premium's 5.5in screen is the best you'll find on a phone right now. Not only does it pack in a 4K resolution (that's 3840 x 2160, or 8.3 million pixels) but it's HDR-ready, too. It's got colours that'll embarrass your big-screen TV, and the detail on display is absolutely jaw-dropping.
10/10
OS and apps: Branded Android
Other than the usual Android Nougat additions like advanced notifications, Sony's Xperia UI doesn't look all that different from its last iteration. All the usual Sony services and apps are there, cluttering up the app drawer. Instead of one big scroll, the drawer is split into pages, but you can disable and organise into folders the ones you don't plan on using. There's plenty of customisation, but like the phone itself, the design is starting to look a little dated.
7/10
Camera: Life in the slow lane
On paper, the XZ Premium's camera should absolutely wipe the floor with the competition. The oversized 1/2.3" sensor tops out at 19MP and has both phase-detect and laser autofocus to back it up. In practice, though, it tends towards overexposure, and overly aggressive image processing leaves your snaps looking unnaturally sharp. Video is another matter, though: ultra-slow motion clips at 960fps play life back at 1/40th of real time, letting you recreate all those Matrix fantasies without pro-grade equipment.
8/10
Current price: £649
Stuff says ✭✭✭✭✩
The XZ Premium is somehow less than the sum of its parts. But that screen will always wow
HTC U11: The headlines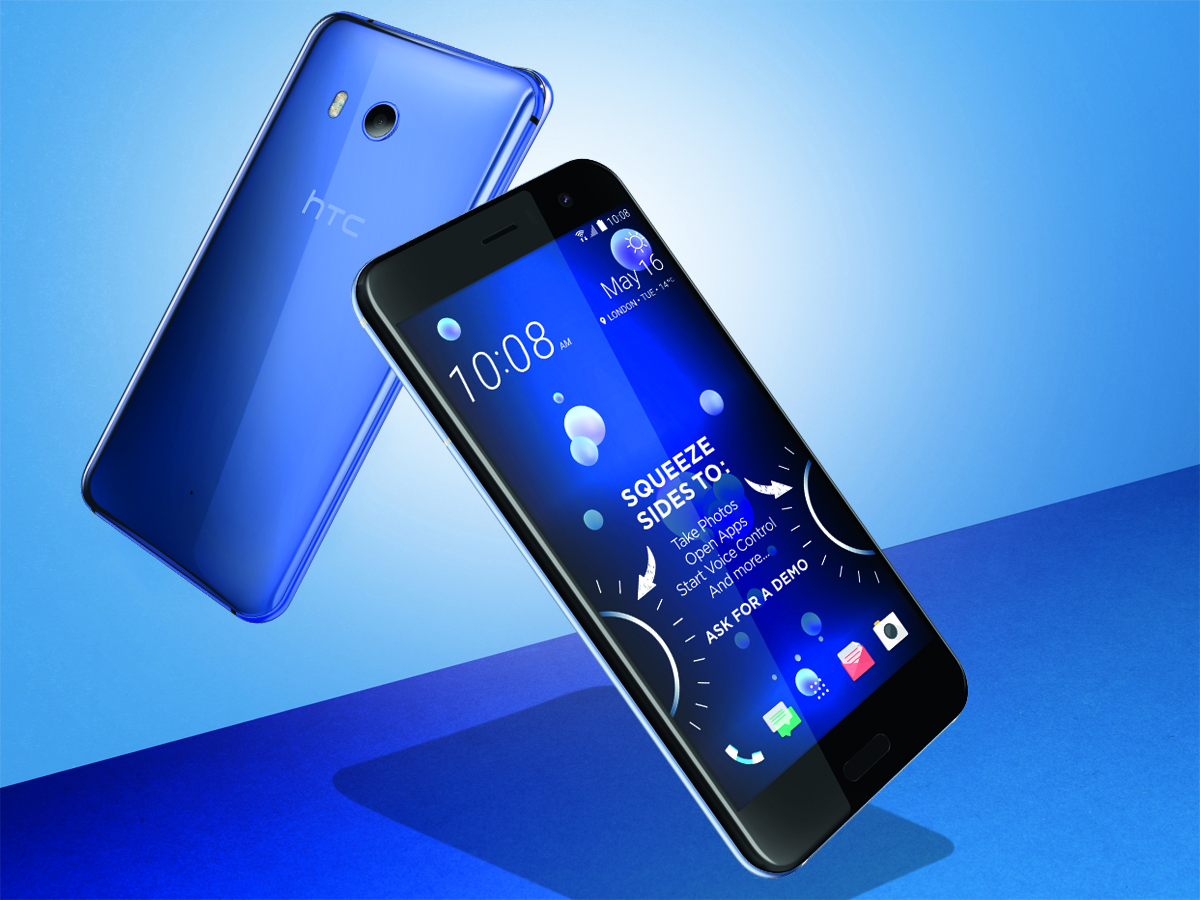 The HTC U11 has a secret. It's the first phone with hug-friendly haptics, with touch-sensitive side panels that act as shortcuts to apps and features, so you really can squeeze for a selfie. They let you wake up Google Assistant without having to shout at your phone first, too.
Funky features aside, this metal-and-glass sandwich is still one of the most powerful phones around, thanks to a Snapdragon 835 CPU and 4GB of RAM. 64GB of storage is more than enough for all your apps and games, but there's a microSD card slot if you're caught short. Battery life is great, too, easily getting you through an entire day without a recharge.
HTC has learned a few things from building the Pixel for Google, so while the 12MP rear camera doesn't have a crazy number of pixels, the combined electric and optical image stabilisation should help keep your shots shake-free. Those squeezy sides can work as a camera shutter, too.
There are a few annoyances, like the missing headphone jack. Glass back not withstanding, the design doesn't look as modern as the G6 or Galaxy S8. Edge Sense isn't all that crucial right now, either – but even if you ignore it altogether, you're still left with an excellent all-rounder that takes excellent photos.
HTC U11: The detail
Design: Dressed to impress
It might not look all that different from HTC's other phones from the front, but give it a spin and you'll instantly spot that gorgeous back. HTC calls it Liquid Surface, which basically means the shiny, reflective glass shows different colours depending on what angle you hold it. No other glass-covered phone comes close for sheer stunning colour choices.
9/10
Screen: Big and bold
Possibly the least exciting aspect of the U11. The U11 certainly doesn't disappoint with its 5.5in 2K resolution panel, which is exactly what you would expect for your cash. There are no curved edges or skinny bezels – just a high quality screen that fits comfortably in your hand. The accompanying BoomSound speakers, though? Hands down better than every other phone here.
9/10
OS and apps: Seeing Sense
The familiar HTC Sense UI hasn't changed all that much this year, with the same customisable themes, familiar page-based app drawer, and that iconic flip clock widget. The big addition is HTC Companion, an AI assistant that learns your routine and does things like suggesting when to charge your phone, so you've got enough juice to get you through an evening calendar appointment. Amazon's Alexa is set to arrive shortly after launch, too.
9/10
Camera: It's quality that counts
The 12MP sensor inside the U11 uses dual-pixel AF for super-fast focusing, and has a world's first 5-axis optical image stabiliser to keep your shots steady when you're shooting at night, or in low-light. It works, too – there might be an annoying mini-delay between pressing the shutter and your photo being saved, but stills are easily among the best you'll find on a phone right now.
9/10
Current price: £649
Stuff says ✭✭✭✭✭
A beautiful glass body and innovative control system will turn heads, but it's the stellar camera and battery life you'll most appreciate
Smartphone supertest: And the winner is…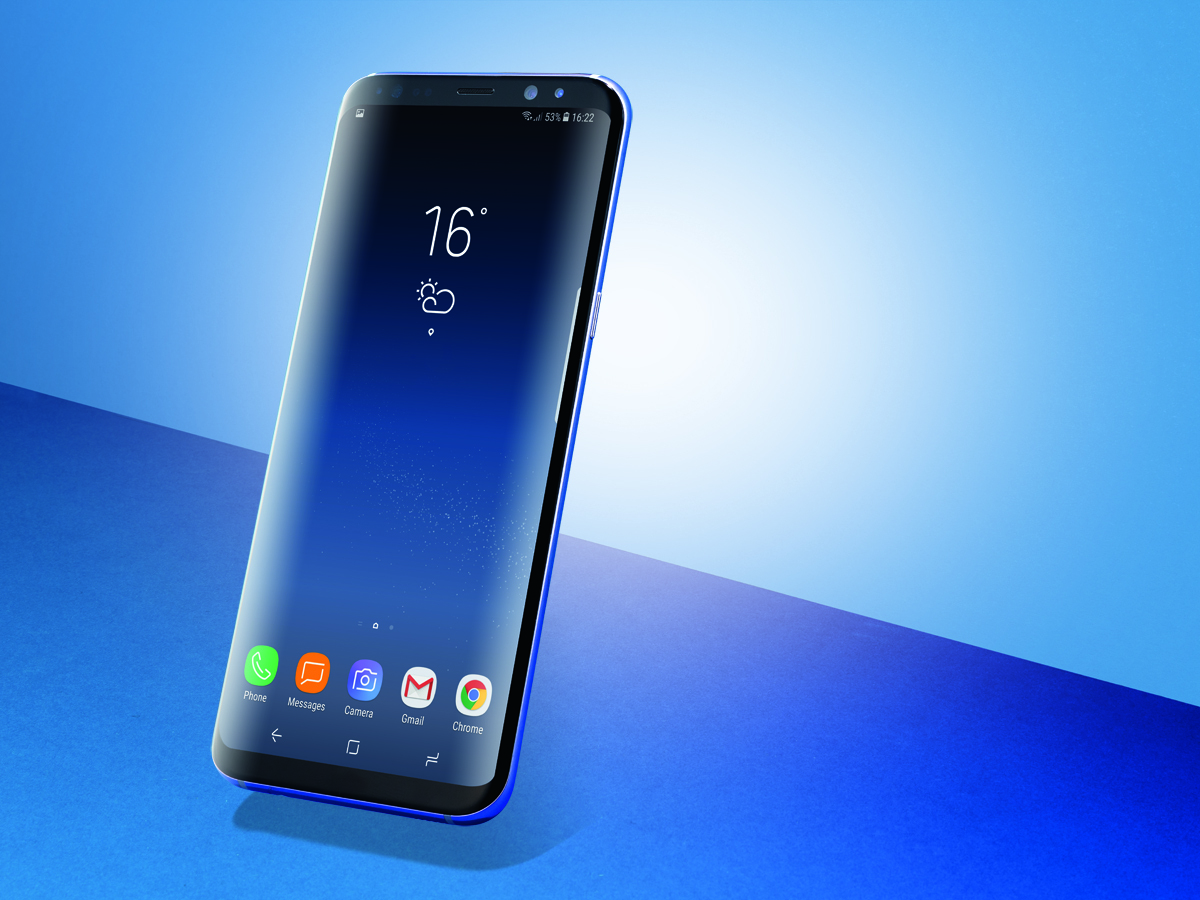 Samsung has shot to the front of the pack faster than Boris Johnson in a buffet queue: the Galaxy S8 is a stunning slab of smartphone excellence that deserves a spot in your pocket.
It's fast, takes fantastic photos and has the best screen out there, bar none. Those supermodel good looks, curved sides and baby screen bezels mean you won't want to give it back once you've got one in your hand.
OnePlus might still have the edge when it comes to pure value, and Apple fans will probably stick to what they know rather than switching to Android, but with VR support, the ability to double as a desktop PC and an AI assistant with potential, the S8 is a clear winner.
The final scores
1. Samsung Galaxy S8 (£689) ✭✭✭✭✭
Gorgeous looks, a fantastic camera and great battery life to boot. The best phone you can buy right now
2. OnePlus 5 (from £449) ✭✭✭✭✭
It might be more expensive this time around, but improvements across the board (and a price that still undercuts the competition) make the new OnePlus as compelling as ever.
3. Apple iPhone 7 Plus Product Red (from £819) ✭✭✭✭✭
Still the best iPhone around. The design is showing its age, but the new red hue helps keep things fresh for iOS fans
4. HTC U11 (from £649) ✭✭✭✭✭
A beautiful glass body and innovative control system will turn heads, but it's the stellar camera and battery life you'll most appreciate
It loses out to Samsung and HTC in the style department, and it falls to the bottom of the pack for photos, but the G6 still has a stunner of a screen
6. Huawei P10 Plus (£680) ✭✭✭✭✭
A very clever camera and plenty of power just about make up for the derivative design
7. Google Pixel XL (from £719) ✭✭✭✭✩
It scores higher than most on pure specs, but the design doesn't quite match the price
8. Sony Xperia XZ Premium (from £649) ✭✭✭✭✩
The XZ Premium is somehow less than the sum of its parts. But that screen will always wow
What's next?
These handsome handsets are as cutting-edge as it gets right now, and constant software tweaks and operating system upgrades should mean they won't be left behind once newer models roll around. The latest version of Android is already in developers' hands (even if we don't know what sweet treat the 'O' stands for just yet), and Apple talked all things iOS 11 at its own developer conference in June.
But we're not finished with new hardware yet. Now that Samsung and LG have kicked off the tiny-bezel trend, expect the rest of the world to follow suit – including Apple. It's the iPhone's 10th birthday this year, so expect something special to arrive in September. And that's just the start: they probably won't arrive until 2018, but smartphone screens that can bend and fold are already in the works. Now that's the kind of phone future we really want.