NutriBullet versus the world: the best juicers tested
Upgrade your vitamin intake with one of these smoothie operators
There are two types of people in the world.
One has a loft full of Thighmasters and Abdominators, has tried every exercise craze from speed planking to Military MudShout, and eats nothing but raw meat (washed down with kale essence and oat milk). They already own a NutriBullet. The other just likes to drink nice fruit juice and wants to know if the NutriBullet is really the best juicer out there.
This test is aimed firmly at the latter. We've spent several days mashing fruit, drinking its sugary blood and groaning with vitamin-rich indigestion to pick out the best juicers you can buy, rated by how nice the juice they make is.
We've also addressed the crucial question of whether or not they're a bugger to clean, because while freshly-made fruit juice is delicious, they'll end up left in the loft if they're annoying to wash. And as we've established, there's not a lot of space up there.
Nutribullet 600 Series (£100)
Juice me up
The Nutribullet isn't actually a juicer. It's a powerful blender that whirrs fruit and veg into smoothies, but it's become one of the most popular ways to get your five a day over the past year.
That's probably because it's very, very quick and easy to use: you put some fruit, leaves and ice in the cup, screw the lid on and press the whole thing on to the motor unit. When it's whizzed to your liking, you just remove the lid and drink it.
It's exactly the level of speed and convenience you need to create an everyday habit. You also get more fibre this way, because everything – skin, pips and flesh – gets mashed up into the smoothie. Plus, the Nutribullet will do everything a very powerful blender does, including milling spices or blending sauces and soups.
Fruit fact or pulp fiction?
This does mean you're not going to get clear juice, but the resulting goop is very nice and it makes a filling breakfast, especially with a few fibrous additions such as oats or kale. Remember to include some soft fruits and add some extra liquid, though, or you'll end up with a thick sludge that you'll have to eat with a spoon.
Is it a bugger to clean?
Exactly the opposite. Rinse the cup and the blades and you're done. It's zero-faff.
KitchenAid Artisan (£315)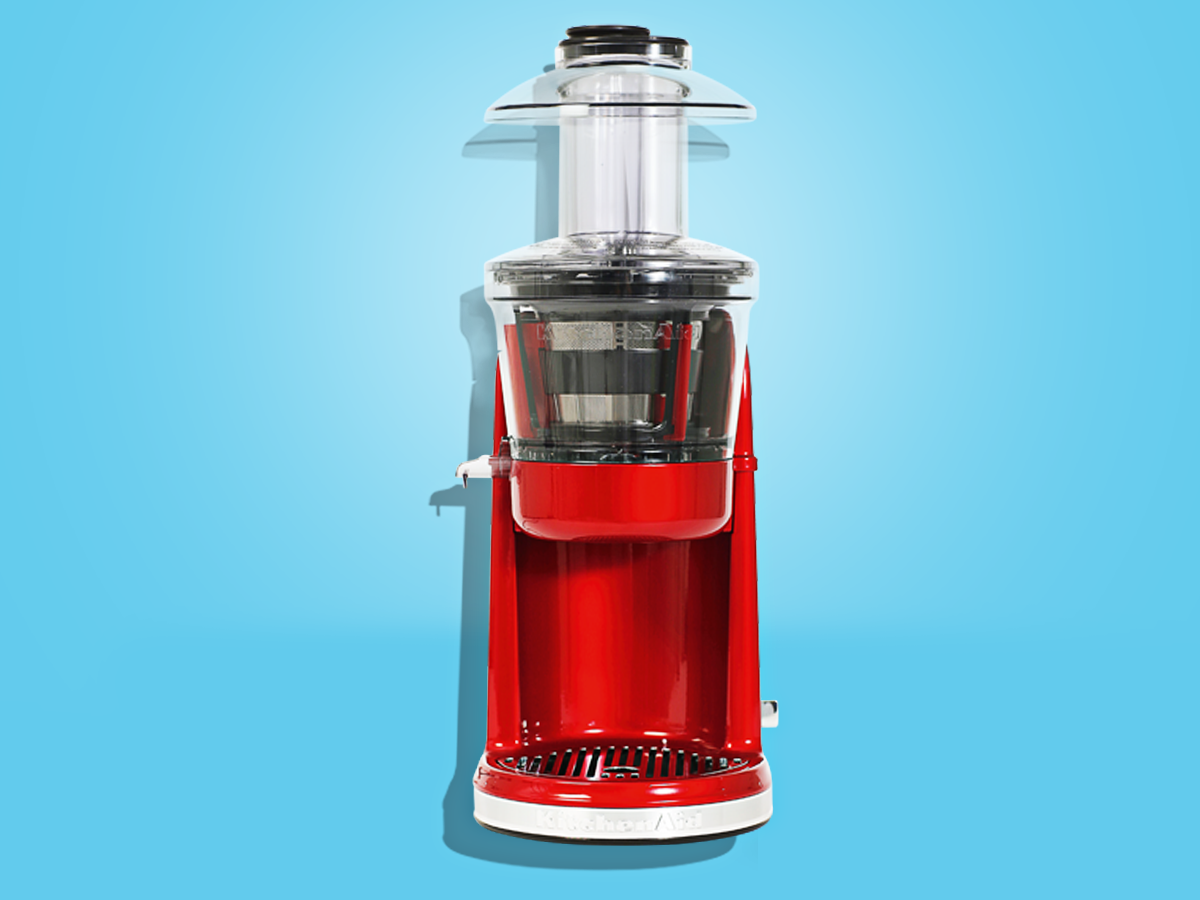 Juice me up
Juicing with the Artisan is a relatively sedate experience, as it's quiet and slow enough to leave switched on while you drop fruit and veg down its throat. The rotating blade slices, the internal screw mechanism squeezes and separates, and juice pours from one spout while pulp squeezes from another in a fashion that's a genuine treat for anyone who enjoys toilet humour.
The KitchenAid is the priciest machine on test, but the solid metal body and thick glass jug feel as though they'll last for many years of fruit-masticating fun.
Fruit ninja or pulp fiction?
The juice is excellent – it's smooth and free from chunks or froth, but it also has lots of flavour. This is the sort of juice you'd pay £2.50 a glass for in a nice café. It's particularly good for carrot and tomato juice – throw in some good tomatoes, chilli and celery and you could be on your way to the Bloody Mary of a lifetime.
The juice isn't clear, because it's grinding and pressing rather than centrifuging, but the KitchenAid does a superb job of separating skins and stalks from the end product. It's a nice-looking machine, too.
Is it a bugger to clean?
Unfortunately the KitchenAid is a bit of a bugger to clean, and there's a lot of leftover pulp… although it looks like it would make good compost if you're somebody who likes to mulch.
Nutribullet Pro 900 (£103)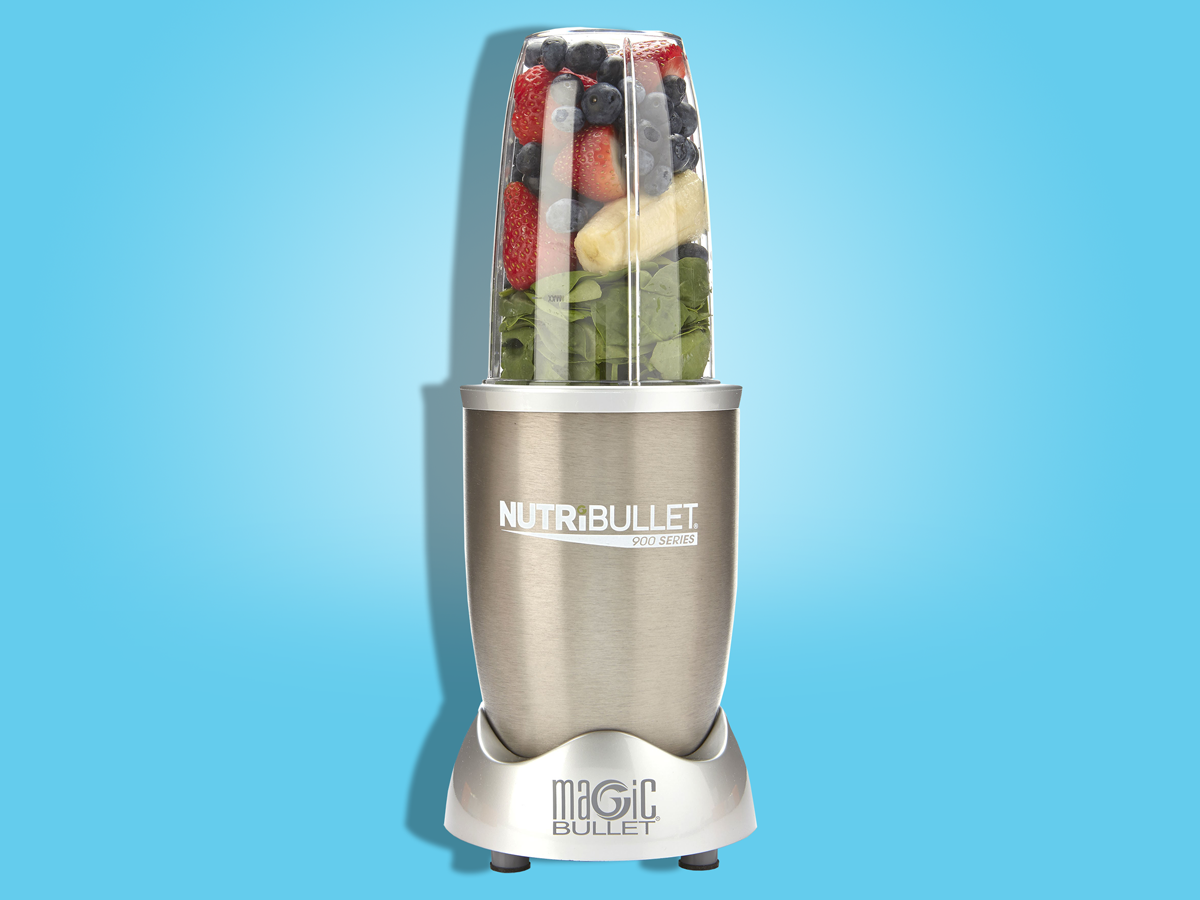 Juice me up
Is your fruit consumption on par with an orangutan or Hungry Hippo? Then the NutriBullet Pro's powerful 900 watt motor and 0.96 litres capacity should quench even your appetite for health food. Other than being a bigger version of the Nutribullet 600, it's an almost identical product.
If you can stuff its canister full of nutritious goodness, you'll feel positively saint-like after chugging your way through its produce. Thanks to its size, you needn't suffer through any newfound dietary regimes on your lonesome. We were able to whip up two and a bit pints of smoothie from this Nutribullet, so there's plenty of produce to share.
Fruit ninja or pulp fiction?
NutriBullets are famously easy to use and this one's no different. As ever, you just bung your chosen ingredients into its cup, press that down into the NutriBullet and it will blend everything together in seconds.
Because the NutriBullet is a blender by nature, you've gotta be careful you don't end up with a brightly coloured sludge after smashing a load of fruit together. Adding in some ice or milk will help with that, as well as keeping half an eye on the ingredients you use.
A recipe book is included with the Pro to help with us but, generally speaking, you're best advised to be careful with your banana usage.
Is it a bugger to clean?
No. As per the 600, you just remove the cup and blades, and then shove them in a bowl of soapy water. It couldn't be simpler.
BioChef Slow Juicer (£200)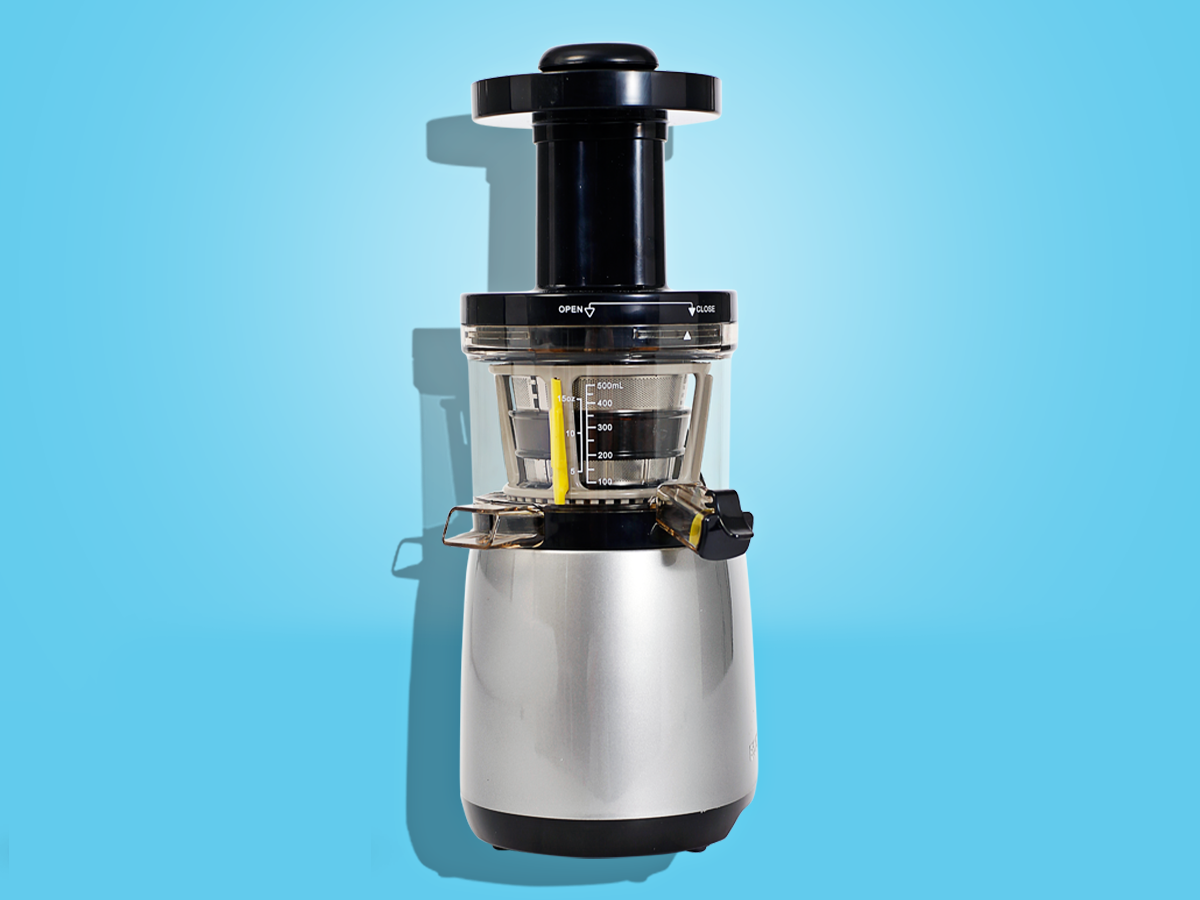 Juice me up
This is a very similar system to the KitchenAid, although with a different look and some slightly lower-quality accessories, which is fair enough when you consider that it's £115 cheaper. However, there is one irksome point – where the KitchenAid has a revolving metal blade that makes short work of a carrot or a bunch of tough leaves, the BioChef has a plastic slicer that is noticeably less equipped to handle the firmer veg and herbs.
There's a handy little plug on the outlet that means you can keep the juice in the machine, so you can just put the top part in the fridge for later if you're in a hurry.
Fruit fact or pulp fiction?
Combine this with a thinner fruit chute, and you will probably end up chopping a number of things by hand first and experiencing the occasional blockage. It works well if you feed it carefully, but nobody wants a bunged-up pulp chute on a Sunday morning.
Still, the good news is that the end product is excellent – like the KitchenAid, it makes a very smooth juice that retains all the fruity flavour.
Is it a bugger to clean?
The BioChef is slightly more of a bugger to clean than the KitchenAid, because it's slightly more prone to clag up with fruit mush. It's not too bad, but it might put you off using it every day.
Philips Viva (£70)
Juice me up
The Viva's motor gives a serious kick when it spins up. The speed and power are exhilarating – an apple is obliterated within a fraction of a second, the juice thrown into the jug and the powdery residue collected in the body of the juicer. It's like a small, angry wood-chipper from the future. We'd almost recommend buying one just for the fun of watching it destroy vegetation.
Fruit fact or pulp fiction?
The Philips extracted about 400ml of juice from six apples, so you're looking at two glasses of juice per bag. A thick froth forms on top, but underneath you'll find sweet, clear fruit juice. In fact this was the only machine to make completely transparent juice, so it's the one to go for if you're a no-bits devotee.
However, while it's not for us to decide how you like your fruitblood, it's worth pointing out that we found the cloudier juices to have a lot more flavour, while the clear juice from the Philips is more sugary.
Is it a bugger to clean?
Not really. The whole juicing top part of the machine lifts off, and the residue is quite dry, so it's easily tipped out and rinsed off. But be aware that while Philips claims its 'QuickClean' sieve can be cleaned in one minute, we still found fruit-gunk in there after a couple of good rinses.
Panasonic MJ-L500 (£183)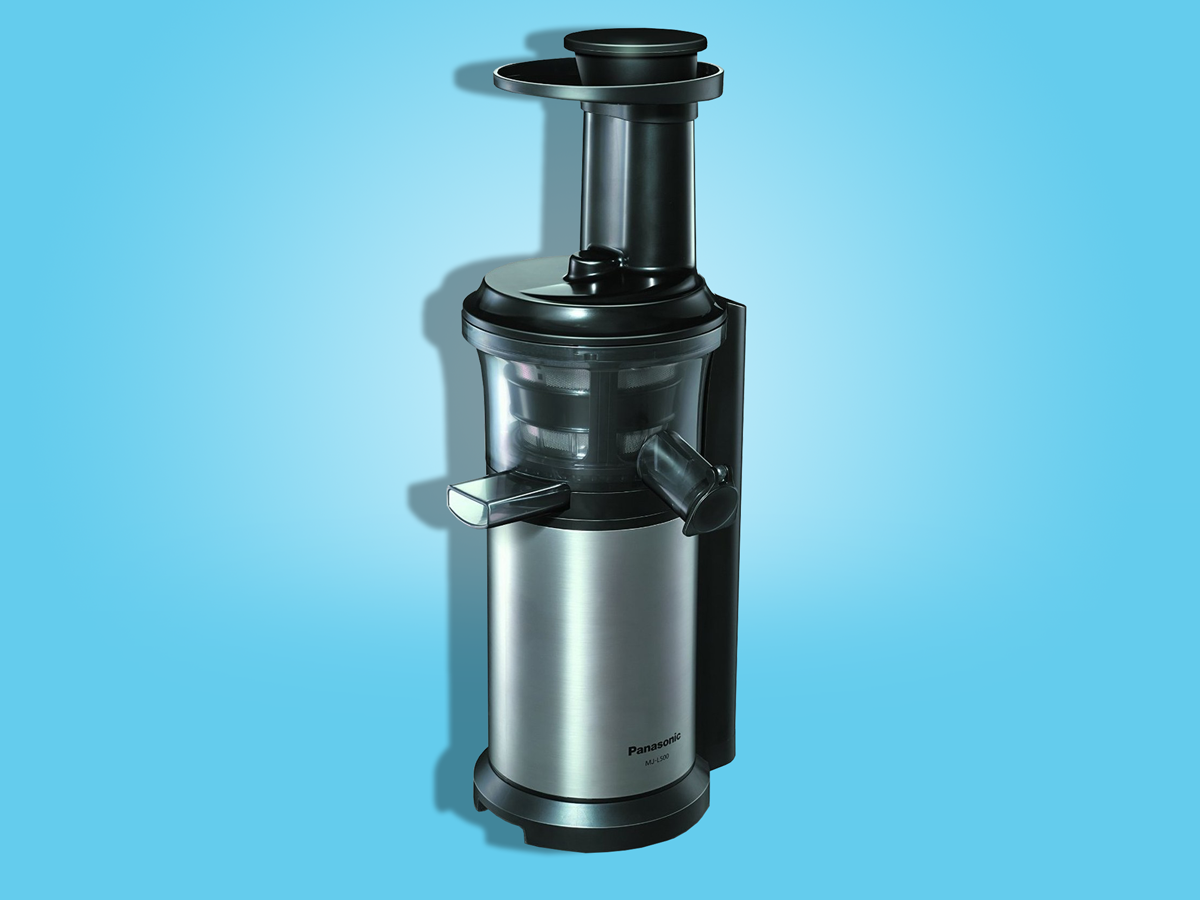 Juice me up
This Panasonic is a slow juicer, which essentially means its 150W motor is supremely efficient at grinding fruit. Why? This slothenly approach to its liquid duties helps to preserve the amount of nutrients you eventually ingest. Apparently, a more frenetic juicer's end product won't be quite as good for you.
To achieve these utmost levels of juice purity, the MJ-500 is made from a fair few parts. Mercifully, they assemble into one compact machine so that whipping up a glass of OJ doesn't feel like a military operation. Just remember to use the appropriate fresh or frozen attachment to ensure you don't accidentally damage this device.
Fruit ninja or pulp fiction?
There's something deeply satisfying (and puerile) about shoving peeled fruit down a funnel, but that's all it takes to get this Panasonic working. Pulp is pushed out of one the machine's spouts and sweet, delicious juice comes out of the other.
And we really do mean that. Stick some nectarines in the MJ-500 and the results are an afternoon delight that's totally SFW. Don't try eating the pulp though, it's gross.
Is it a bugger to clean?
This juicer does an awesome job of eradicating any bits or pulp from your juice, so what you're left with is only the good stuff. That said, it comes with a complimentary toothbrush for a reason and that's because it takes about 15 mins to clean properly. Arguably, it's worth the effort.
Novis Vita Juicer (£300)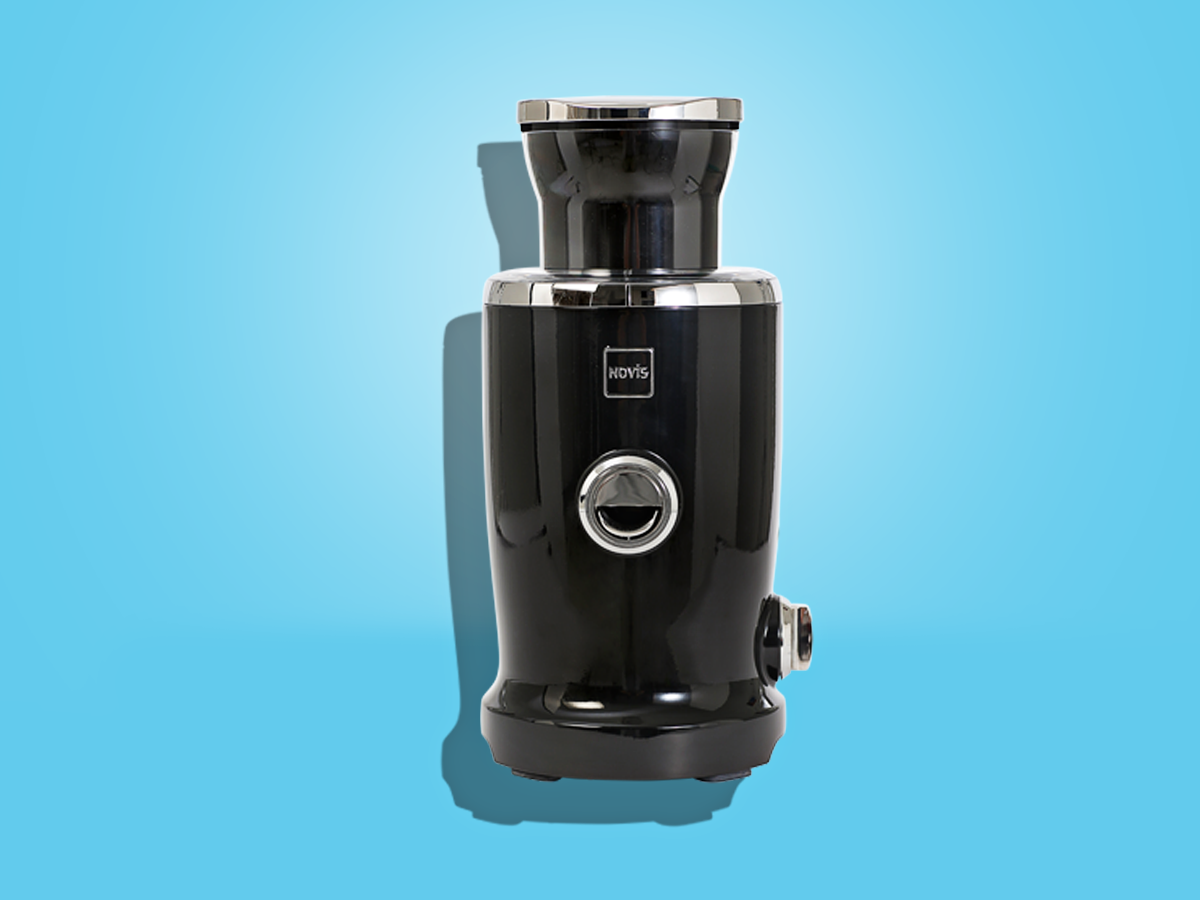 Juice me up
The Vita Juicer is a tall, heavy machine that starts up with a subtle but assertive hum; if the Philips is a roaring boy racer then this machine is your uncle's well-polished Merc. There's a broad-throated chute into which you can bung whole fruit, although bizarrely the manual tells you not to juice bananas – so where am I going to get my banana juice? – and a centrifugal separator beneath that delivers a thick, pulpy but smooth juice.
It's a handsome machine – winner of a Red Dot design award, apparently – and is available in a number of nice colours to suit your kitchen.
Fruit fact or pulp fiction?
It's quiet to use, and whole kiwis went in without any skin getting into the juice, but the spinner can become overloaded, sending pulpy gubbins flowing down the spout with your juice.
The machine's main selling point is the rotating head that juices oranges like a champ. However, all the others will also make really nice OJ from peeled oranges.
Is it a bugger to clean?
Fruit mash gets into every component and is easily transferred to the motor body, but worst of all is the drum; it's like cleaning a particularly difficult, fruit-mush-clogged sieve. The benchmark of being a bugger to clean.