Google Nexus 7 2 hands-on review
We get to grips with Google's new mini tablet - and add it straight to our wishlist
Google's Asus-built flagship tablet has received its first major update, with a new high resolution screen and improved processor. It may look pretty similar at first glance, but is the new Nexus 7 worth buying? And can it live up to its predecessor's award-winning balance of power and value? Let's find out…
Build quality – comfier than the iPad Mini
The Nexus 7 is very well built, although doesn't feel quite as 'solid' as the iPad Mini. However, it does feel more comfortable in the hand than Apple's tiny tablet, and you can tell that Google and Asus have put some serious effort into getting the ergonomics and balance just right. Rather than the deep rubber backing of the first version, there's a more subtle effect, but it still lets you grip the tablet easily. The new Nexus also feels very light and thin in comparison to the previous version – and less likely to attract fingerprints than the matt black of the iPad Mini.
Screen – stunning sharpness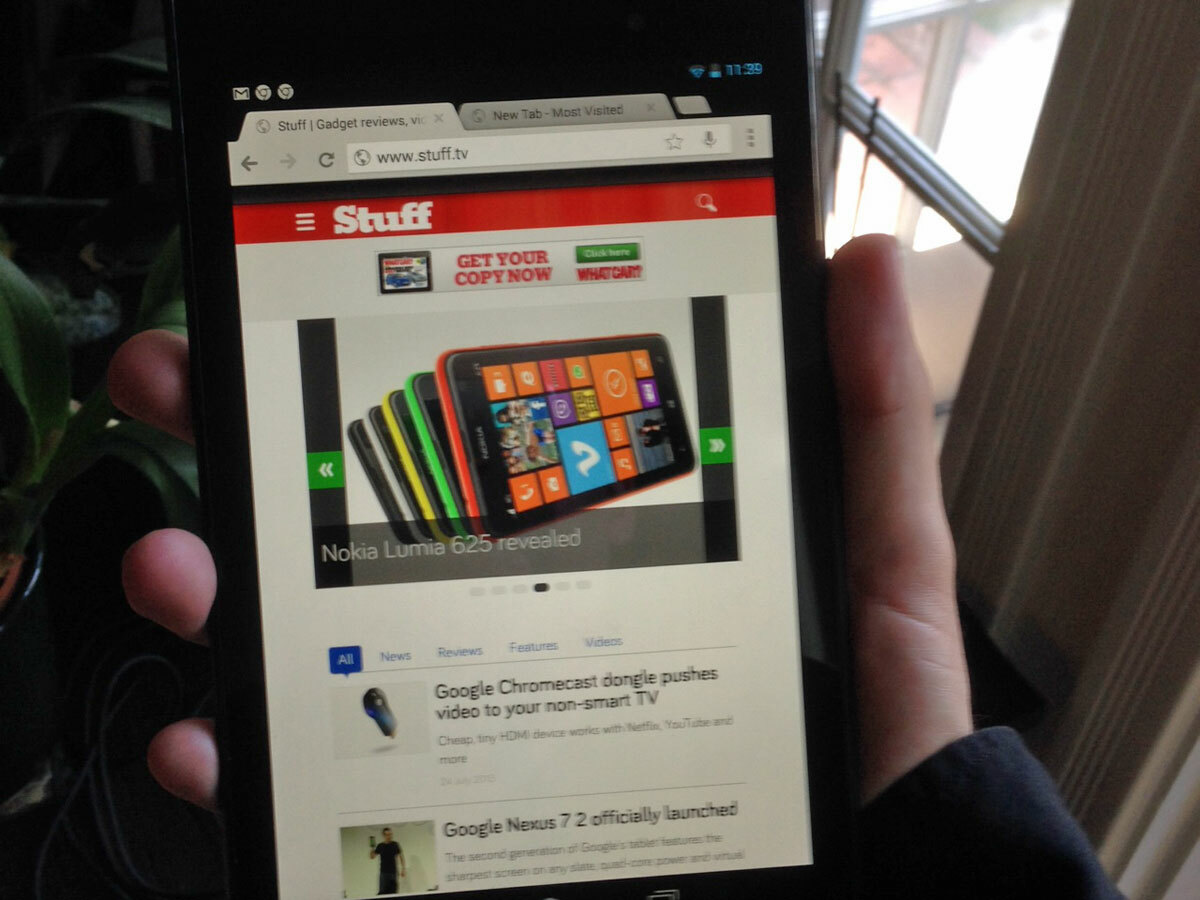 The 7in screen is simply stunning. The resolution has been bumped to 1920 x 1200, giving the new Nexus a pixel density of 323 ppi – the highest of any tablet, thrashing the iPad Mini's paltry 1024×768 effort and eclipsing even the iPad 4's 264ppi Retina Display by an appreciable margin. Colours are astonishing bright and precise, and Google's pre-loaded high-res images and wallpapers make it shine.
Video is similarly impressive, and 1080p looks significantly crisper than on the iPad Mini (and previous Nexus) thanks to its ability to display every one of the source material's pixels.
It's not a large screen, mind you. We've found seven inches is perfect for portable video and reading, but a smidge too little for complex interfaces – which is why the Nexus 7 was a killer media consumption device, but not as capable or versatile in use as the iPad Mini.
Speed – a major bump in performance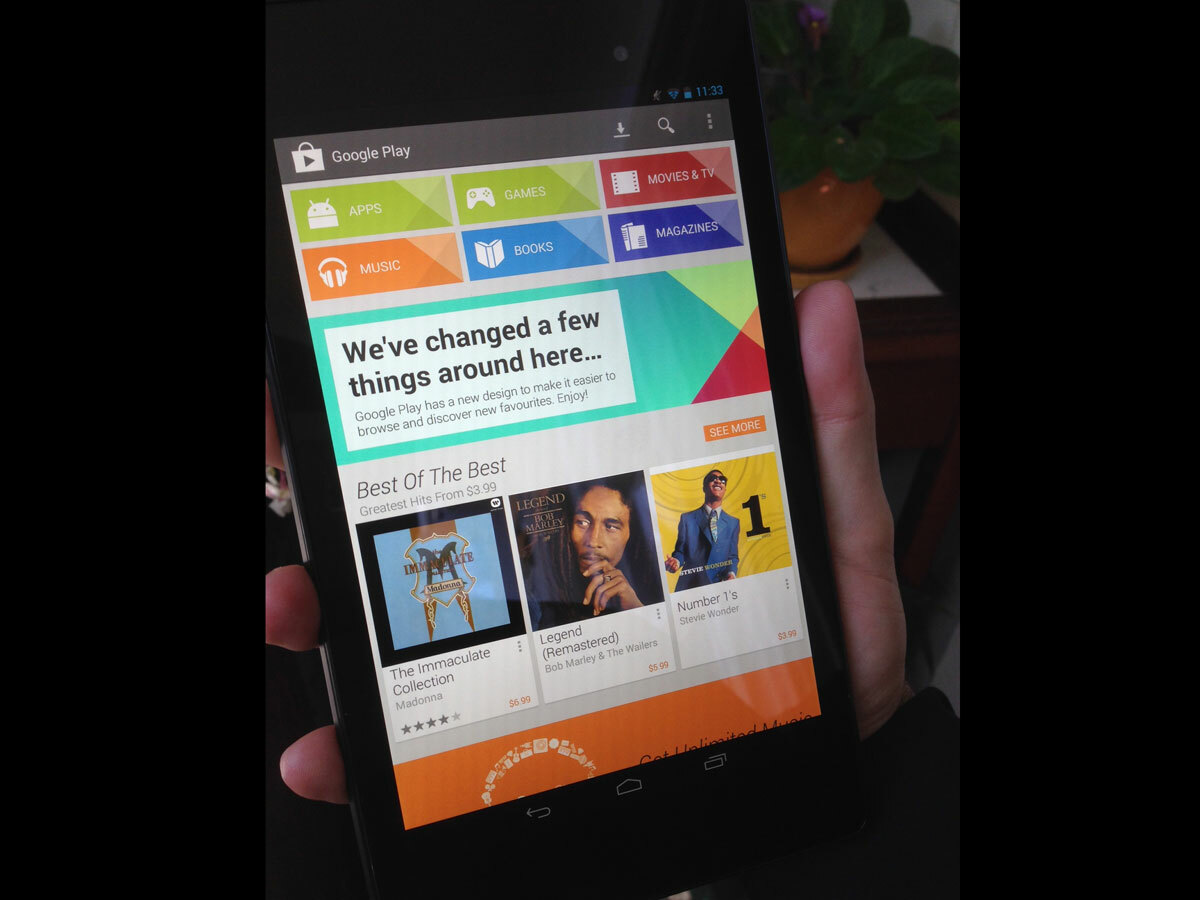 Luckily, given the pixels it needs to support and the demands of the latest generation of Android games, the Nexus 7 2 has had a major speed bump over its forebear. Google reckons its new Qualcomm Snapdragon S4 Pro is 80% faster than the Nvidia Tegra 3 it replaces, and in use it zips through homescreens and menus without a stutter. There was a slight lag in opening a full 1080p film on the unit we used, but once it's loaded, you can scan through scenes seamlessly.
Some of the preloaded game demos on our unit also showed off just what the new hardware is capable of, particularly in conjunction with Android 4.3's support for OpenGL ES 3.0's eye candy. It remains to be seen whether developers will write apps that take full advantage of the extra processing grunt on offer.
Software – a debut for Android 4.3
Software wise, the new Nexus 7 is running Android 4.3, and it the first device to get it. The software has got a bit of a polish, and there's also now a gaming app, allowing you to find players and download games without having to go through the Play store.
One impressive new feature is the addition of a 'child mode' which allows multiple users to have accounts on the tablet. Parents can use this to control what their offspring can do – for instance, they can stop them from buying in app purchases, or from downloading apps at all – and can even lock the device so only 'pre-approved' apps can be used. Each user has their own homescreen, and it's simple to switch from the main Android homescreen.
There are also some improvements under the hood to Bluetooth, and graphics performance has been tweaked to take advantage of the Nexus 7's newfound pixel-pushing power.
Camera – finally, a real snapper
While the original Nexus 7 has only a front-facing camera for video conferencing, the Nexus 7 2 also sports one round the back – and a proper 5MP one at that. This camera seems pretty decent for a tablet, and definitely passable for well-lit, everyday pics – but don't expect anything dramatically better than what your average Android phone can do. There are, however, some nice software features such as the ability to take PhotoSpheres and panoramic shots.
We haven't yet had a chance to check shots out at pixel level, or to assess low-light performance, so make sure to check back for our full review soon.
Sound – a step forward to stereo
Google made a fuss of the Nexus 7 getting stereo speakers, and it really is quite a big deal. The speakers allow you to listen in stereo when the tablet is in landscape mode (i.e. when watching a film), and the sound is astonishing for such a slender tablet. Google has also implemented a simulated surround sound algorithm into the playback, which was surprising effective in the demo we played with. For watching TV and films in bed, it's a great step forward, as only the Kindle Fire HD had speakers in this position until now.
Connectivity and price – 4G, but no UK details yet
Although there is no information on UK availability quite yet, in the US at least, there's a LTE 4G version. The LTE edition comes with 32GB of storage and costs US$349. For Wi-Fi versions, the 16GB Nexus 7 will cost US$230, while the 32GB model weighs in at US$270, and both will be available on July 30th from the Play store.
Google Nexus 7 2 – Initial verdict
It looks a lot like Google and Asus have done it again. They've stuck to the formula, but upgraded the Nexus 7 in every key area, particularly with that outstanding screen.
Will it be the device that finally gets Android developers investing time in tablet-centric apps? And is 7in big enough for serious tablet tasks in any case? We're hoping 'yes' for question one, but still think 'no' for question two – after all, the Nexus 7 2 only offers an extra 0.6in of screen space over the latest phablets.
But we're not sure that matters. Regardless of its suitability for complex interfaces and data entry, our few stolen minutes with the Nexus 7 2 have convinced us it's going to be the best mini tablet for media consumption on the market. Stay tuned for our full review of the Google Nexus 7 2 to see if we're right.