Friend zone: the 17 best multiplayer games for console and PC gamers
UPDATED: Forza Horizon 4 joins our list, plus Fortnite gets PS4 cross-play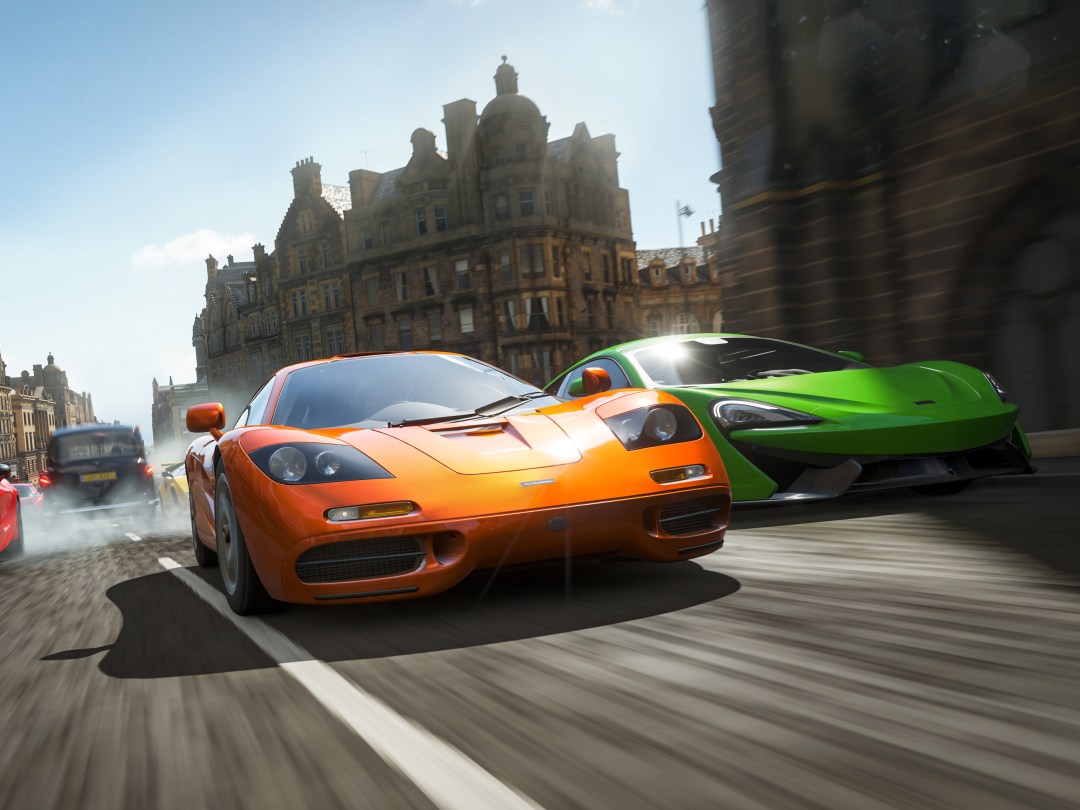 Spent a whole weekend on single-player action and craving some social interaction? Rather than bothering to go outside or launching Facebook, you could just get your hands on a multiplayer game.
You don't have to settle for the obvious Call of Duty or FIFA candidates either. Thanks to the couch co-op resurgence and the emerging epic-scale battle royale genre, there's a bigger-than-ever range of multiplayer games for you and your pals to dive into.
But which titles are worth your time? We've picked out some of our favourite multiplayer games for every major platform, so whatever your console or taste there should be something in this 17-game list for you and your friends to obsess over.
Overcooked 2
Local co-op (2-4 players), online multiplayer
The greatest problem with the chaotic cooking co-op title Overcooked was trying to assemble all your chef-wannabe friends on the couch. But now the sequel has online multiplayer, there's absolutely no excuse to leave the kitchen.
While the sequel doesn't feel completely fresh, using the tried-and-tested recipe of the original title for the most part, there's still a decent supply of new ingredients, utensils and obstacles here to keep you and your mates laughing, cursing and fist-pumping until you've saved the Onion Kingdom from the zombie-like Unbread.
Fortnite
Online multiplayer
This colourful, cutesy version of battle royale started life as a free-to-play update to a mostly unnoticed game, but has morphed it into the most popular take on the genre.
The idea is the same as ever: be the last person, duo or squad of four standing, using whatever weapons you manage to scavenge to hunt down up to 100 other players – all while staying in the ever-decreasing 'safe zone'.
Although with rocket launchers, sniper rifles, traps and some minecraft-inspired building, that name is most definitely deceptive. And now that Sony has caved in and allowed cross-play with other platforms, you'll find an utterly enormous number of people playing at any time – plus you can now carry over that account between the PS4 and Switch, and on other devices too.
Frantics
Local multiplayer (2-4 players)
One of the newest members to PlayStation's Play-Link family, you don't need a DualShock to play Frantics – you use your smartphone instead. While this does result in rather clunky touchscreen-controls it also makes the game more approachable to the entire family, so even grandpa or your seven-year old has a chance of victory.
From go-kart racing to bomb-hurling warfare, Frantics is made up of of 15 mini games where you compete for crowns to give you the advantage in the grand finale. This is probably the closest thing you'll get to Mario Party on the PS4, but thanks to its own wacky cast of characters and its creative backstabbing challenges it never once feels like a cheap imitation. It could do with more content given the price though, as after a few rounds things start to get repetitive.
Towerfall Ascension
Local versus and co-op (2-4 players)
Turns out all you need to have fun with a group of friends is a full quiver, a bow and a good shot. This 2D arrow-blitzing battle royale may look simple on the surface – especially with its retro graphics – but the capability to catch arrows mid-air or use items to create explosive or prickly traps adds a challenging layer of depth.
But even if you're here just for a laugh, there's enough on-screen carnage to keep you returning time and time again. After all, nothing beats pinning your best friend's character to a wall with a long-distance shot from the other side of the map. Here's to hoping an online mode will eventually release…
Forza Horizon 4
Online multiplayer (2-12 players)
Forza Horizon 3 was utterly brilliant, so it's really not surprise that Forza Horizon 4 is also quite good. How good, you ask? Well, our reviewer called it "Simply the best racing game ever created," so… pretty good, we'd say.
Playground Games' latest just adds loads more polish and precision to the open-road racing premise, letting you tear around Britain, drive hundreds of amazing cars, and take in the ever-changing seasons along the way. It's a real stunner, especially if you have the Xbox One X.
The 12-player races are just an extension of the shared, connected world, making it easy to pop into a sprint with randoms or link up with pals for some friendly competition. Truly, every bit of Forza Horizon 4 is riotous fun, so anything you dig into is sure to please.
Sea of Thieves
Don't fancy shooting your mates in the face to prove your superiority to them? A pirate's life might be the one for you. So form a crew with three of your besties, man the rigging and set sail for adventure in in Sea of Thieves. An Xbox One exclusive that's built around cooperation, treasure and a fair bit of plundering, it's an absolute riot in the right hands. Especially when you're just messing around getting drunk on grog, firing your mates out of cannons and generally wreaking havoc. Trouble is, it lacks the content right now to justify its full price status. Just as well Sea of Thieves is also available on the cheap via Xbox's Game Pass subscription service.
STUFF SAYS: ★★★✩✩
Brimming with mayhem and potential, when Sea of Thieves is at its best it's riotous fun
Cuphead
Local co-op (2 players)
Don't let that cutesy artwork fool you – Cuphead is tough. Unfortunately, having a friend join you in your soul-collecting quest doesn't make those brutal bosses any easier, as they get a double-helping of health in return, while you frequently get distracted trying to rescue your friend from the jaws of death.
Playing this 2D side-scrolling run and gun with your mate still improves the experience though. By spurring each other on you'll be less likely to throw in the towel, and once you do overcome a particular gruelling brute, you'll have someone to celebrate with. High-fives all-round!
Overwatch
Online multiplayer
Team-based shooters with personality were few and far between before Blizzard gave it a go. Overwatch is the result: a hectic and fiercely competitive 6v6 battle for supremacy where no two characters play the same.
Because each hero has a unique set of abilities and attacks (and you can only have one of each hero per team) you've got to balance your own skills with the needs of the group. Teamwork is key to victory, making this a great pick to play with friends. Voice chat is most definitely advised.
Monster Hunter: World
Online co-op (2-4 players)
Getting bored of headshotting your mate on Call of Duty every weekend? Monster Hunter allows you to work together instead with online co-op available for every main and side quest. Here you'll be taking down all sorts of fearsome beasts that range from a fire-breathing wyvern to a thunder-powered unicorn.
While you could take down these critters by yourself, fighting in a group of friend is much more fun, alleviating the repetitiveness of slaying a certain critter for the umpteenth time.
There's no need to worry that bringing a friend to the hunt will take away the challenge either, as monsters get a health boost for every ally you have fighting alongside you. Plus there's a never-ending supply of difficult challenges and events, even after you complete the 90-hour story.
Halo: The Master Chief Collection
Local co-op (2 players), online co-op (2-4 players) and online multiplayer
Halo 5: Guardians was admittedly a bit of a letdown, and couldn't quite live up to the series' long-established brilliance. Not exactly the best place for Microsoft to leave Halo, but did you know you can play the first four games on Xbox One as well?
It's true – and it's really your best option for Halo shenanigans today. The Master Chief Collection is a veritable smorgasbord of multiplayer antics, packing in 100+ maps across the games, which are playable both online and off. True, the older games are a bit dated now, but the allure of Blood Gulch, Warthogs, and Needlers will never fade. Never.
Mario Kart 8 Deluxe
Local multiplayer (2-4 players) and online multiplayer
Got a Switch? Get Mario Kart 8: Deluxe. Already played Mario Kart 8 on Wii U? Get Mario Kart 8: Deluxe. Don't have a Switch? C'mon now!
The Mario Kart formula has been long established, and MK8's anti-gravity track segments aren't as dramatically innovative as they might sound – but they've enabled Nintendo to create some of the series' most brilliant courses to date.
Furthermore, Deluxe adds in the brilliant DLC that was sold separately on Wii U, and better yet, its Battle mode is miles better than the original MK8 one. Whether split-screen or online, you can play this one forever.
Splatoon 2
Co-op (2-4 players), versus (2-8 players)
Just as Arms reimagines fighting with a Nintendo twist, Splatoon 2 takes the realistic firearms of squad-based shooters and swaps them out for paint rollers, ink-spitting squirt guns, and all manner of other curious ways to dominate.
And in Splatoon, the primary goal isn't to kill your enemies – it's to paint the majority of the ground in a level, for example, or collect clams and then toss a clam-filled American football into a goal (yes, really).
Splatoon 2 is weird and cartoonish, but it's much smarter and more strategic than you'd think, incredibly accessible and fun, and also packed with style and amazing tunes. Shame about the lack of split-screen play, though.
Mario Tennis Aces
Local multiplayer (2-4 players), online multiplayer (2-4 players)
It takes a lot of time and effort to find some tennis balls and a friend willing to play a set on a lunchbreak. Getting them swinging on the Switch, meanwhile, is a doddle. And even if your friends are still being elusive, you can search online for an opponent instead.

Of course, Aces certainly isn't like your average tennis game. The special moves that let you slow down time and hit the ball with racket-shattering power add a lot of depth to the sport. Find an evenly-matched player, and you'll be in for an enjoyably tense face-off.

Don't like the sound of all these fancy special moves? Don't worry, you can always revert back to the traditional controls or even take a Wii Sports nostalgia dive by using the Joy-Cons' motion sensors.
Arms
Local versus (1-4 players), online multiplayer
Remember Punch-Out!! from back in the day? Well, Nintendo's boxing classic takes on a whole new tenor in Arms, a game that features pastel-adorned, superhero-looking fighters with spring-loaded limbs that can shoot across a room.
It's an odd one certainly, but the Wii-like motion controls for tossing punches and throwing 'bows makes this a fantastic multiplayer experience.
Anyone can hop online and start trading blows with real-life swings, or if you grab an extra pair of Joy-Cons, you can get a two-player brawl going in your very own flat. Just keep a little distance, and seriously, use the wrist straps, unless you want to be replacing an entire roomful of furniture.
Gang Beasts
We dare you to play Gang Beasts without cracking a smile, let alone a full-on, teeth-baring grin. Just one look at the game ought to tell you why: it stars spongy, Claymation-like sack fighters from a place that is unnervingly called Beef City.
You'll brawl with up to four players along a Ferris wheel, atop moving trucks, and in other hilariously dangerous settings, as the colorful, yet dopey-looking heroes bash each other to a pulp. Whether you're here for an all-out fight, a brawler-tinged take on football, or wave-based co-op action, Gang Beasts defines dumb fun – dumb, hilarious, button-mashing fun.
PlayerUnknown's Battleground
It wasn't the original take on Battle Royale, but it was the game that made the world sit up and take notice. Battlegrounds drops you and up to 100 other players onto a massive island, with plenty of guns, gear and vehicles just waiting to be looted.
There can only be one winner, and everyone only gets one life, so you've got to take out as many enemies as you can without taking a bullet yourself. A slowly shrinking safe zone forces everyone to make their way across the map towards a final climactic showdown and a coveted chicken dinner victory.
Rocket League
Having logged hundreds of hours over the last couple years, take it from us: Rocket League is one of the most irresistible multiplayer experiences anywhere. And it's super-accessible as well, being no more complicated than "cars playing football."
Well, it's a little more complicated, but only if you want it to be. The rocket-powered rides can vault into the air to slam in shots from above or block opposing volleys, but the three-on-three battles scale perfectly – it's just as much fun even if you never do leave the ground. Swap over to basketball, hockey, or arcade-like variants and you'll see why the fun never ends here.