Find your way with these 9 lesser-known Google Maps features
Make Google Maps work even better for you than ever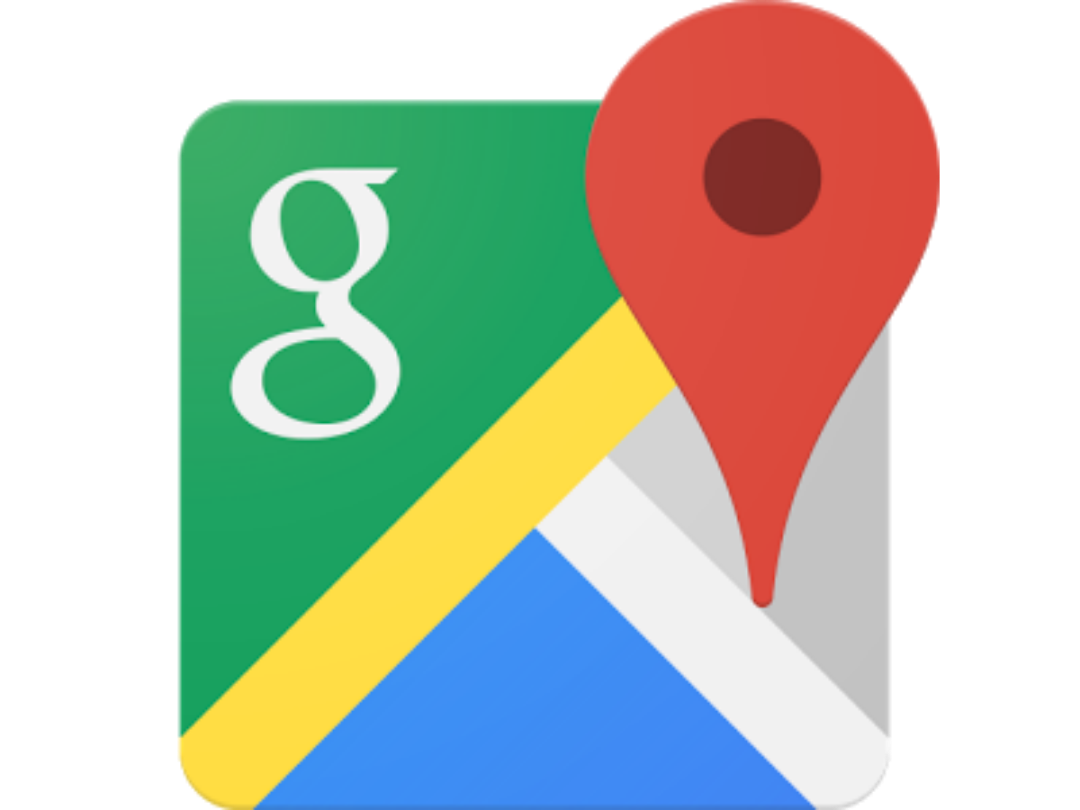 Name someone who has never used Google Maps before.
Bet you don't have an answer to that, do you? Whether you're in the UK or some unfamiliar part of the world, Google Maps can always be relied upon to show you the way.
Given how integral it has become to our lives, you probably feel fairly familiar with its ins and outs – but here are nine lesser known features of the indispensible app to make it even harder to live without. 
Place suggestions according to time
Aside from giving directions to the hopelessly lost, Google Maps can also suggest places for the helplessly bored to go to based on what's around them. But you probably already knew that. However, what you probably don't know is that you can ask for suggestions based on the time of day.
Do this: Key in your location or destination, tap on the options icon on the left of the search bar, and tap Explore nearby. You'll be given a list of places according to the time on your phone, but if you're planning for a night out on the town, there's really no point in being given a list of cafes. So just tap on the period of the day to bring up a list of more appropriate bars and restaurants opened for dinner.
This feature is location dependent. So just try your luck, especially if you're on holiday and need suggestions for places around your hotel.
Compass mode
Yes, Street View is awesome. But in it lies an even better feature: Compass mode. You can either choose to navigate Street View using the arrows, or better yet pretend that you're looking into a different country using your smartphone as a portal.
Do this: Type in your desired destination, then tap on the bar to bring up a list of more options. Scroll down to tap on Street View, and tap the Compass icon on the bottom right to navigate the place by turning instead of tapping. Makes for a more organic experience.
If you pretend hard enough, you can imagine that you're actually at said destination rather than being stuck in your office cubicle.
Using maps offline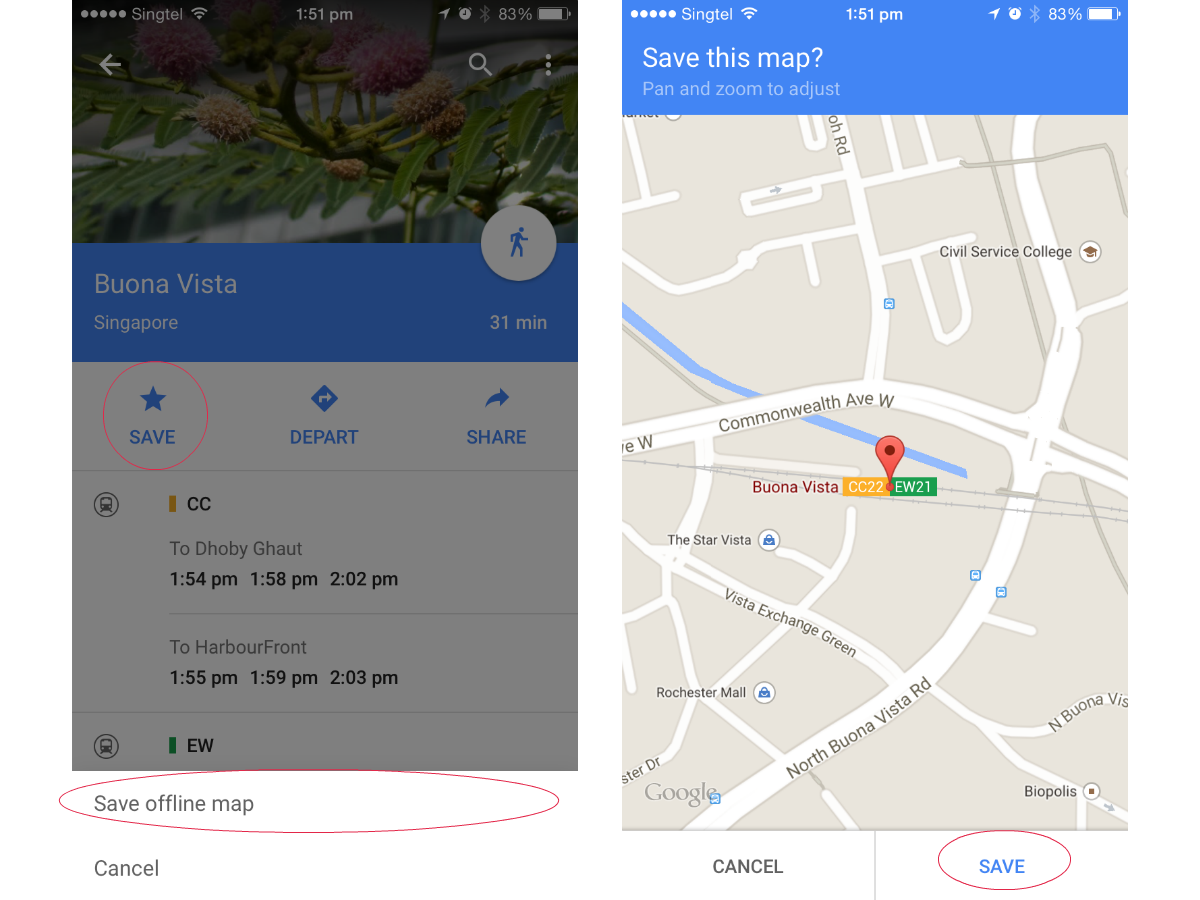 So you're in a foreign country with no data. You've got to get somewhere, but you have no idea how to get there. Back at home, you'd have loaded up Google Maps without a care. But since you're overseas, that might cost you a bomb in data fees. Why not use your hotel's Wi-Fi to save a map offline before wandering out?
Do this: When you have access to Wi-Fi, boot up Google Maps and access the map for the place you want to navigate like Bangkok. Then tap the bottom bar with the name of the place you just searched, tap the More icon at the top right hand corner and tap Save offline map. You will be asked if you want to save this portion of the map, or you can pan and zoom to get the specific spot you wish to navigate to. Finally, tap save and you can even rename the map if you wish.
Do note that you have to be signed in to your Google account to work this feature. Should you wish to revisit your saved map, you'll find it in your sidebar under Your Places for quick easy access.
Avoid paying tolls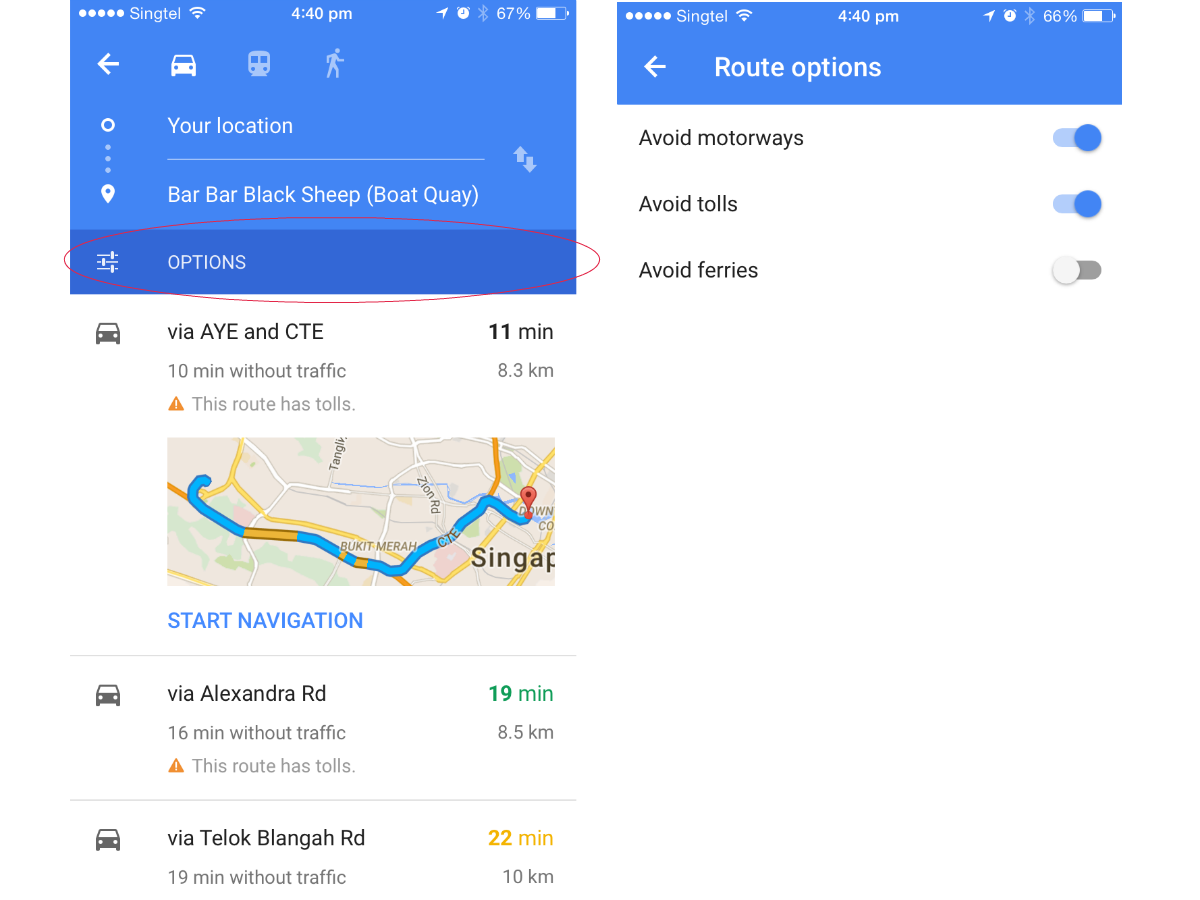 Sometimes you'd rather take a longer route than pass through countless ERP points. Or avoid motorways because you know there's a shorter route. There's a way to make Google Maps work a little more effectively for you.
Do this: Google your driving directions, then tap on the Options bar to bring up route options. There are three you can enable: Avoid Motorways, Avoid Tolls, and Avoid Ferries. And then just hit the back arrow to get your newly calculated routes.
Tweak your route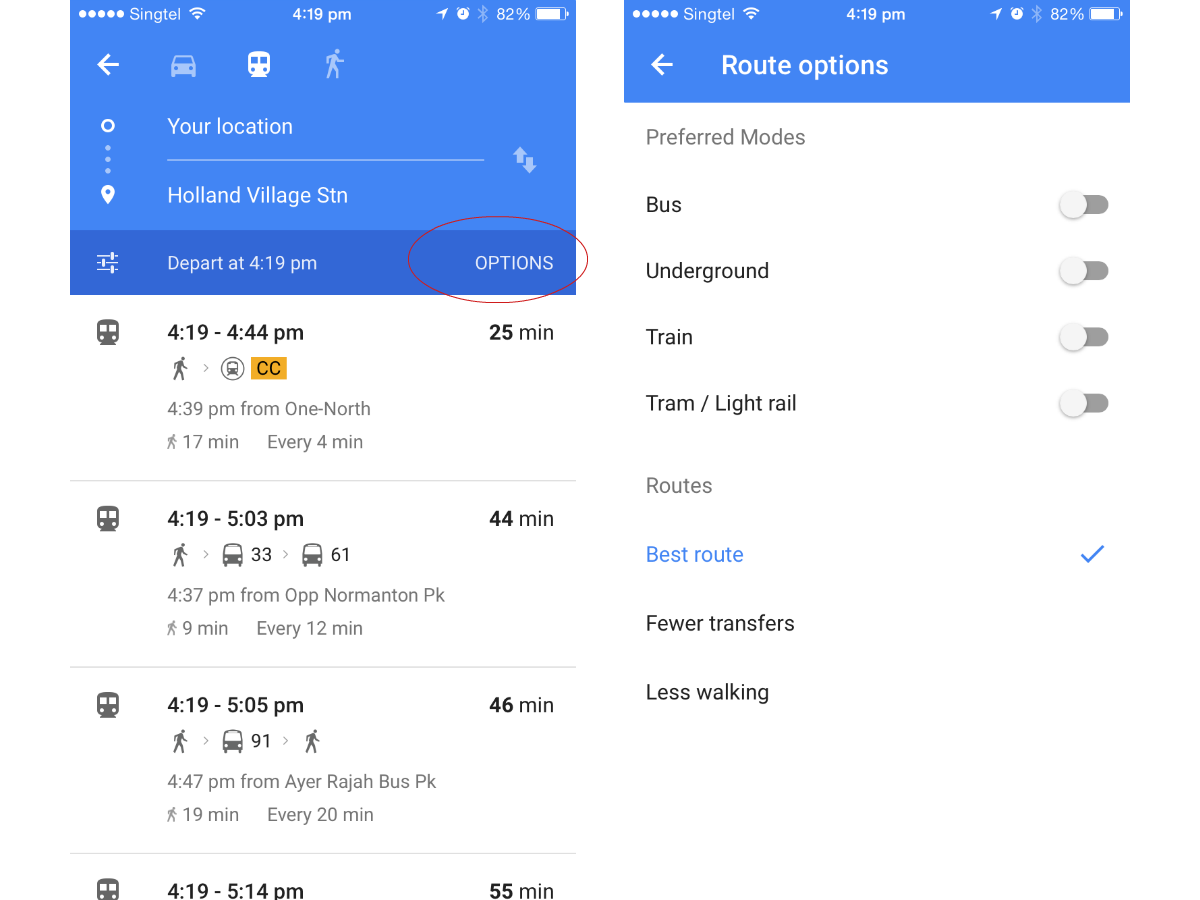 You've seen how this feature works to help you save on paying tolls. And it doesn't just apply if you're a driver. If you're taking public transport, you can also customise your route if you're feeling lazy.
Do this: Key in your destination, tap on the public transport icon, then tap options just below your destination, and you'll be able to tweak a few options like getting the route with fewer transfers or less walking, if those factors are more important to you than getting the best route.
You can even choose if you want to only travel by bus or underground, if you're running low on certain transport credit.
Search vaguely to discover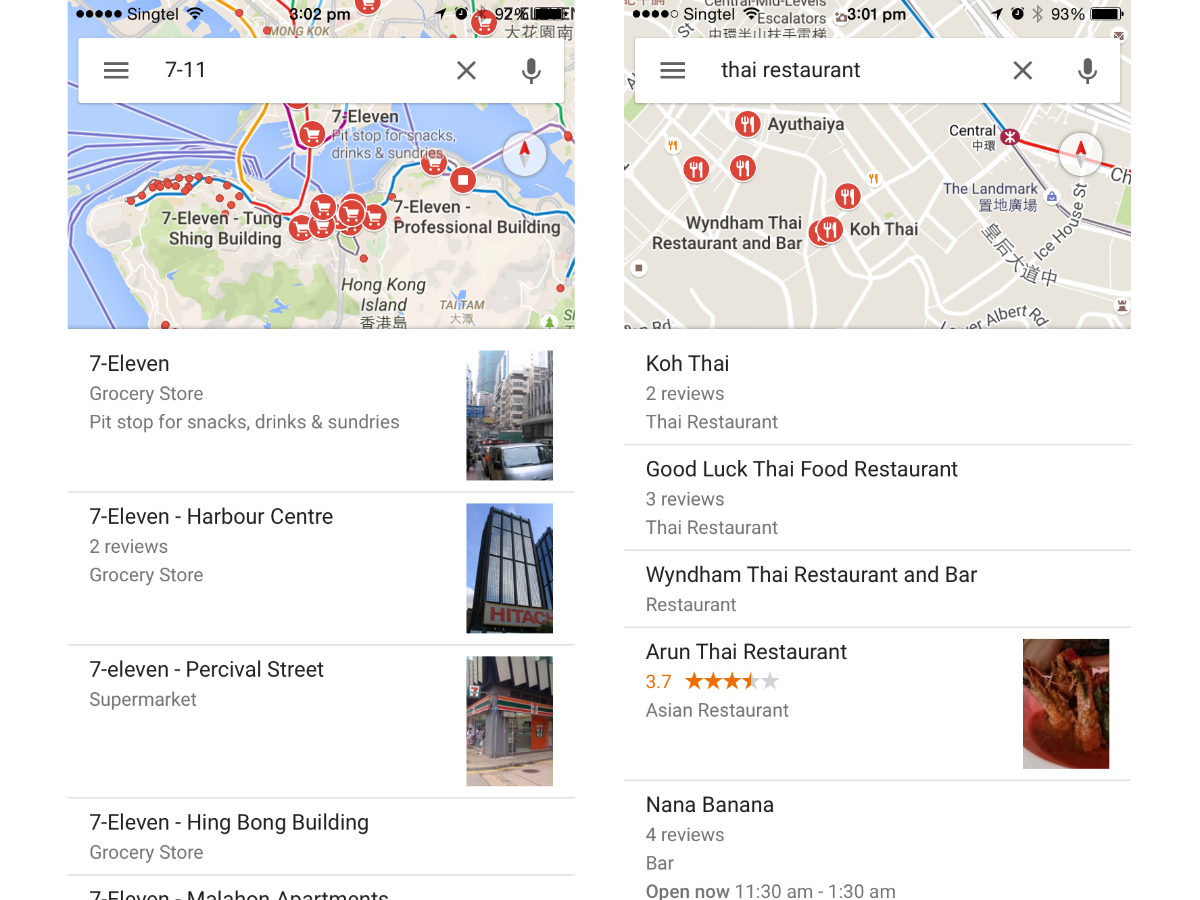 Most people use Google Maps when they have a specific destination to get to, but the search function is smarter than that. Even when you're being vague in your requests.
Do this: If you're looking for a certain chain of stores in a foreign country, all you have to do is type the store's name, say 7-11 or Starbucks, and it will bring up a list of the closest ones to you. And if you feel in the mood for a certain cuisine but don't know where exactly to go to, just type in "Italian restaurant" to get suggestions around you, places you might not even know existed.
Who knows, you might even find a new favourite hangout.
Zoom with one thumb
If you have only one hand free to navigate with, say if you're driving (although that's hardly the safest thing to do), you don't have to free up your index finger to awkwardly pinch to zoom, and drop your phone in the process.
Do this: Double tap on the spot you want to zoom in on. But don't lift your thumb off on the second tap. Hold and drag upwards to zoom out, or drag downwards to zoom in. Your phone needn't be the victim of a fall just because you only have one hand to work with.
Check traffic conditions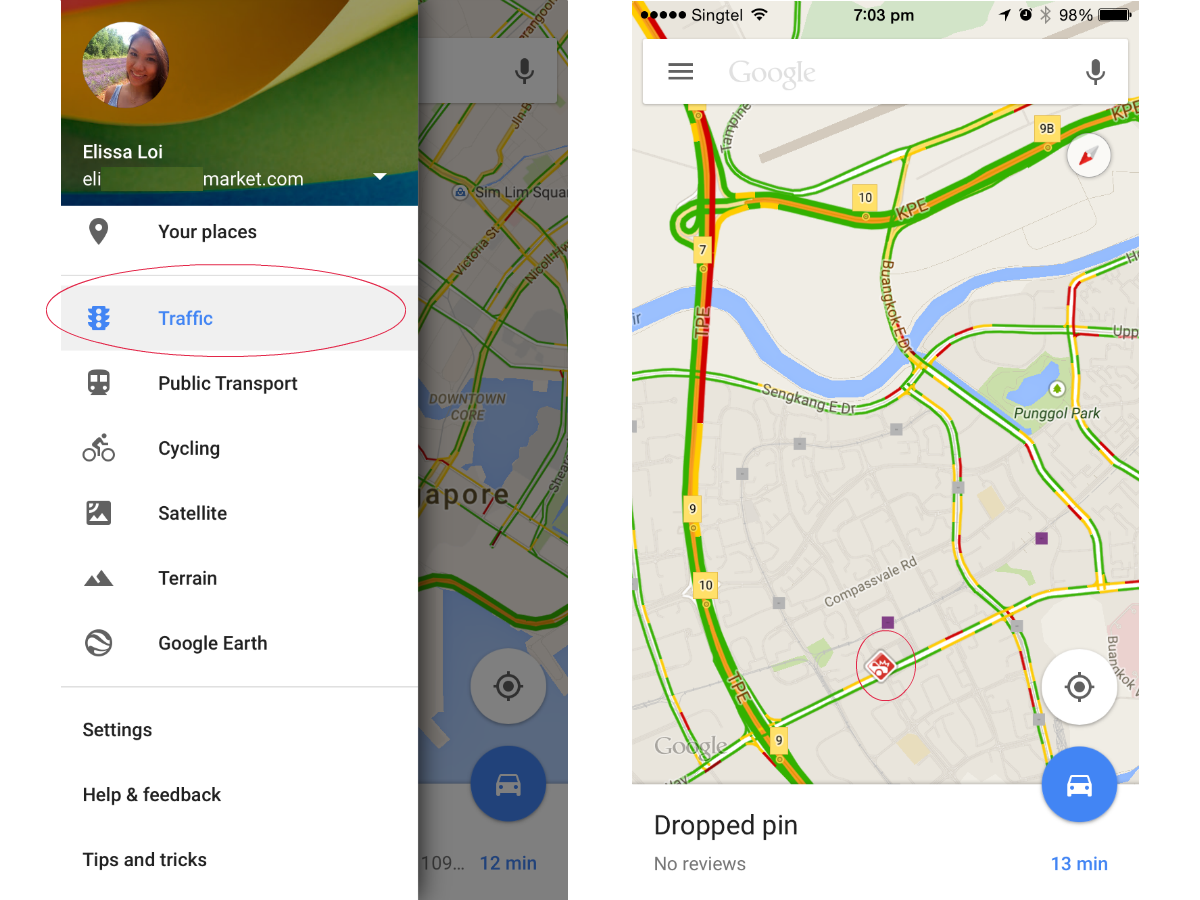 Even if you're a seasoned driver who doesn't require turn by turn navigation, Google Maps is still useful. Guess why? That's right, you don't have to count on the radio to give you live traffic updates.
Do this: In the sidebar, tap on Traffic to get an up to date overview of traffic conditions. The red lines indicate heavy traffic with symbols indicating the reason. This information is powered by Waze, a community-driven navigation app.
Make overlays disappear
Google Maps comes with its share of distractions via its many overlays and side buttons. You probably just want to see the map for what it is but can't focus without accidentally tapping a stray icon. Good news, there's a way to get them all out of your face.
Do this: It's so simple, you'll hate yourself for not knowing this earlier. It's such a relief on your eyes and a load of frustration off thanks to stray taps by removing the distracting clutter. All you need to do is tap once on the map to clear the icons scattered around the screen, then tap again to make the search bar disappear.