The best smart home security cameras – reviewed
Make sure that teenagers are the only insecure things in your house with these digital guard dogs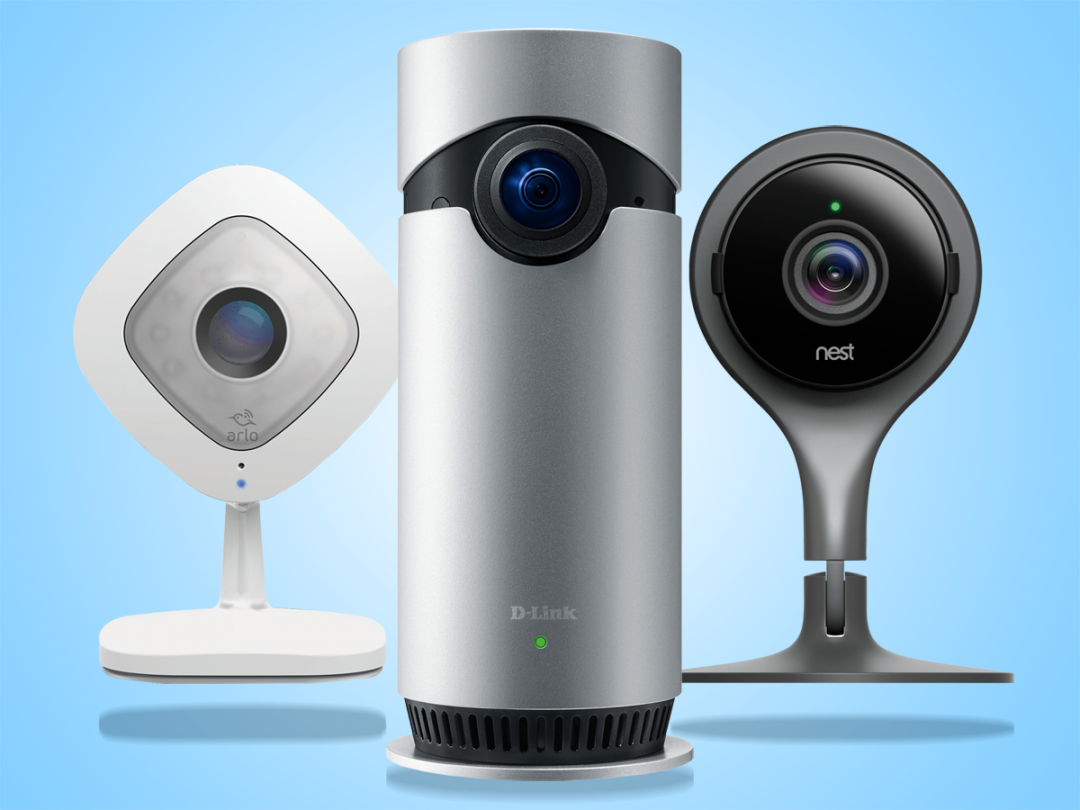 George Orwell's 1984 had it right when it talked about Face Crime: allow your mind to wander and they will find out!
OK, so we're not quite there with the whole thought-scanning tech just yet (despite what Zuckerburg might think) but we can now lock down every inch of our home – covering all conceivable angles, detecting every cough or hasty movement, even recognising faces and learning your daily routines.
Scary stuff or just a webcam with added smarts? We've put seven of the latest home monitoring systems to the test to see if they deliver peace of mind or Orwellian dreams.
Withings Home (£170)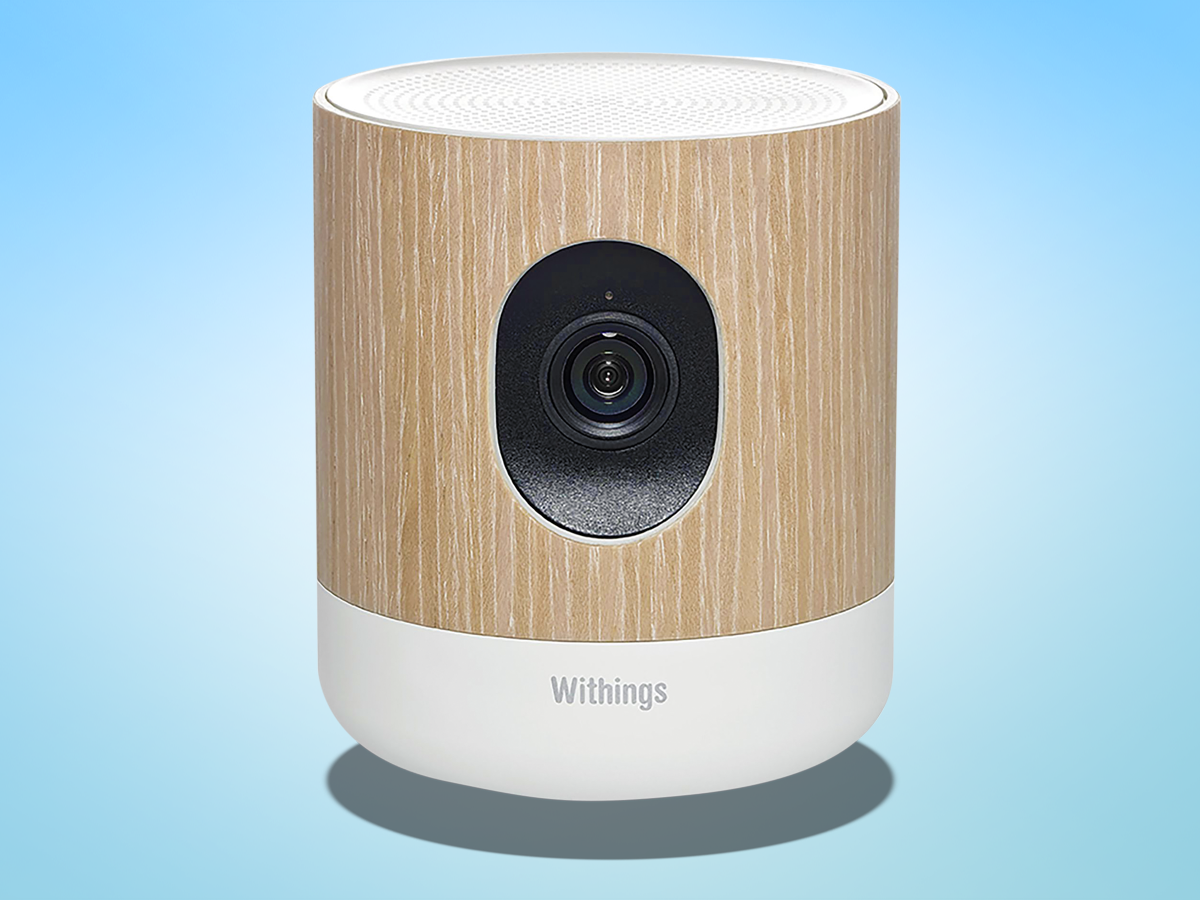 What's the story?
It might look like a tealight holder but the Home is rather fancy, with a 5MP wide-angle camera, 12x zoom with auto-enhancement and infrared night vision. Besides wide-angle recordings triggered by noise and motion, the Home packs a baby monitor mode, which comforts your little one with light and sound, alongside an air quality sensor and a two-way speaker, in case you need to warn your mates away from the beer fridge – or, you know, accost an intruder.
Playback is seriously good fun with the 24hr timelapse option, like watching your life in fast-forward, and it also monitors indoor air pollution. Apparently we should all be looking out for volatile organic compounds. Who knew?
Any good?
While the 135-degree lens captures plenty and infra-red works well when things get dark, the Home is let down by a slightly shonky app. The camera starts recording when it senses something, but it's frequently too tardy to capture the key action. This isn't necessarily an issue exclusive to the Home, though, and HD image quality is otherwise impressive.
'Events' are collated in a Home Diary that's strangely addictive, but you only get two days' cloud storage as standard and adding more costs €20 a month. Setup takes seconds and the multi-coloured LED is a welcome touch, especially as a nightlight; but while this is a very neat baby monitor, others here are better security cameras.
Buy Withings Home here from Currys PC World
Tech specs
Dimensions: 75x75x87mm, Sensors: Motion, sound, VOC, Camera: 5MP, Recording time: 2 days (free), 7 days (£8/month), 30 days (£20/month), Video: Full HD 1920x1080p, Field of view: 130°
Nest Cam (£160)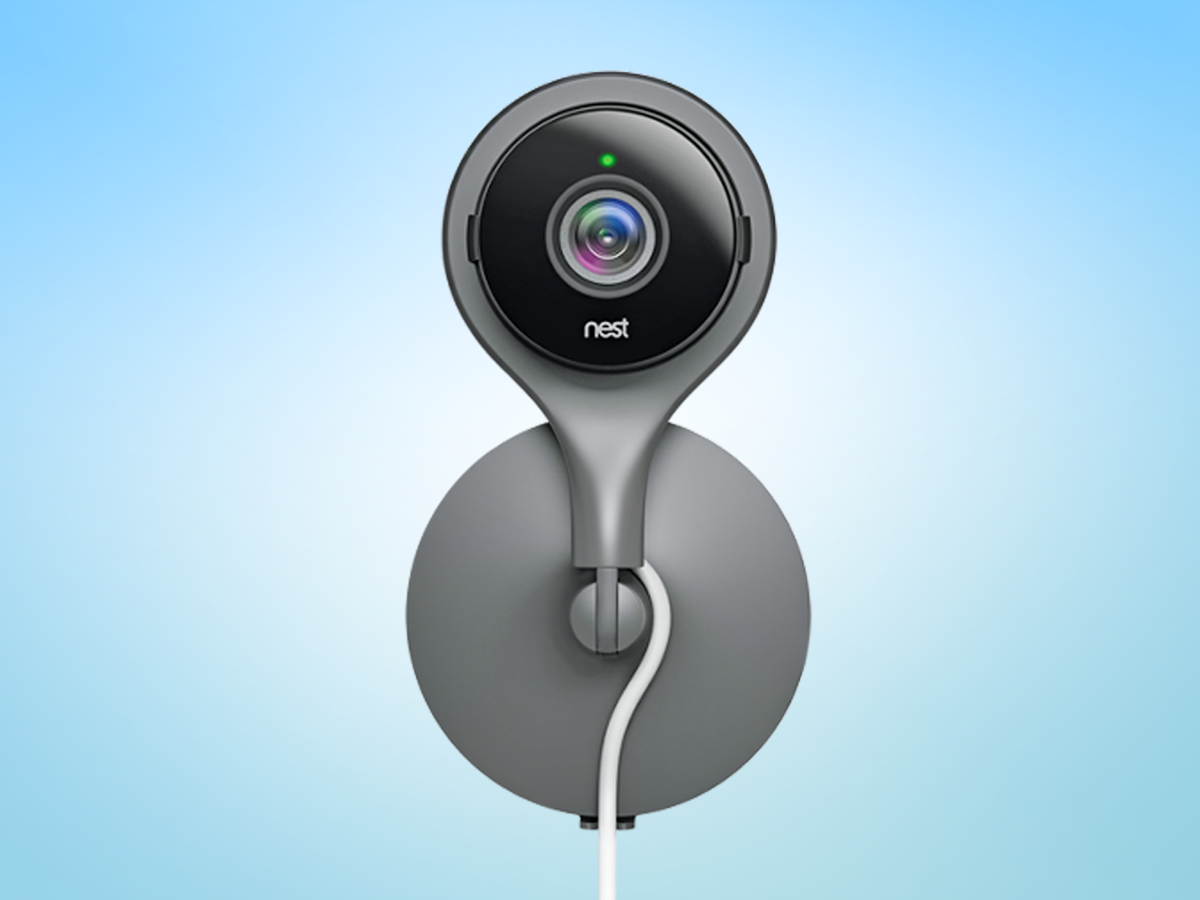 What's the story?
This app-controlled security cam is the latest addition to Nest's smart home ecosystem, which already has a thermostat that learns when you actually need your house heated, and smoke detectors that send alerts straight to your smartphone. With one of these, you'll be able to see your toast burning in real-time.
Even as a standalone smartcam it can record all sound and motion – with sensitivity and accuracy enhanced if you subscribe to Nest Aware for £8 a month. The speaker allows you to talk to whoever is in your house – scare a burglar, get the dog off the sofa or (more likely) annoy your nearest and dearest.
Any good?
Nest's app is as simple as they come, showing live previews and a three-hour snapshot of everything the Cam has spotted just a few taps away. Setup takes less than two minutes using your phone, and picture quality is top-notch – both during the day and at nighttime.
Schedules mean you won't be constantly recording yourself while you're at home, and it does a pretty good job at recognising faces, too. No, you're not paranoid, and yes, your neighbour is definitely stealing your morning paper.
The only downside is that, while you get the last three hours recorded for free, a lot of fancy features like better sensor quality, zone monitoring and unlimited cloud storage are held back until you subscribe to Nest Aware. At £80 a year, it ain't cheap. It's a bit like buying a Ferrari and having to pay monthly to go over 40
Stuff says: ★★★★✩
Slick and simple, but it only truly excels if you subscribe to the extra features
Tech specs
Dimensions: 73x114x73mm, Sensors: Motion, sound, night vision, Camera: 3MP, Recording time: 7 days (free), 30 days (£8/month), Video: 1920x1080p, Field of view: 130°
D-Link Omna 180 Cam HD (£200)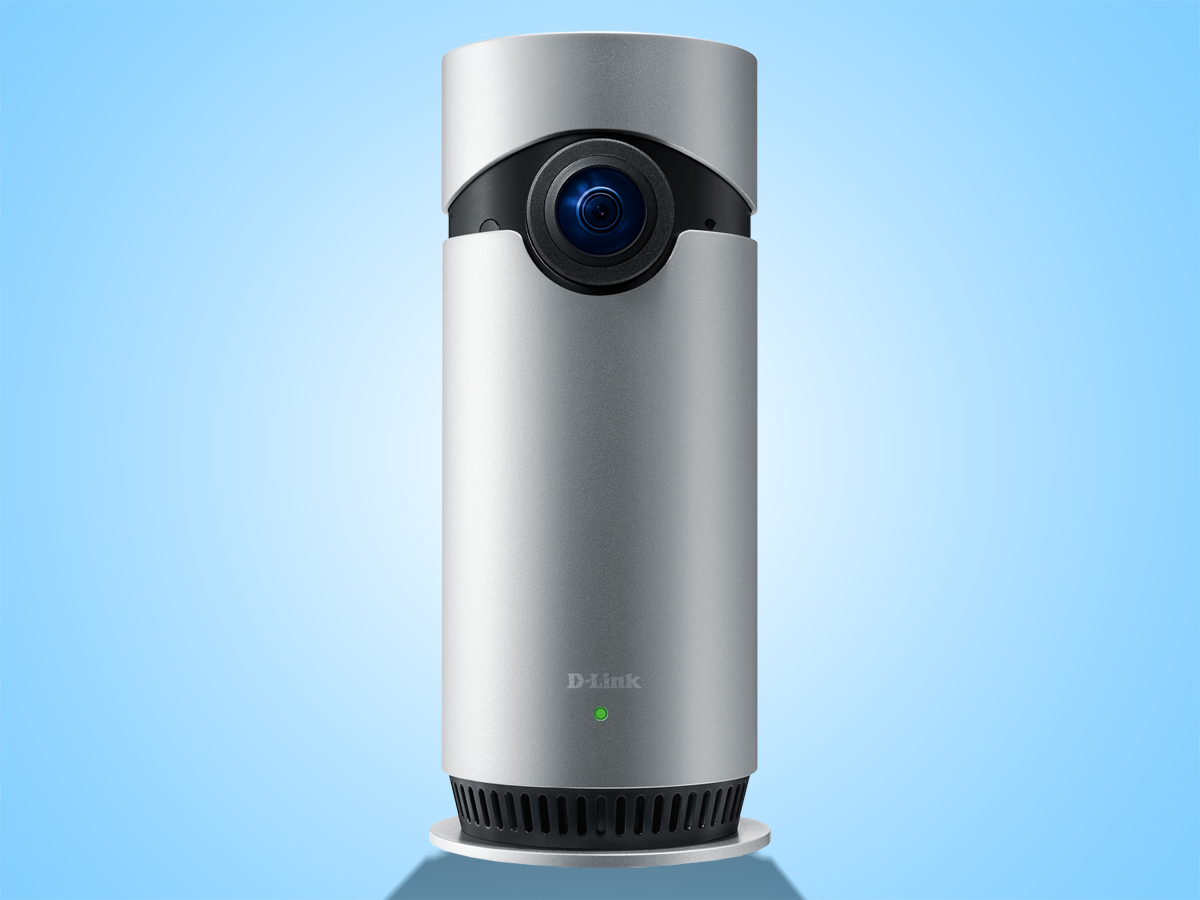 What's the story?
It's been a long time coming, but we finally have the first security camera that works with Apple's smart home platform, HomeKit. That should allow for easy integration with a whole host of other gadgets, from lights to heating, blinds to environment sensors. What's more, the D-Link also has a wider-angle lens that any of its rivals here, with 180 degrees being more than enough to monitor even the most cavernous of living rooms. This is not a wall-mountable design, but it does look pretty smart, and the very long mains cable makes it fairly flexible over positioning. You'll need to add your own SD card for recording, though.
Any good?
The fact that there's no bundled SD card feels a bit cheap, but more concerning is the lack of cloud backup for your captured videos, which means that if the person stealing your telly also steals the D-Link you'll have no video of them doing it. The D-Link also requires that you have an Apple TV or homebound iPad if you want to get notifications or watch footage remotely, and the lack of face recognition means you have to turn the thing off when you're home if you don't want to be constantly badgered about your own movements. The actual footage is great, but that doesn't make up for the Omna's lack of smarts.
Tech specs
Dimensions: 132x58x58mm, Sensors: Motion, IR night vision, Recording time: dependent on SD card Video: 1080x720p, Field of view: 180°
Test Winner: Netatmo Welcome (£200)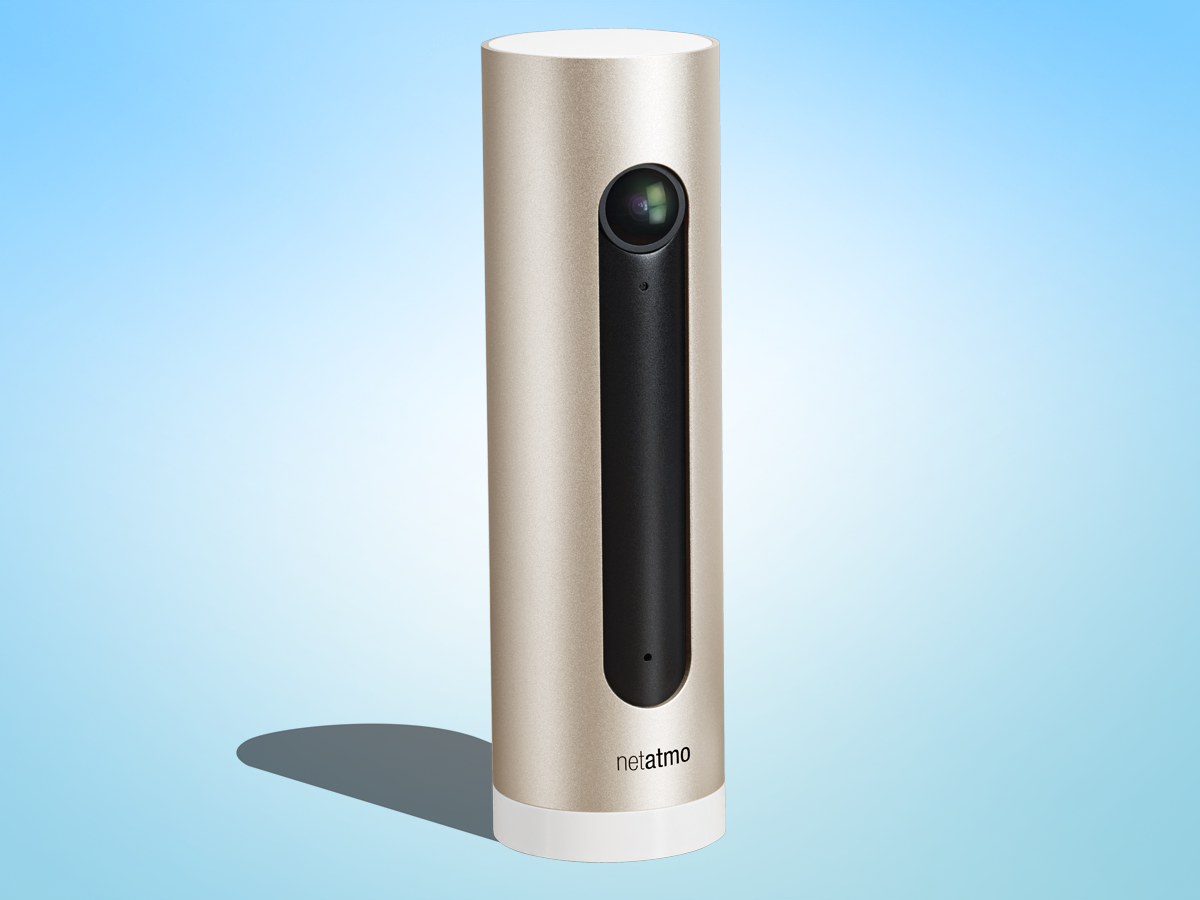 What's the story?
The Netatmo Welcome does the basics really well: it's a sleek and compact unit, it has both wired and wireless network connections, and it records video at up to 1080p resolution. Thankfully, Netatmo doesn't ask you to sign up to a subscription-based storage plan either: the Welcome comes with an 8GB microSD card, but you can store as much footage as you like to a Dropbox account or FTP server. But it's the bonus features, such as face recognition, alarm detection and Apple Watch support, that really make the Welcome feel more advanced than its security camera rivals.
Any good?
Setting up the Welcome is an absolute breeze thanks to Netatmo's excellent app and web interface. The camera automatically starts recording clips to the included microSD card, which you can then back up to your computer or phone. Dropbox/FTP setup is also simple, even though we'd have liked support for other cloud storage services.
Facial recognition is good, but you have to manually identify family members at first, as the camera learns. We also liked the intelligent alarm monitoring, which will send you an alert if it hears a smoke or security alarms.
Tech specs
Dimensions: 45x45x155mm, Sensors: Motion, sound, night vision, Camera: 4MP, Recording time: 1hr Full HD (8GB, expandable to 32GB), Video: 1920x1080p, Field of view: 130°
Netgear Arlo Q (£170)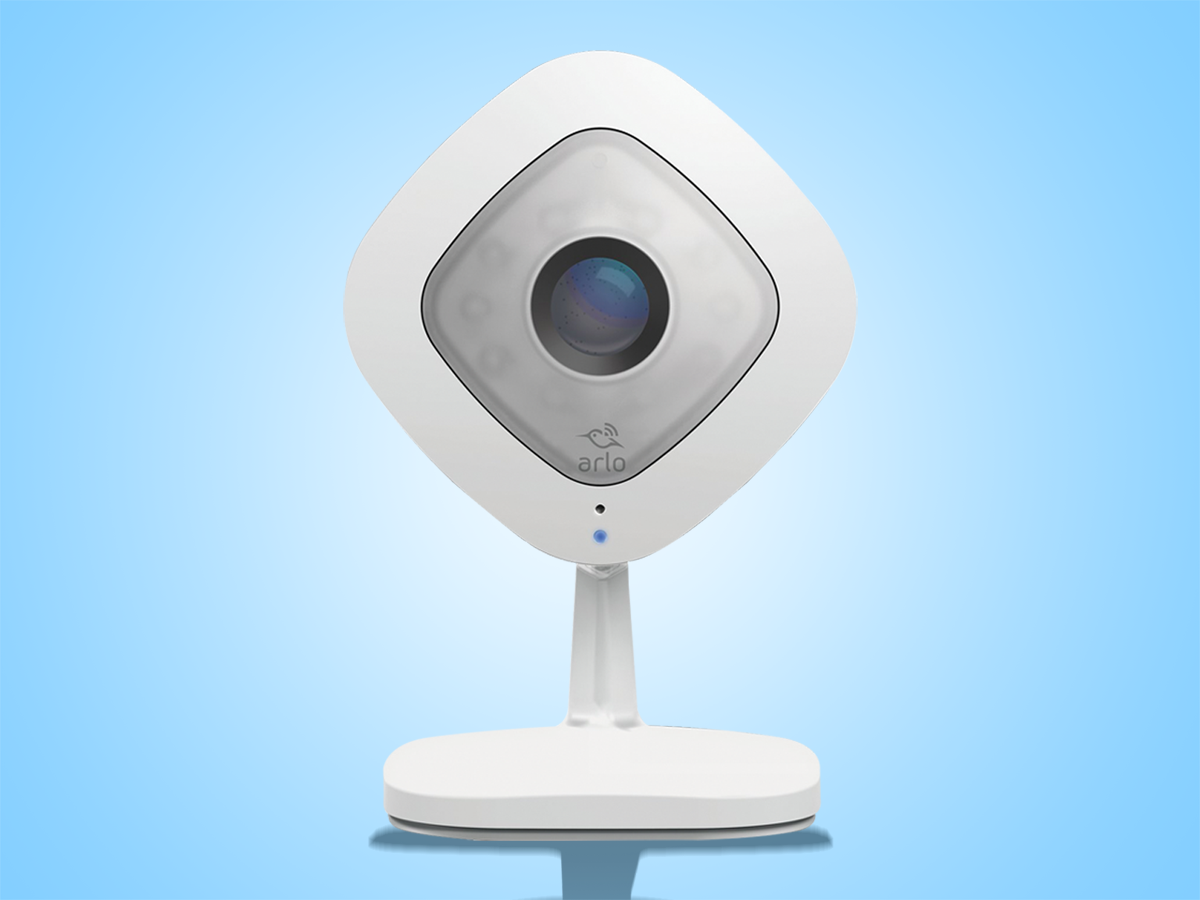 What's the story?
The Q is the most basic member of the Netgear Arlo family, but that doesn't mean it's lacking in big features. It records 1080p full HD footage via a camera with a nice, wide 130-degree view, has a two-way speaker, and a night vision mode which makes it easy to find out who it keeps raiding the chocolate stash at midnight.
It's also relatively well priced and comes with free storage of the last seven days of video clips; this can be upgraded to continuous 24hr coverage for an extra £12.99/month.
Any good?
Video footage is excellent, with the night mode particularly impressive; even in a near-dark room it's easy to make out exactly what's going on. Sadly, Wi-Fi coverage isn't so hot – the Arlo Pro we tested at the same time was placed far further away from the router but never lost signal, whereas the Q kept cutting out.
Nor is it the smartest out there. You can set up geofencing so it arms/disarms when you leave/enter the area, and link it with other smart devices via If This Then That (IFTTT), but that's about it. There's no face recognition or anything truly impressive. Overall, the Q is a bit of a mixed bag.
Tech specs
Dimensions: 71x41x63.5mm, Sensors: Motion, IR night vision, Recording time: 7 days (free), 30 days (£6.50/month), Video: 1080x720p, Field of view: 130°
Canary (£160)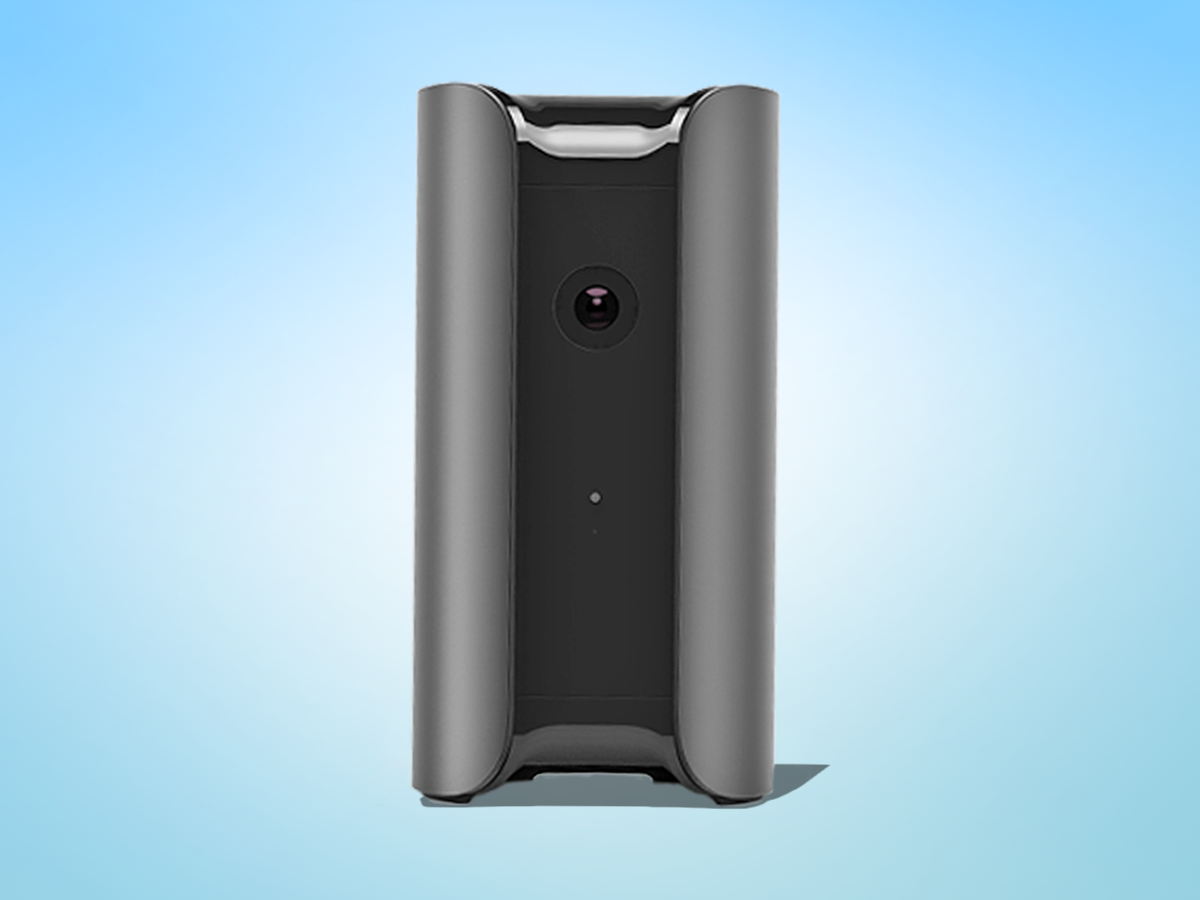 What's the story?
Canary is the prettiest security cam we've seen. That might sound like being named a regional finalist in the 'best-looking bouncer' awards, but it's an important feature for a gadget that needs to be on permanent display to do its job.
Like its rivals Nest Cam and Piper, Canary promises to alert you to unwanted activity in your home by sending smartphone notifications, along with live and recorded 1080p video, when it detects movement.
It uses geo-fencing to automatically 'arm' itself when it recognises that you're out, and also packs sensors for slightly vague measurements of your home's temperature, humidity and air quality.
Any good?
Canary's wide-angle camera serves up excellent video quality even at night, and the manually controlled 90dB siren capable of rattling your windows.
Its app is also nicely designed, with quick access to your timeline of motion-triggered events. The only downside is that, without anything clever like face recognition, the Canary will frequently send alerts about innocuous events like the sun going in.
With Nest-like subscription charges (from £7.99 p/month) and no compatibility with the likes of IFTTT for extending its powers, the Canary's simplicity is very much double-edged.
Tech specs
Dimensions: 24.8 x 12.8 x 11.8 cm, Sensors: Motion, IR night vision, air quality, temperature, humidity, Recording time: 30 days, Video: 1080x720p, Field of view: 147°
Y-Cam Evo (£130)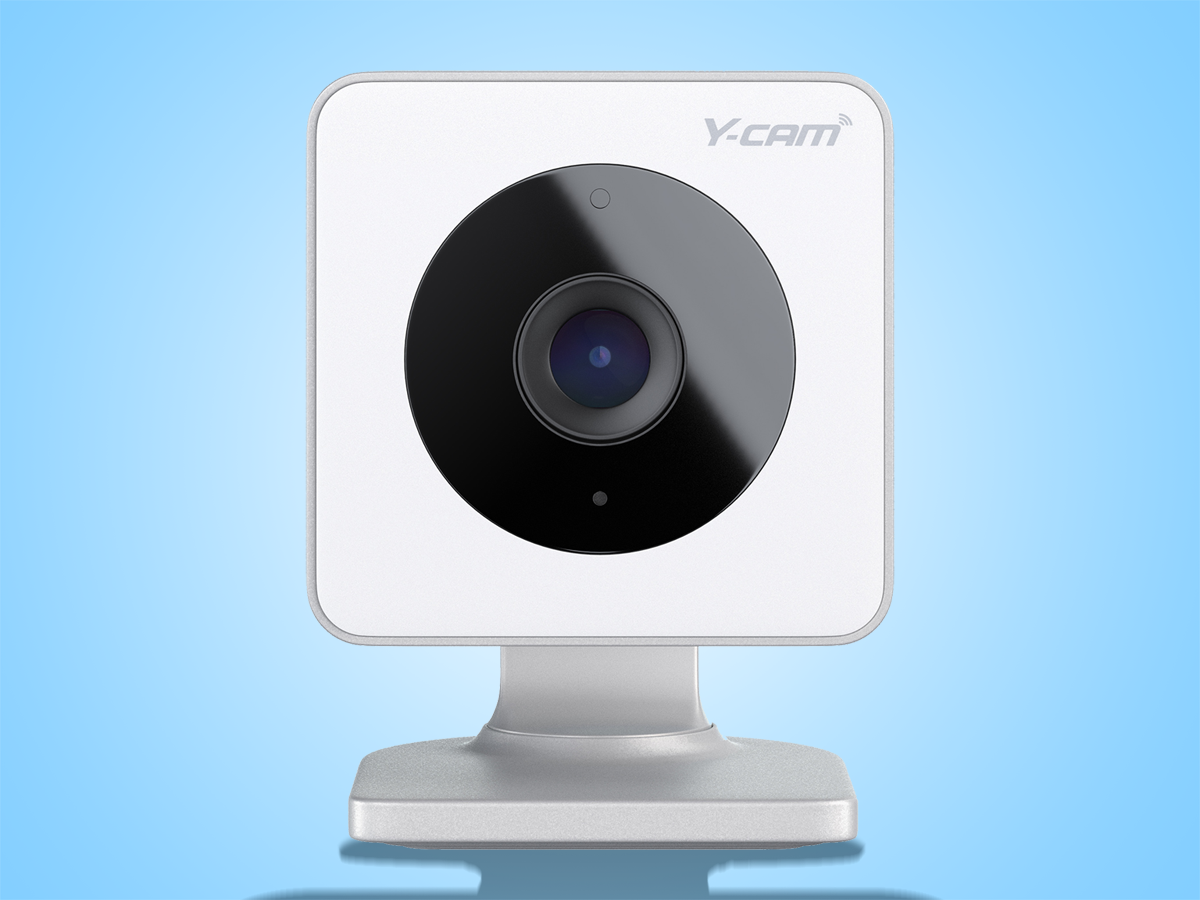 What's the story?
This is about as cheap as serious security cams get, but there are no glaring gaps in the Y-Cam Evo's skillset: it's a tiny device (barely 2in across) that records 720p HD video, with IR night vision, and comes with a rolling seven days of subscription-free online storage. It sends an alert when motion is detected in the zone you've selected within its 100° field of view, and uses clever buffering – or possibly time-travel – to start the recording five seconds before that happens. Any clips you want to keep forever are easily downloaded to your phone.
Is it any good?
We pointed the Evo at a catflap in an attempt to catch out a nightly intruder with a bad scent-marking habit. The camera was easily set up in a discreet corner, and we soon had our motion zone selected. The good news is, it worked. We got plenty of footage of a brazen tabby sauntering in and out at will, and the pictures were as vivid as the smell of his indiscriminate wee. The bad news is, flaky notifications and sluggish playback from the cloud meant we never knew about it in time to surprise the little delinquent with a jug of cold water.
Tech specs
Dimensions: 85x35x35mm, Sensors: Motion, IR night vision Recording time: dependent on SD card Video: 1280x720p, Field of view: 87°
Panasonic KX-HNC800EW (£159)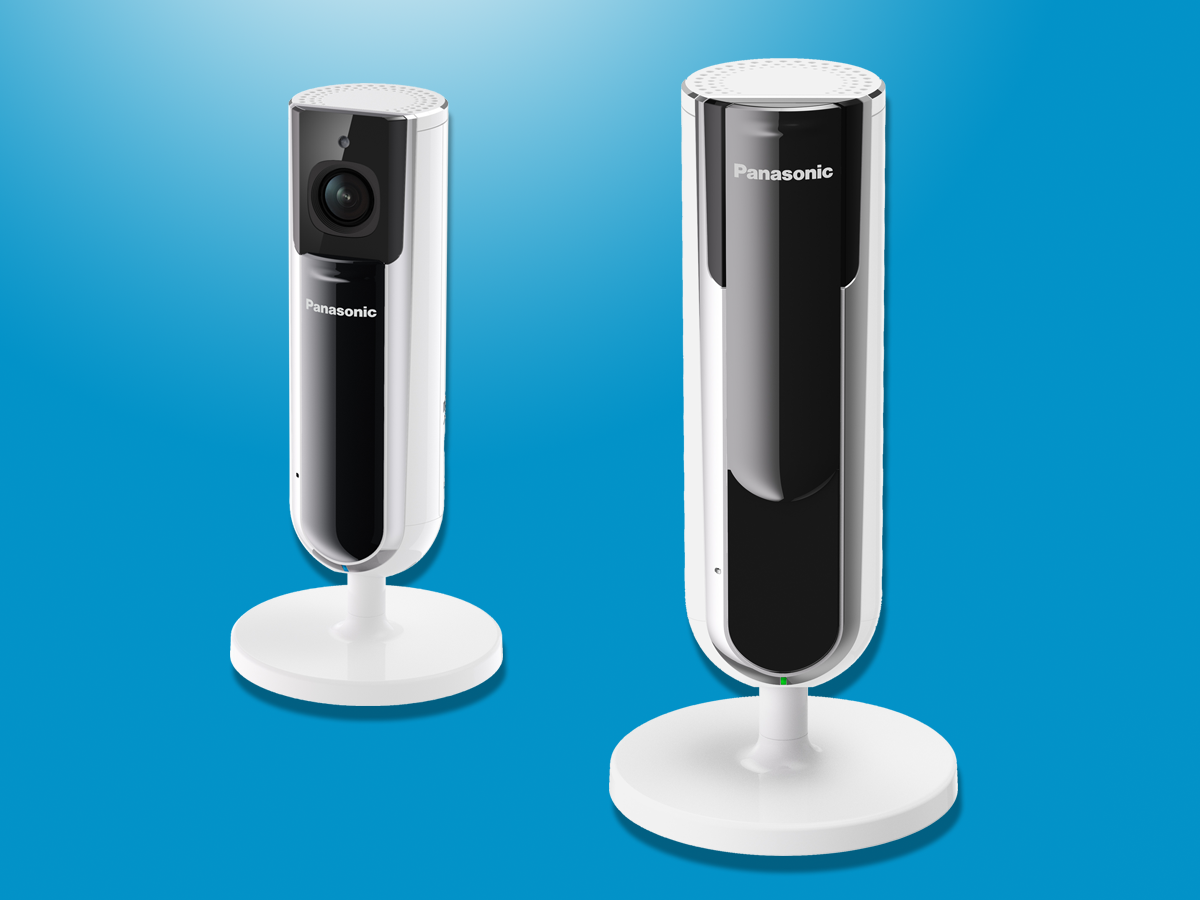 What's the story?
If you're already using Panasonic's Home Network hub and smart home devices, the HNC800EW camera should definitely be on your shopping list. It's a wide-angle, full HD, wall-mountable indoor camera that has temperature, motion and sound sensors in its arsenal, as well as two-way communication.
It doesn't actually need the hub to connect and, best of all, has a rolling video buffer for capturing two seconds of footage before it's triggered. Like the D-Link Omna 180 Cam HD, it records video footage locally only, via microSD card (128GB max, not included), without the option for a more secure cloud backup.
Any good?
Setup was not a simple affair – it should have been, but the iOS version of the app failed to even give an option to set up a camera, offering only a setup wizard for the hub. Even our Android phone struggled to connect to the camera, but after a few unsuccessful tries, it locked onto the camera, and the signal has been robust ever since – over the same Wi-Fi, over data, and over a separate Wi-Fi network.
You might be lucky and get a clean install first time, but if not, keep persevering as this Panny is otherwise worth the effort. Remote recording can be triggered manually from the app, or automated with the sound and motion sensors. Stills can be taken remotely too, and are saved directly to your camera roll. The two-way chat is clear enough, if a tad laggy (up to five seconds), though this is a feature that even the all-conquering Netatmo Welcome lacks.
Buy the KX-HNC800EW here from Panasonic