The best portable Bluetooth speakers under £200
Take your music wherever you go with these affordable, portable wireless speakers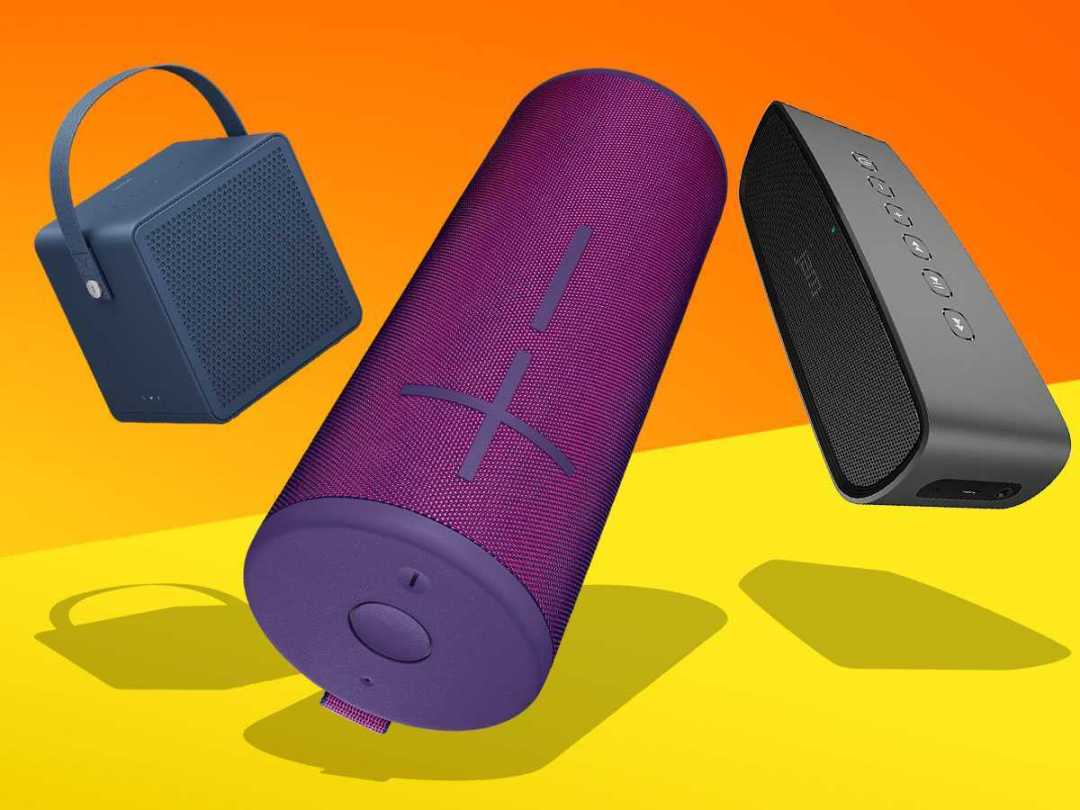 Put your hi-fi in the bin. Take an axe to your floorstanders. Snap that vinyl over your knee. It's newsflash time: portable speakers actually sound good these days.
They're good enough for 90% of 95% of people's listening. And yes, that stat is entirely made up.
But the sentiment isn't. For a lot of listening, portable wireless speakers are well worth having – and you don't even have to spend a fortune to get one that's half decent.
Got £200 to spare? Here are the models you should look at.
UE Wonderboom 2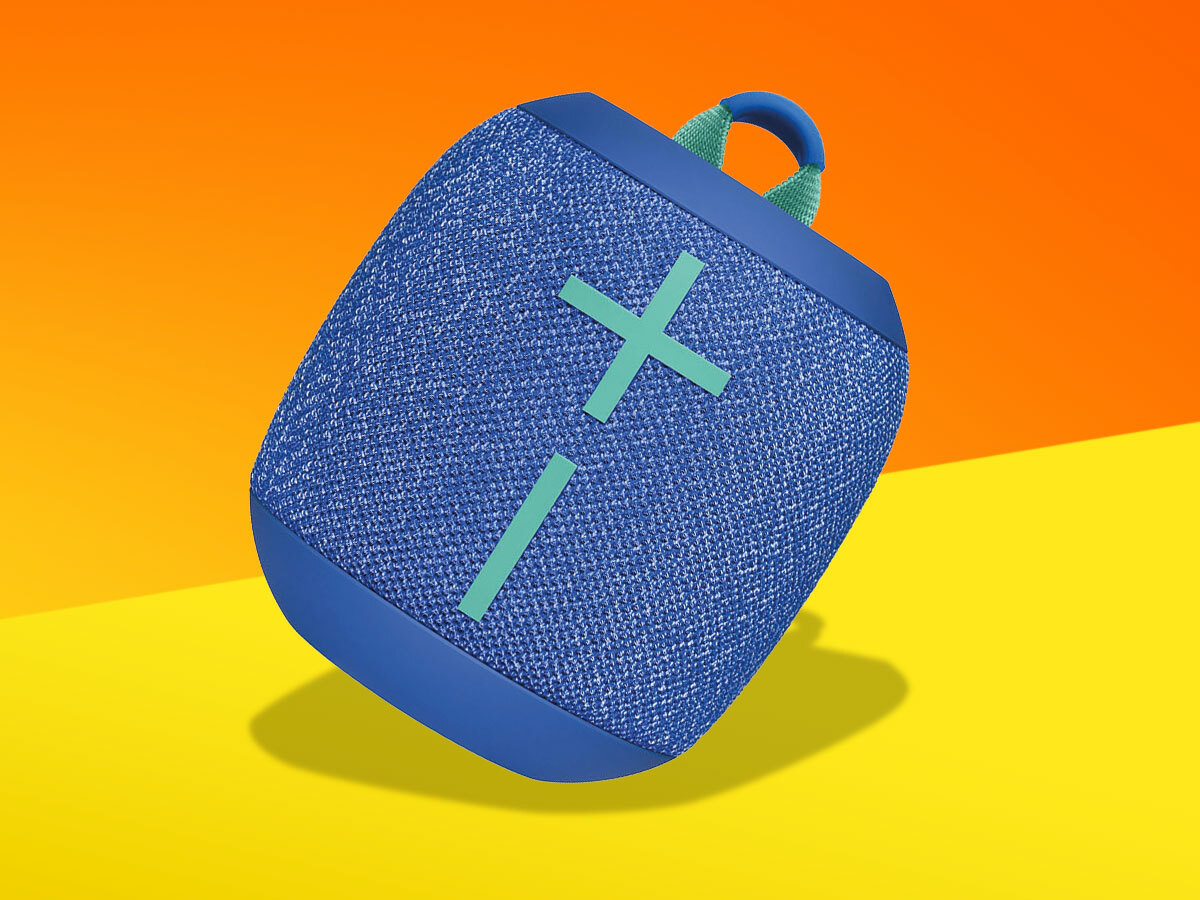 Price: £90
We dubbed the original Wonderboom a "grapefruit wearing a corset" and when you find such a winning look, why change?
Available in a choice of cheerful colours, each one's strap and volume buttons come in a contrasting colour to add a little extra zing. Up top there's a power button that also allows you to control basic playback, with a button either side for pairing over Bluetooth or adding a second speaker to your setup.
The Wonderboom 2's waterproof outfit has been upgraded to deal with dust as well, which is just as well, because this is a speaker that's more than happy to hit the road. Its new Outdoor Boost mode puts extra focus on the mid-range and redirects the sound upwards, so it's not just providing a soundtrack for subterranean insect parties.
It performs best indoors, though, particularly when paired with another Wonderboom 2 for stereo sound, but even playing solo there's good texture and warmth to the sound, with a new chipset delivering extra bass. It also extends the battery life to 13 hours.
Like a generously poured Tequila Sunrise, the Wonderboom 2 is punchy in both appearance and performance. It's no wonder this is getting a space in our hold luggage.
Stuff says ✭✭✭✭✭
We'll take a Wonderboom 2. On the rocks. Somewhere sunny
JBL Charge 4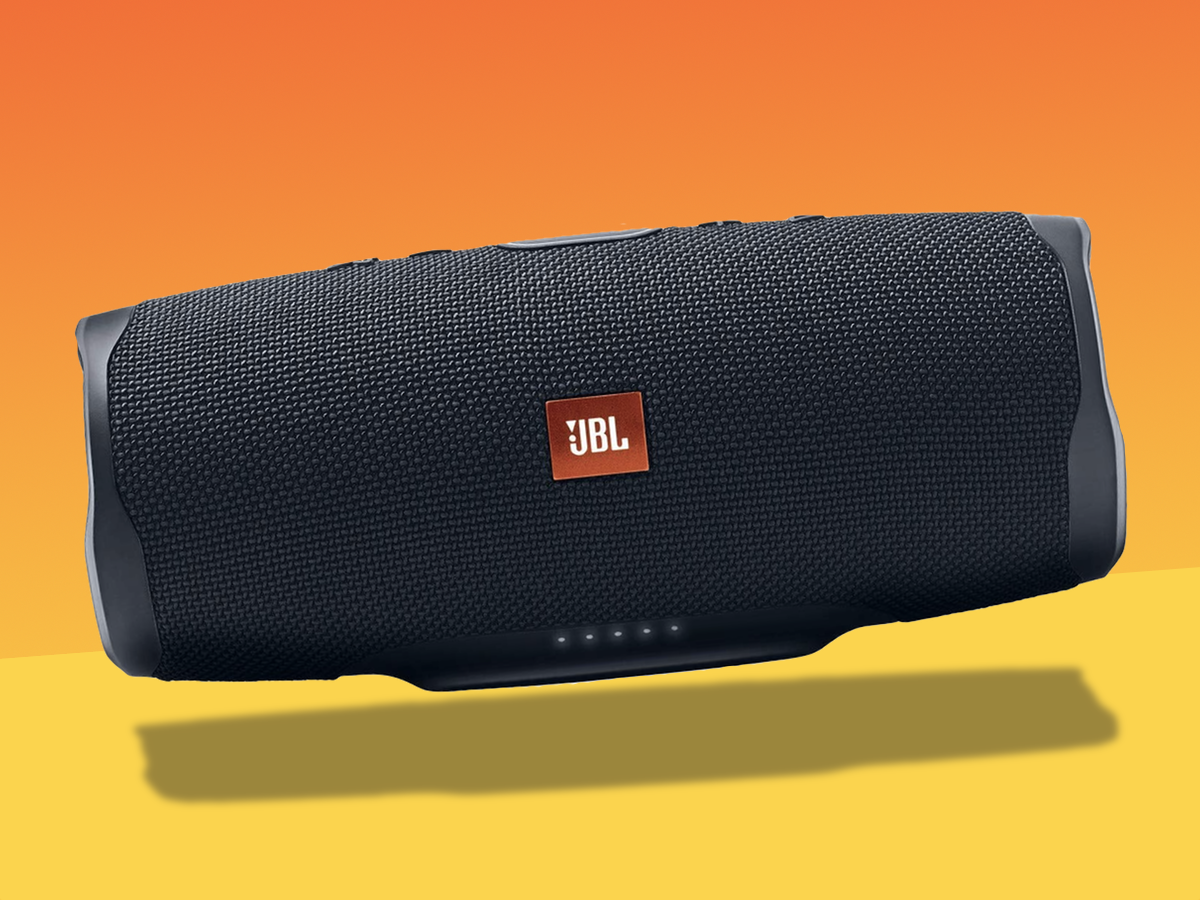 Price: £149
Don't be fooled by the Charge 4's rugged looks: its pool party appearance belies a truly balanced listening experience, with bass that's punchy but doesn't drown out details and a remarkably well-rounded midrange. There's a surprising amount of clarity at the top end, too.
That said, if you want a speaker to bring the beach vibes, this is the tough cookie to choose. Finished with a durable fabric wrap and capped by beefy rubber, the Charge 4 can take quite the beating. Its distinctive resonating ends are suitably sturdy, while IPX7 waterproofing means a quick dip won't put an end to your lido playlist.
Its drivers are directional, so you'll need to find the right spot to get the best out of JBL's chunky number. Once you do, it'll keep the tunes coming for a pack-leading 20 hours on a single charge. And here's the cool bit: if Spotify streaming drains your smartphone, the Charge 4 can give it a boost via USB. Neat.
Shipped in a range of technicolour shades and equipped with Connect+, which lets you pair with up to 100 compatible JBL speakers, the Charge 4 is a bold Bluetooth offering that deserves a place in your beach tote.
STUFF SAYS ✭✭✭✭✭
Punchy, tough and full of juice. What's not to love?
Loewe Klang M1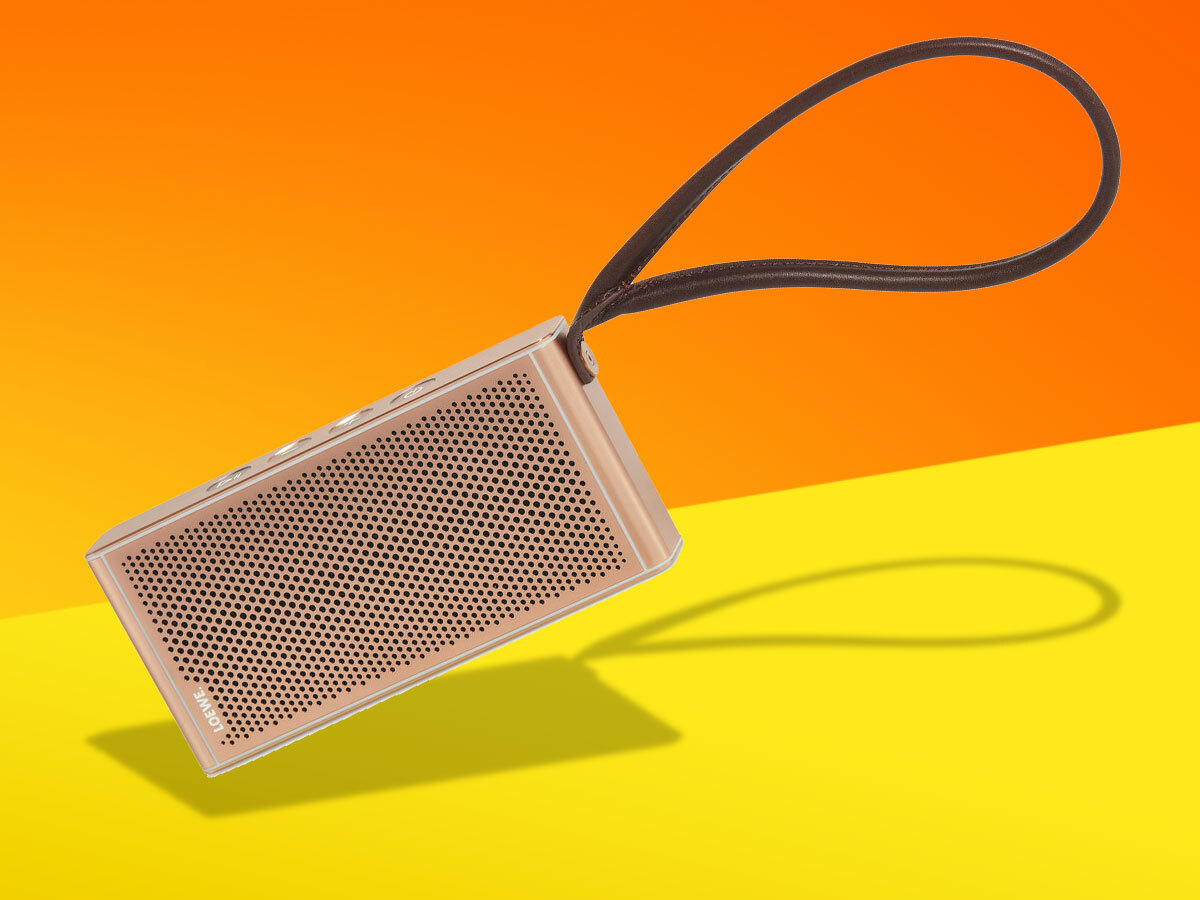 Price: £169
We generally associate high-end German brand Loewe with extremely stylish, extremely expensive TVs, but the Klang M1 is a superbly built Bluetooth speaker with a far more attainable price tag.
Built like a classy compact camera, complete with leather strap, a precision-milled steel casing and elegant buttons to match, there's also a 3.5mm input for the wired-o-philes and a built-in mic that allows for hands-free calling.
Onboard controls might seem a bit needless with smartphone streaming, but given the amount of time you'll be cradling this lump of design joy, it makes perfect sense. The M1 is smaller than an iPhone XS in height and just the right side of chunky to fit in a back pocket without the rounded edges drastically misshaping your trousers. At 325g, it's also remarkably lightweight.
The Klang M1's two 8W drivers offer a nicely balanced sound that's more like a traditional radio than a pop speaker, although it does feel constrained, which isn't surprising given the size. You'll not find a better-looking, more desirable, more Instagram-worthy travel speaker; just don't expect it to disturb the couple in the hotel suite next door.
Stuff says ✭✭✭✭✭
Consider it a luxury personal speaker for travel and you won't be disappointed.
Urbanears Ralis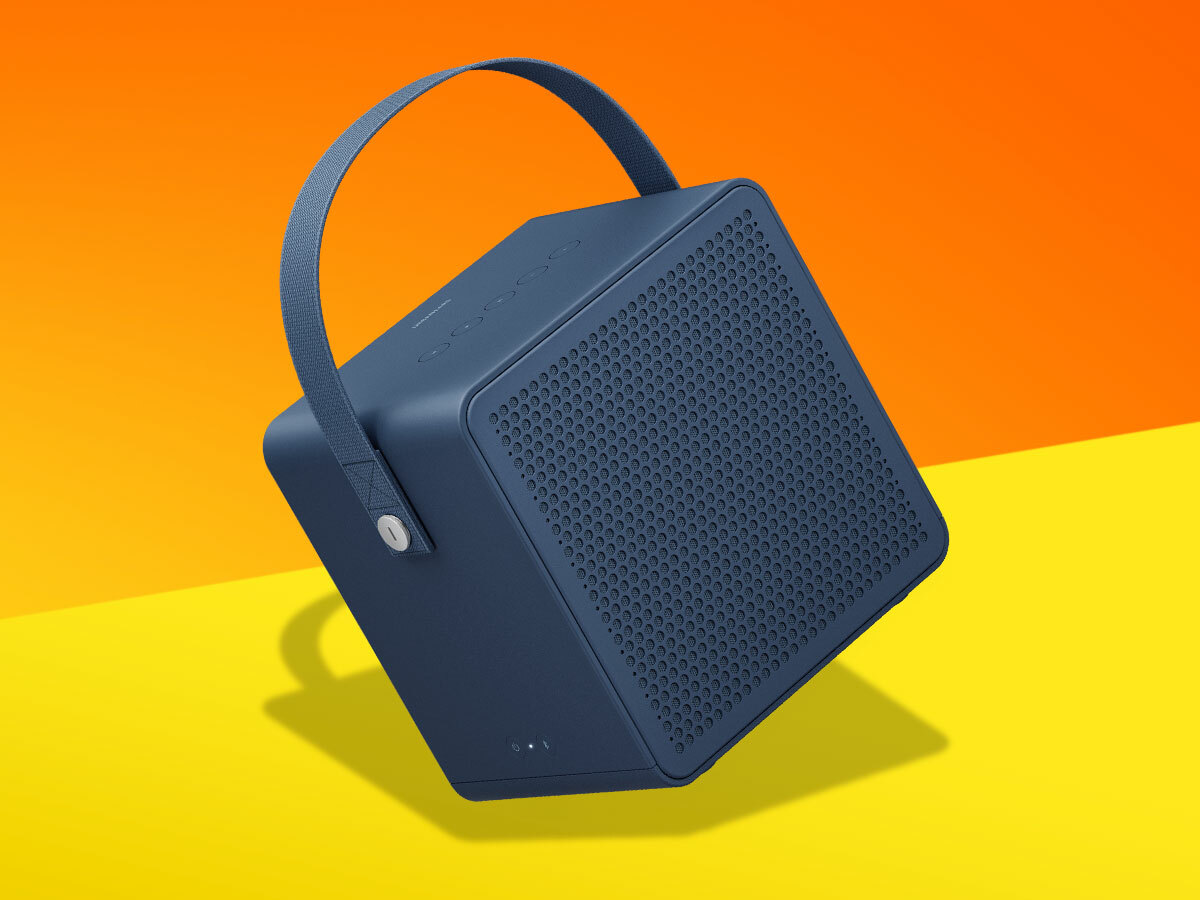 Price: £170
Available in 'mist grey', 'haute red' or 'slate blue', the latest launch from Urbanears is an absolutely gorgeous piece of Swedish minimalist design – one of those products guaranteed to pop up in music videos and swish interior design magazines.
Although not bursting at the seams with features, the Ralis has an impressive 20-hour battery life – and you can also siphon its juice to your phone via USB if your battery needs a boost. It has a lovely fabric carry handle and an IPX2 rating, which means the odd spot of rain won't harm it but you don't want to be leaving it out overnight. Bluetooth 5.0 means you can pair two phones simultaneously and add one via aux-in to share DJ duties.
But does it sound any good? The cube houses two identical speakers, in a setup carefully based on a recording technique called Blumlein pairing – the effect of which is to create a wider, more spatial soundstage. It works, making the Ralis an extremely enjoyable listen, although you do have to turn it up to get the best out of it.
Stuff says ✭✭✭✭✭
A pretty speaker with great battery life, and it sounds superb when cranked up
UE Megaboom 3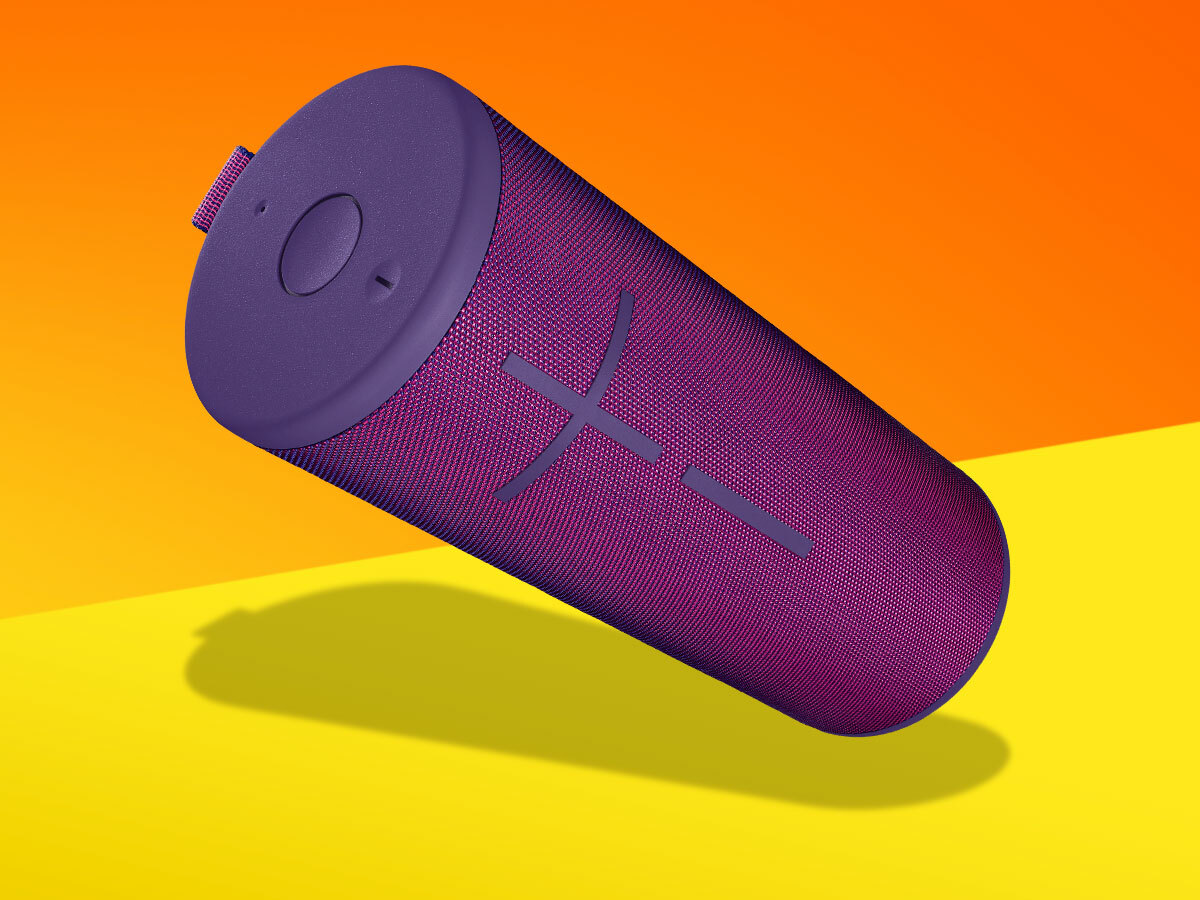 Price: £170
If the Wonderboom 2 is a citrus fruit in constricting womenswear, the Megaboom 3 is a Pringles can in a superhero outfit. But with the large volume controls on the front, you can tell they're members of the same family.
In fact, the Megaboom sports many of the same features as the Wonderboom: an IP67 rating means it can be dunked underwater for 30 minutes and live to tell the tale, it's now fully dustproof, and there's a trio of buttons on the top to control playback, turn it on and off, and pair it with Bluetooth devices.
The big difference comes when you start to play music. All that extra speaker space means it can go much, much louder, particularly if you use the app to pair it with some other UE speakers. If you've got enough friends (we haven't) it can form part of a 150-strong speaker line-up. Boom by name, boom by nature.
That's not to say it can't control its bass. The Megaboom 3's soundstage is well-balanced and it'll easily fill a normal-sized room with punchy 360 sound, even if the mids leave a little to be desired.
Stuff says ✭✭✭✭✭
Tough, loud and bags of fun. Ultimate Ears' hot streak continues
Jam Heavy Metal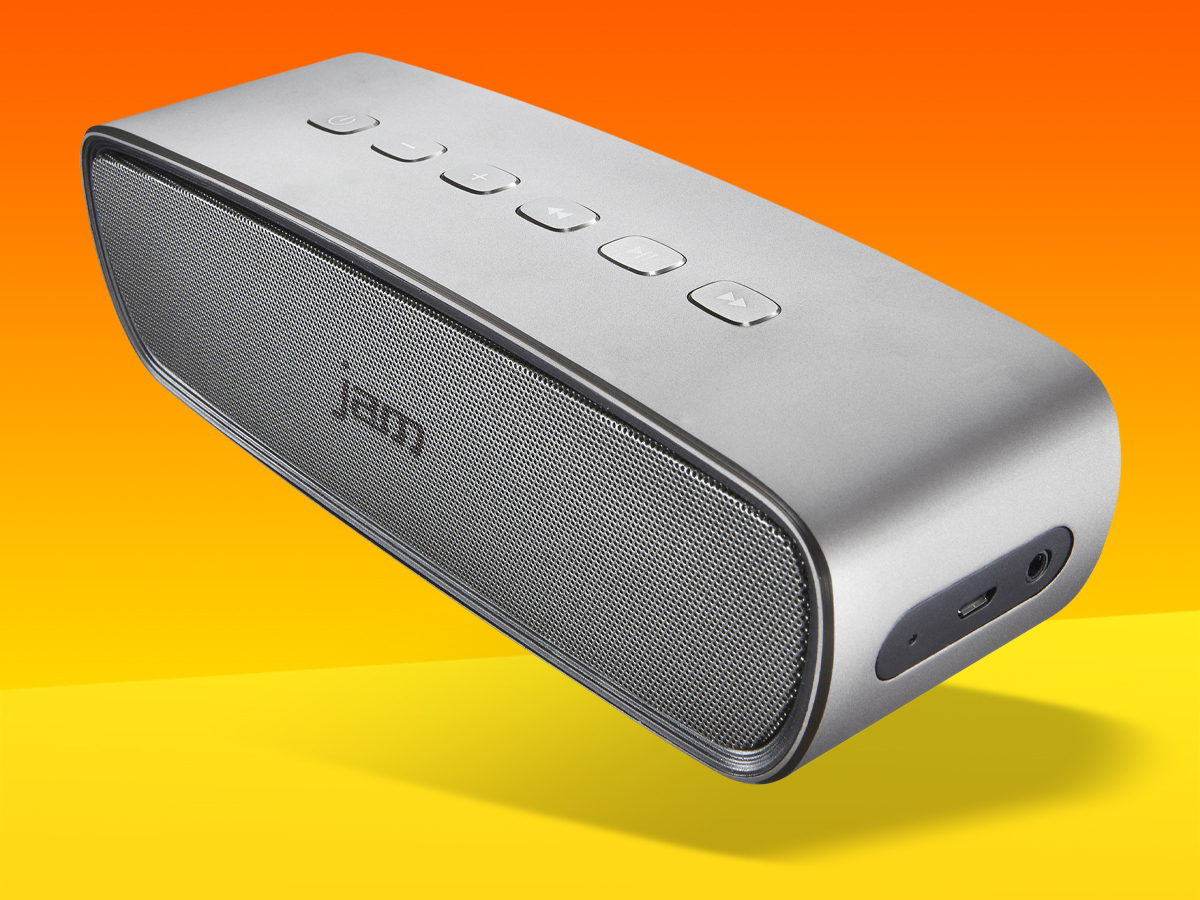 Price: £100
This speaker sounds like the sort of thing you might see on sale next to an emoji pillow. Most people haven't heard of Jam Audio and the 'Heavy Metal' bit is the naming equivalent of a dad joke, given the speaker is made of aluminium.
Hold back the scorn, though, because this is one of the best portable speakers you can get for £100. It can duel with big names twice the price, and even beat some of them.
The sound quality per pound is superb. Like the best mini rectangle speakers, a dual bass radiator setup gets you serious bass power and enough volume to fill your lounge. Treble is crisp, but without the harshness of a speaker desperately trying to convince your ear it's super-detailed.
The top £150 speakers have better mid-range detail and texture, which makes vocals sound even more realistic and natural. But the Jam can skip between genres like a pro and is alarmingly refined for the price. If you're on a strict budget, the Jam Heavy Metal is more-or-less unbeatable right now.
Stuff says ✭✭✭✭✭
Classy sound and design at a true bargain price
Audio Pro Addon T3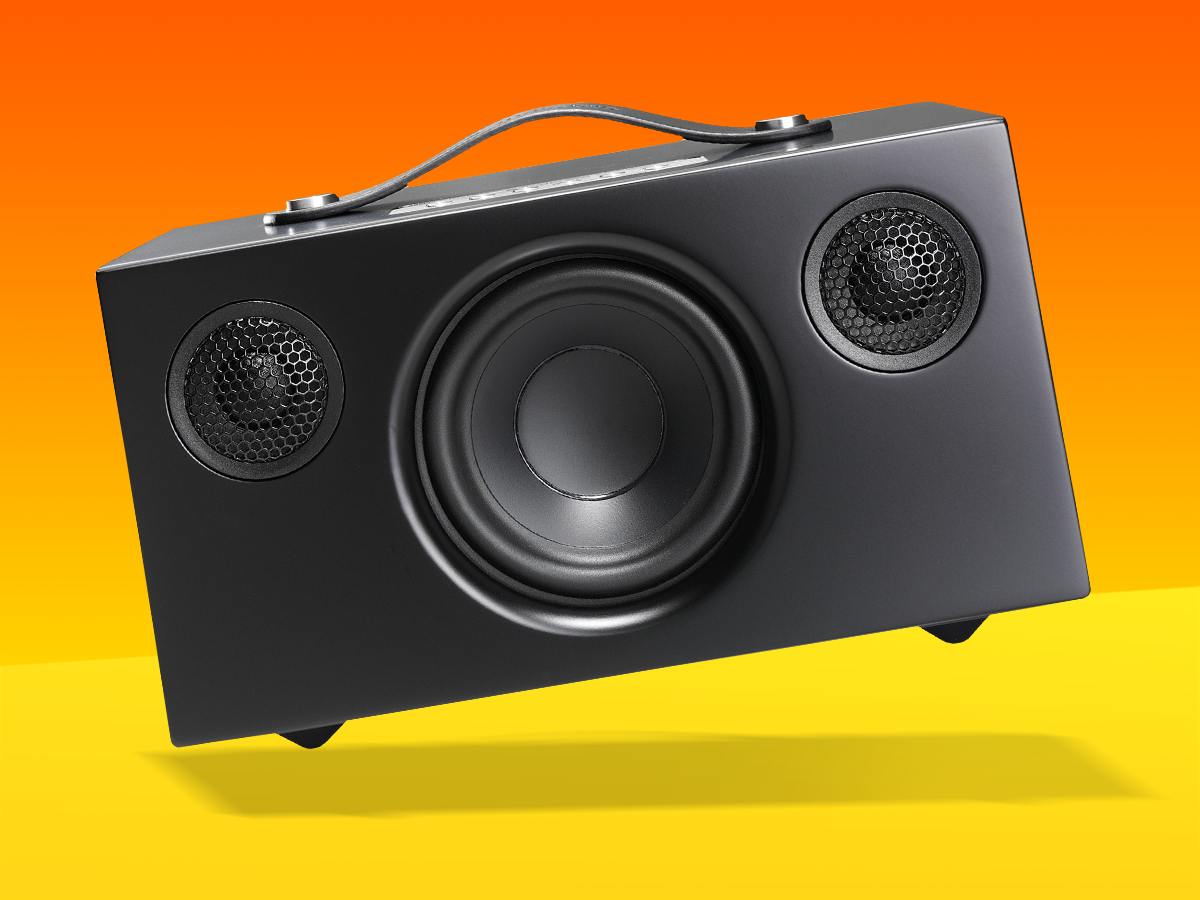 Price: £149
Music purists, listen up: the Audio Pro Addon T3 is one of the best-sounding portable speakers out there. It might look a little koala-like, and its bulk won't suit everyone (it's about the size of a hefty lunchbox), but we can't fault it for dynamism, drive and sheer potency.
This speaker will reach down into the depths of a song's lower frequencies and bring you earthy, taut basslines with enough punch to turn heads… while vocals hit you with a great sense of space.
The Addon T3 keeps you wanting more – and its 12hr battery life is ready to oblige. If you've got the budget, this is clearly the audiophile choice.
STUFF SAYS ★★★★★
Great sound, low price: what more could you ask for?
Vifa Reykjavik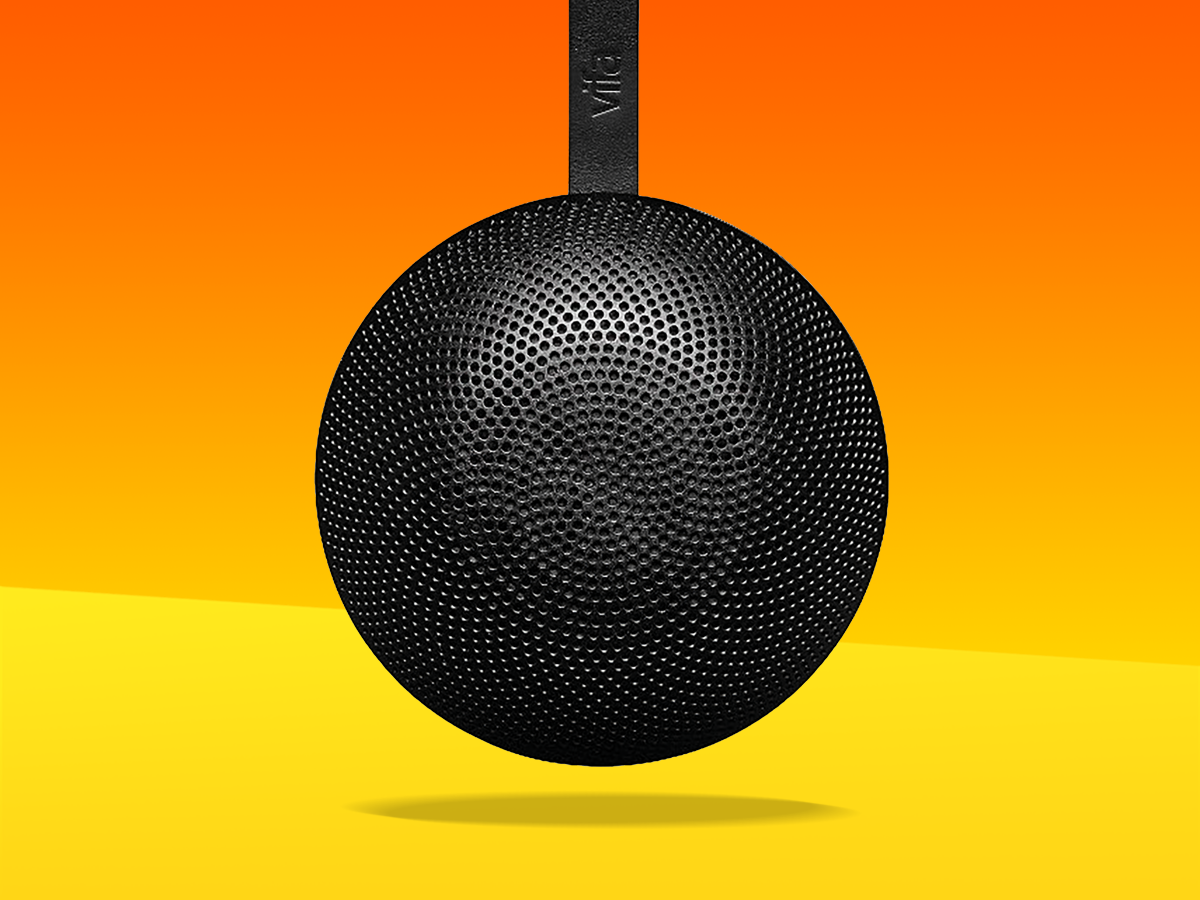 Price: £180
Want a bit of Icelandic style with your sound? Look no further than the Vifa Reykjavik. Inspired by the fissured, flowy, foggy landscapes of the island state, this pebble-shaped speaker sounds as good as it looks.
One of its best features is the way the speaker curves around, firing out sound in all directions. Stick it in the centre of the room and it's sure to be the life of the party.
Although it only has a comparatively short battery life of 6hrs, its sparkling sound more than makes up for that: it can be delicate, but isn't afraid to belt it out when met with a mosh-worthy drum solo.
STUFF SAYS ★★★★✩
The best looker of the bunch also sounds pretty great
UE Roll 2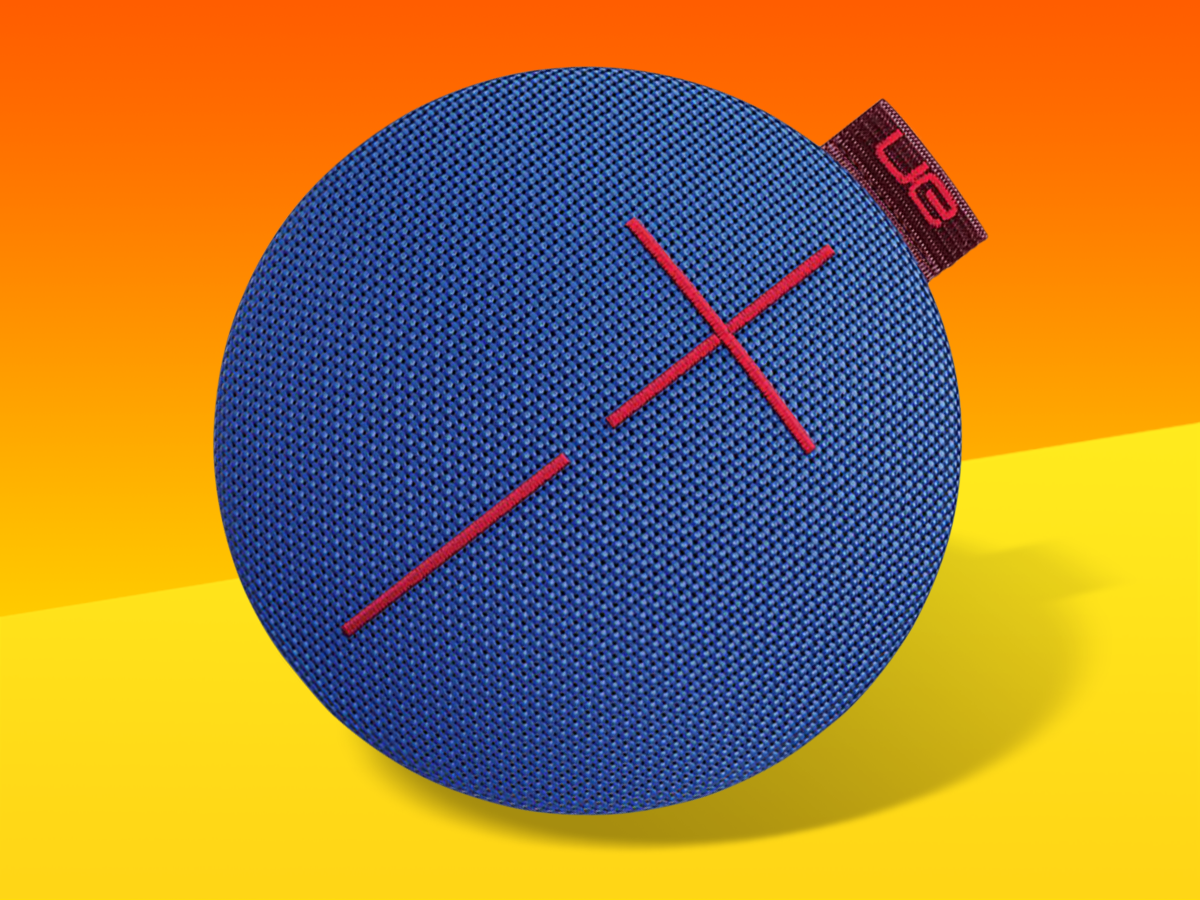 Price: £60
What's going on here then? The UE Roll 2 doesn't look like your average wireless speaker. It's a giant Minstrel, a tiny discus, a Bluetooth UFO: take your pick.
There's a fabric weave in your colour of choice on the front and soft-touch plastic on the back, and the Roll 2 has a thick bungee cord attached to let you hook it onto all sorts. You could even use it in the shower as it's water resistant.
In real life terms this is a seriously versatile speaker, even though it only has basic features. There's no mic, no device charging and no NFC. But they don't really detract from the appeal.
Overall, the UE Roll 2 sound suits its style very well. Under the fabric grille there's a 2in main driver and two little tweeters, which project sound with real force. There's oodles of volume on tap for the size, full mids and good treble definition.
The sound doesn't get lost outdoors or when dealing with some ambient noise, but bass depth is limited compared with a rectangular speaker such as the Jam Audio Heavy Metal.
Stuff says ✭✭✭✭✩
Perhaps the ultimate holiday wireless speaker, particularly if you have a private pool
Libratone One Click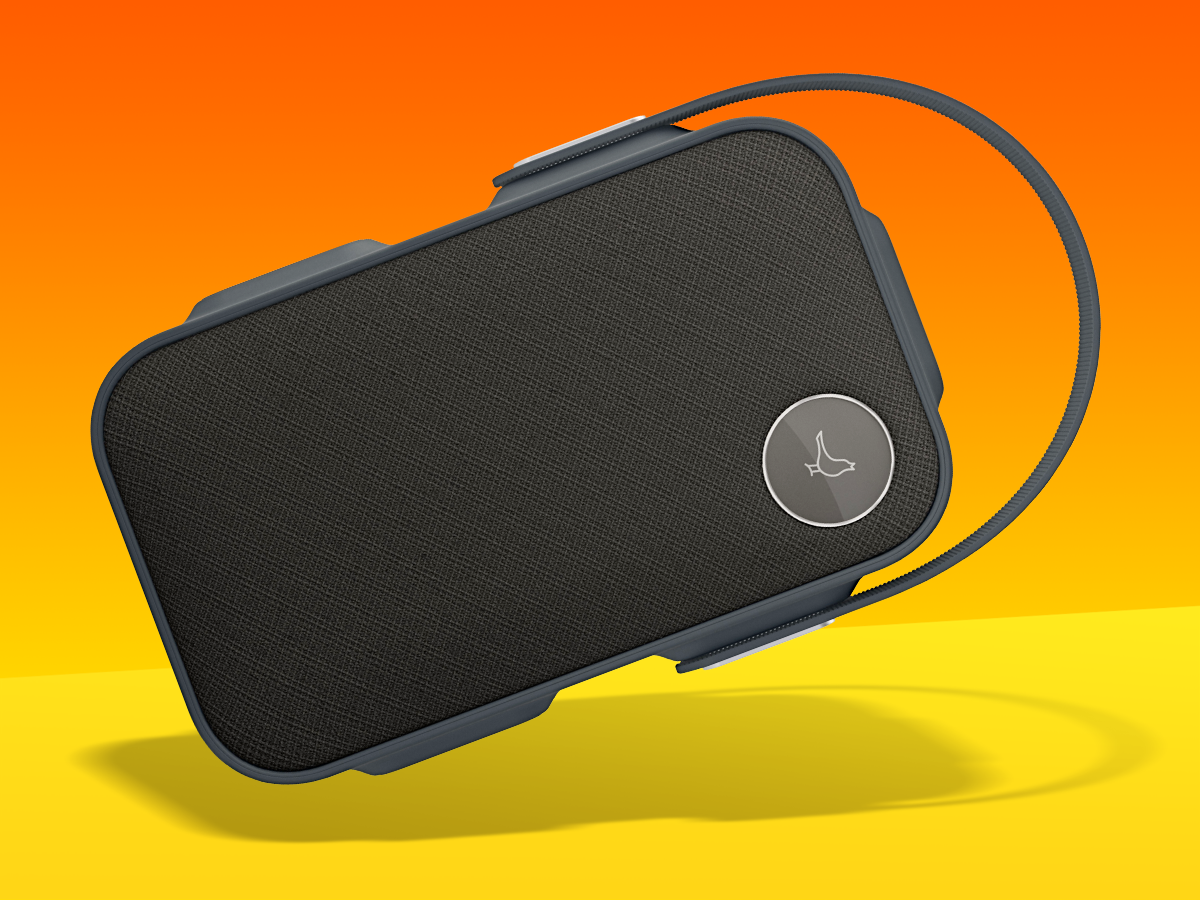 Price: £139
Libratone has managed the near-impossible: making a wireless speaker that seems genuinely different. The rubbery side can be yanked off, and you can put a rubber strap or loop into any of the five little mounds that pop out of the sides.
The light-up Libratone logo on the front isn't just for show either. It's a multi-function touch panel. Tap to play or pause and circle your finger around it to change volume. You can always trust Libratone to come up with something natty.
The Libratone One Click's sound quality is good in most respects. It has sweet-sounding mids and clean, non-harsh treble. It can also go pretty loud, typical of a unit with larger drivers than some.
However, its bass is surprisingly conservative given it has a 3in main driver and a passive radiator. It's not so reserved the One Click sounds thin, but it doesn't have the real low-frequency drive to work well as a party speaker. For tunes while you're working or chilling out, it'll do the job in style.
Stuff says ✭✭✭✭✩
The Transformer of portable speakers should appeal to all but bass fanatics
Denon 50BT Envaya Pocket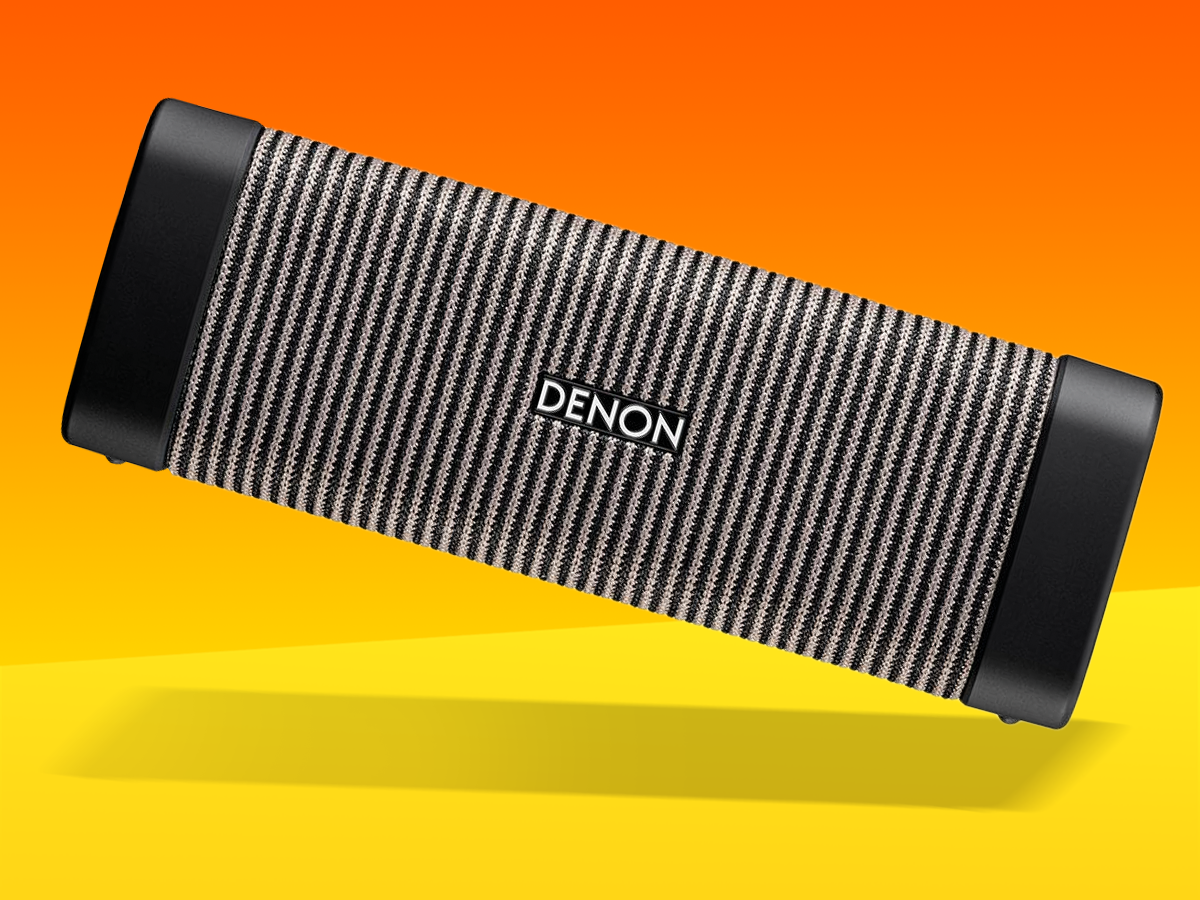 Price: £79
There was a time when spending this sort of cash on a Bluetooth speaker was the equivalent of taking a flame thrower to your hard earned cash and poking yourself in the eye at the same time. Thankfully, things have changed.
Sub-£100 speakers are no longer cheapo efforts with all the sonic impact of a fly crashing into your bathroom window. Denon's Envaya Pocket can carry a tune in style – and, speaking of bathrooms, it'll also survive a splash or five.
An IP67 rating means this speaker is dust-resistant and waterproof – able to spend up to 30 minutes in shallow water without fear of drowning its innards.
Audio quality is superb for the price, and the Envaya Pocket supports high-quality aptX Bluetooth. Oh, and if you pair it with an iPhone it'll talk to Siri.
STUFF SAYS ★★★★✩
Denon's speaker is cheap, cheerful and raring to take on whatever you throw at it
Cambridge Audio Yoyo S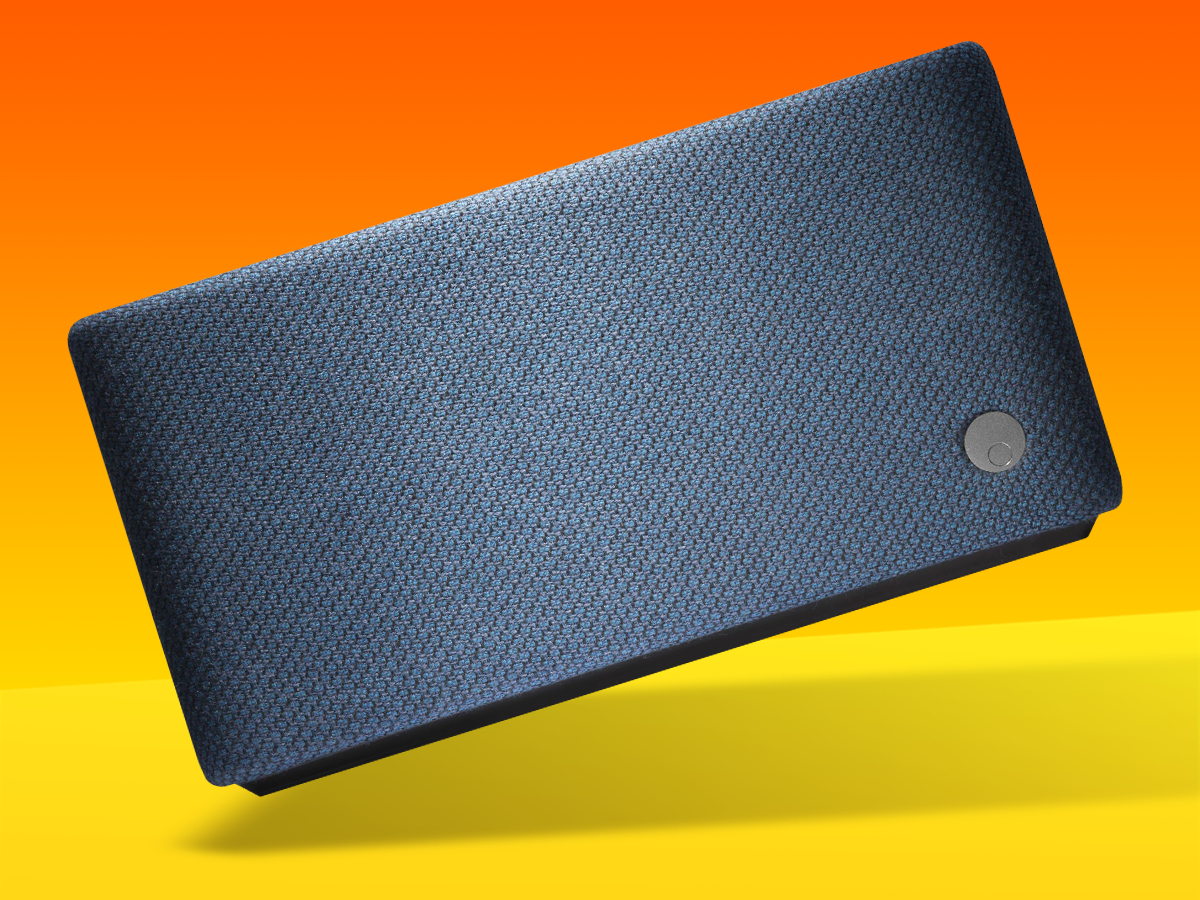 Price: £150
The Cambridge Audio Yoyo S is a more grown-up wireless speaker than most. It comes wearing a woollen jacket made by Yorkshire weaver Marton Mills, which will blend into your lounge's fancy Farrow & Ball paint job, no problem.
Despite the "S" (small) label, the Cambridge Audio Yoyo S is actually a mid-size speaker rather than a dinky one. It feels more like a home speaker for occasional portable use rather than one you'll shove in your bag five days a week. Nothing wrong with that.
The battery lasts for up to 14 hours and there's a USB port to let you charge other devices. There's also NFC, gesture controls on the top plate, and while the Yoyo S isn't fully waterproof, the woolly coat will take a splash or two.
The sound matches its more mature design. While the mids are full and rich, bass sits on the lean side and the treble is soft too, making the sound seem more relaxed than some.
You lose a little excitement but this is a speaker you could listen to all day, with scale and volume that is much larger than its smaller competitors.
Stuff says ✭✭✭✭✩
A grown-up speaker for those after a relaxed sound
Bose SoundLink Mini II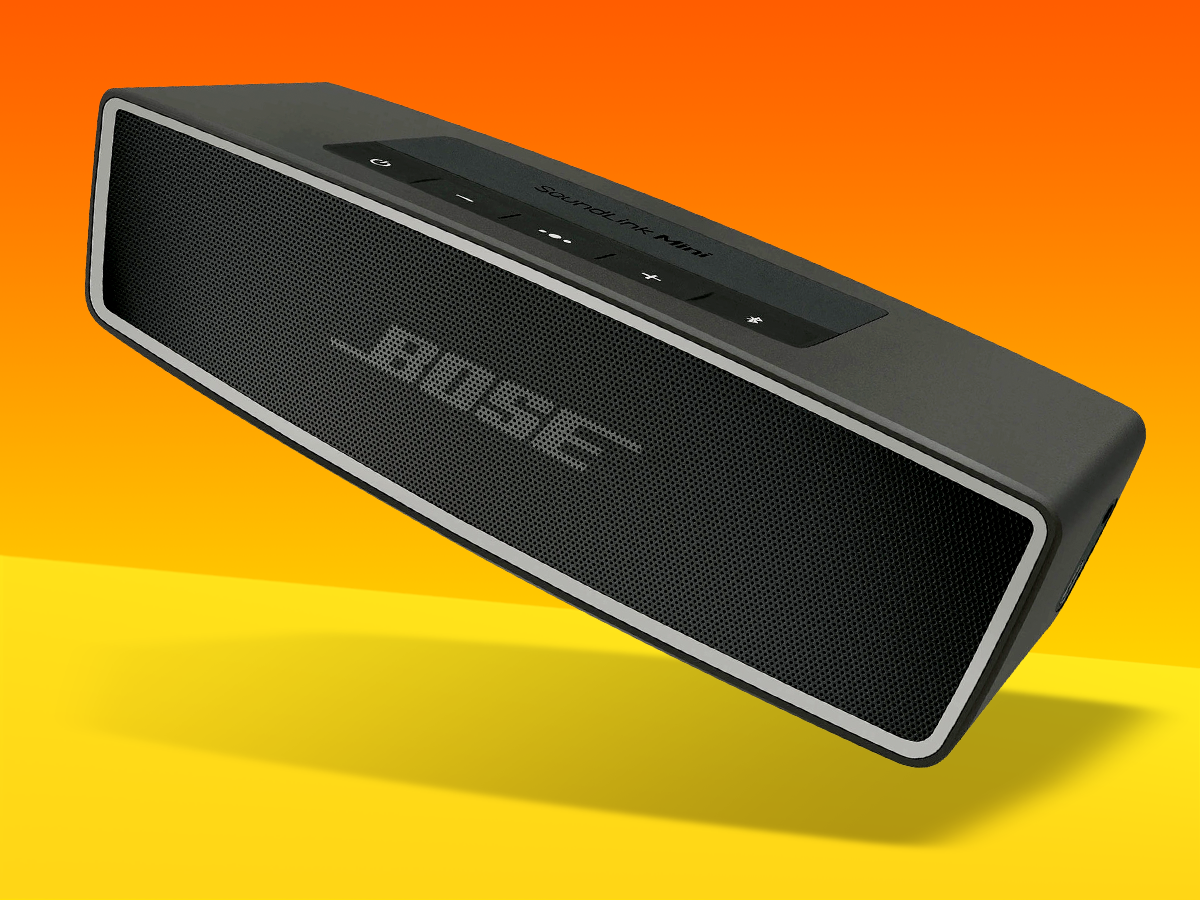 Price: £150
Bose is royalty among wireless speaker-makers. Small models such as the SoundLink Mini II and headphones like the QC35 have made the brand cooler than, well, ever.
This squat little rectangle of aluminium and rubber has inspired a dozen imitators, and its predecessor was one of the early models that really proved you can get big sound out of a small box. Its key feature is bass: it's deep, it's rich and there's a lot of it. The SoundLink Mini II is bassier than some speakers three times the size.
Bose's bass fits in because it's warm and fat rather than boomy, and this slots into the rich, smooth mids perfectly. Few speakers in this class pull off the satisfying thickness of the SoundLink Mini II.
It works wonders for all manner of genres too, but copes less well with very busy music at high volume, starting to sound a bit congested and confused.
There's no water resistance or ruggedness, meaning this speaker is more of a homebody than others, but a real highlight is its charging dock, which you can use in place of the microUSB charge socket.
Stuff says ✭✭✭✭✩
Big bass and powerful sound in a tiny package