The best Boxing Day deals 2016
Well what else did you plan to do with all that Christmas money you got?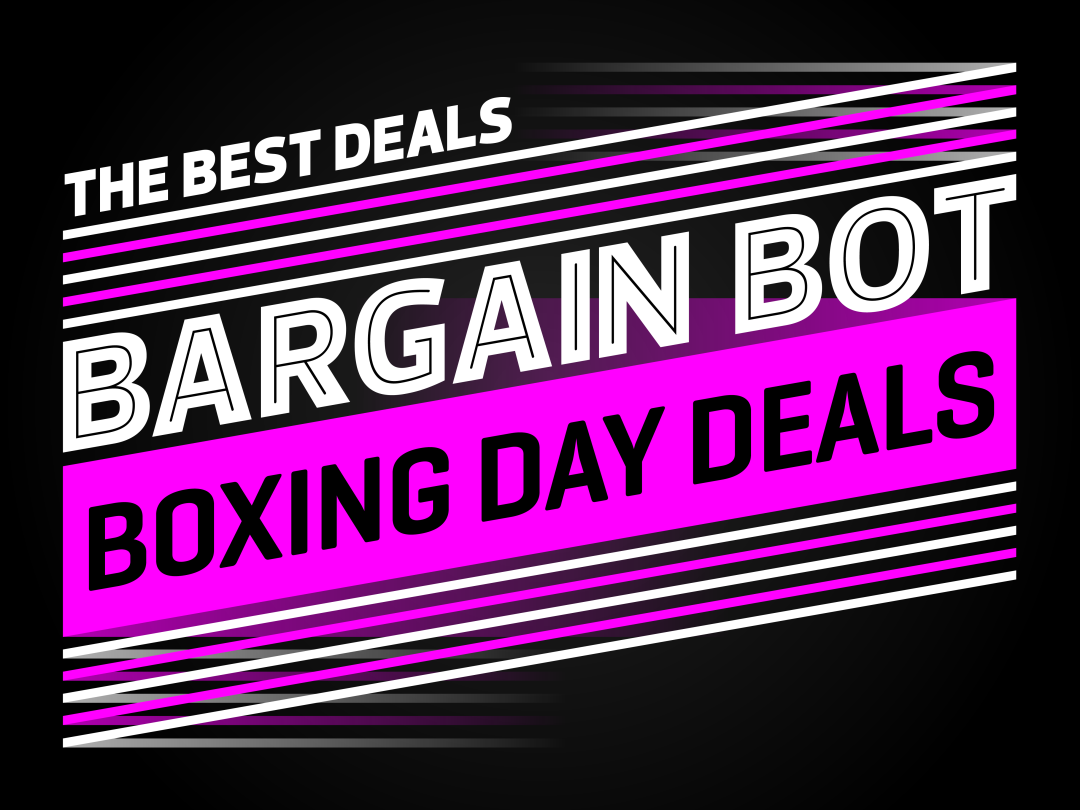 It's the most wonderful time of year, when happy faces light up at the new toys they get to play with and everyone seems to have a spring in their step.
But enough about Black Friday – that was last month. December is all about Boxing Day Deals – and we're all set and ready to go.
Below you'll find our lovingly curated selection of the best tech deals we've found so far. Happy shopping.
Oh, and Merry Christmas!
The best Boxing Day TV deals
Amazon deals
LG 43UH603V 43in 4K smart TV
Live: Mon 26 December
Was: £599 | Now: £399 | Saving: 33%
—————————————
LG 24MT48S 24in smart TV
Live: Mon 26 December
Was: £179.99 | Now: £128.99 | Saving: 28%
—————————————
LG 28MT48S 28in smart TV
Live: Mon 26 December
Was: £199.99 | Now: £139.99 | Saving: 30%
—————————————
LG 55UH605V 55in 4K smart TV
Live: Mon 26 December
Was: £999.00 | Now: £550.00 | Saving: 45%
—————————————
Sevenoaks deals
LG OLED65E6V 65in 4K OLED TV
Live: from Sat 24 December
Was: £4,999 | Now: £3,999 | Saving: 20%
—————————————
LG OLED65G6V 65in 4K OLED TV
Live: from Sat 24 December
Was: £5,999 | Now: £4,599 | Saving: 23%
—————————————
Panasonic TX-65DX750 4K TV
Live: from Sat 24 December
Was: £1,999 | Now: £1,599 | Saving: 20%
—————————————
Samsung UE55KS7000
Live: from Sat 24 December
Was: £1,499 | Now: £1,099 | Saving: 27%
—————————————
Sony KD-55XD9305
Live: from Sat 24 December
Was: £1,999 | Now: £1,349 | Saving: 36%
—————————————
The best Boxing Day gaming deals
Currys deals
Sony PlayStation 4 Slim plus FIFA 17 and Uncharted 4
Live: Mon 26 December
Was £219.99 | Now: £344.98 | Saving: 36%
————————————–
Green Man Gaming deals
Doom (Steam key)
Live: Now
Was: £39.99 | Now: £11.31 | Saving: 72%
Get the deal here (with promo code "WINTER10")
—————————————
Dishonored 2 (Steam key)
Live: Now
Was: £39.99 | Now: £23.01 | Saving: 42%
Get the deal her (with promo code "WINTER10")
—————————————
The best Boxing Day wearables deals
Currys deals
£20 off Apple Watch Series 1
Live: Mon 26 December
Saving: £20
————————————–
Wahoo TICKR X Heart Rate Monitor and Workout Tracker
Live: Mon 26 December
Was £79.99 | Now: £64.99 | Saving: 19%
————————————–
The best Boxing Day headphone deals
Sevenoaks deals
Sennheiser Momentum 2.0 noise cancelling headphones
Live: Now
Was: £270 | Now: £199 | Saving: 35%
—————————————
The best Boxing Day smartphones & accessories deals
Amazon deals
Up to 40% off Anker smartphone accessories
Live: Mon 26 December to Mon 2 January
—————————————
Vodafone deals
Samsung Gear VR headset (when bought with Samsung Galaxy S7 or S7 edge)
Live: Now until Tues 31 January
Was: £80 | Now: £40 | Saving: 50%
Get the deal here (discount will apply when added to your basket)
—————————————
The best Boxing Day computing deals
Amazon deals
Microsoft Surface 3 64GB LTE
Live: Mon 26 December to Mon 2 January
Was: £519.99 | Now: £379.99 | Saving: 27%
—————————————
Asus Zenbook UX303UA 13.3in laptop
Live: Mon 26 December to Mon 2 January
Was: £749.99 | Now: £659.99 | Saving: 12%
—————————————
Corsair 780T Graphite tower case
Live: Mon 26 December to Mon 2 January
Was: £209.99 | Now: £136.95 | Saving: 35%
—————————————
20% + discount on selected Dell desktop PCs
Live: Mon 26 December to Mon 2 January
Saving: 22%
—————————————
The best Boxing Day audio & hi-fi deals
Superfi deals
Denon HEOS 1 HS2 wireless speaker
Live: Now until Mon 6 Feb
Was: £199 | Now: £135 | Saving: 32%
—————————————
10% off all Monitor Audio Silver Series speakers
Live: Now until Mon 6 Feb
—————————————
Audio-Technica ATLP60 BT Bluetooth turntable
Live: Now until Mon 6 Feb
Was: £189 | Now: £169 | Saving: 11%
—————————————
KEF Q300 speakers
Live: Now until Mon 6 Feb
Was: £449.95 | Now: £249 | Saving: 45%
—————————————
KEF Q200C centre speaker
Live: Now until Mon 6 Feb
Was: £349.95 | Now: £199 | Saving: 43%
—————————————
KEF Q100 speakers
Live: Now until Mon 6 Feb
Was: £399.95 | Now: £199 | Saving: 51%
—————————————
Live: Now until Mon 6 Feb
Was: £164.95 | Now: £149.95 | Saving: 9%
—————————————
Audio Pro Addon T5 Bluetooth speaker
Live: Now until Mon 6 Feb
Was: £199.95 | Now: £179.95 | Saving: 10%
—————————————
Sevenoaks deals
Bluesound NODE 2 music streamer
Live: Now until midnight Weds 28 December
Was: £499 | Now: £399 | Saving: 20%
Get the deal here (use promo code "GDSAVE100")
—————————————
Sonos PLAY:3 wireless speaker
Live: Now
Was: £259 | Now: £219 | Saving: 15%
—————————————
Q Acoustics Concept 20 speakers
Live: Now
Was: £379 | Now: £259 | Saving: 32%
—————————————
Sony PS-HX500 turntable
Live: Now
Was: £449 | Now: £329 | Saving: 28%
—————————————
Amazon deals
Up to 30% off Libratone One speakers
Live: Mon 26 December
Was: £139.00 | Now: £99.00 | Saving: 29%
—————————————
The best Boxing Day home cinema deals
Amazon deals
LG HS8 curved soundbar
Live: Mon 26 December to Mon 2 January
Was: £699 | Now: £299 | Saving: 57%
—————————————
LG SH8 soundbar
Live: Mon 26 December to Mon 2 January
Was: £599.99 | Now: £329 | Saving: 45%
—————————————
Sony BDP-S7200 4K upscale Blu-ray player
Live: Mon 26 December to Mon 2 January
Was: £139.99 | Now: £119.99 | Saving: 14%
—————————————
Sony HT-CT390 300 soundbar
Live: Mon 26 December to Mon 2 January
Was: £300.00 | Now: £184.99 | Saving: 38%
—————————————
LG Minibeam PV150G Portable Wireless LED Projector
Live: Mon 26 December to Mon 2 January
Was: £229.00 | Now: £169.99 | Saving: 26%
—————————————
Sevenoaks deals
Yamaha YSP-5600 sound projector
Live: Now
Was: £1,699 | Now: £1,299 | Saving: 24%
—————————————
Sony STR-DN1060 AV receiver
Live: Now
Was: £499 | Now: £349 | Saving: 30%
—————————————
Samsung UBD-K8500 4K Blu-ray player (+ three 4K movies)
Live: Now
Was: £429 | Now: £269 | Saving: 37%
—————————————
The best Boxing Day smart home deals
Currys deals
Samsung SmartThings Starter Kit
Live: Mon 26 December
Was £199.99 | Now: £139.99 | Saving: 30%
————————————–
The best Boxing Day camera deals
Amazon deals
Tamron 16-300mm f/3.5-5.6 zoom lens (for Canon DSLRs)
Live: Mon 26 December to Mon 2 January
Was: £550 | Now: £369 | Saving: 33%
The best Boxing Day drones deals
DJI deals
DJI Phantom 3 Standard
Live: Now
Was: £649 | Now: £449 | Saving: 31%
—————————————
DJI Phantom 3 Pro
Live: Now
Was: £1,159 | Now: £819 | Saving: 29%
—————————————
DJI Phantom 4
Live: Now
Was: £1,289 | Now: £1,099 | Saving: 15%